Girls hoops: Holbrook handles Valley Christian
January 13, 2018 by Les Willsey, AZPreps365
---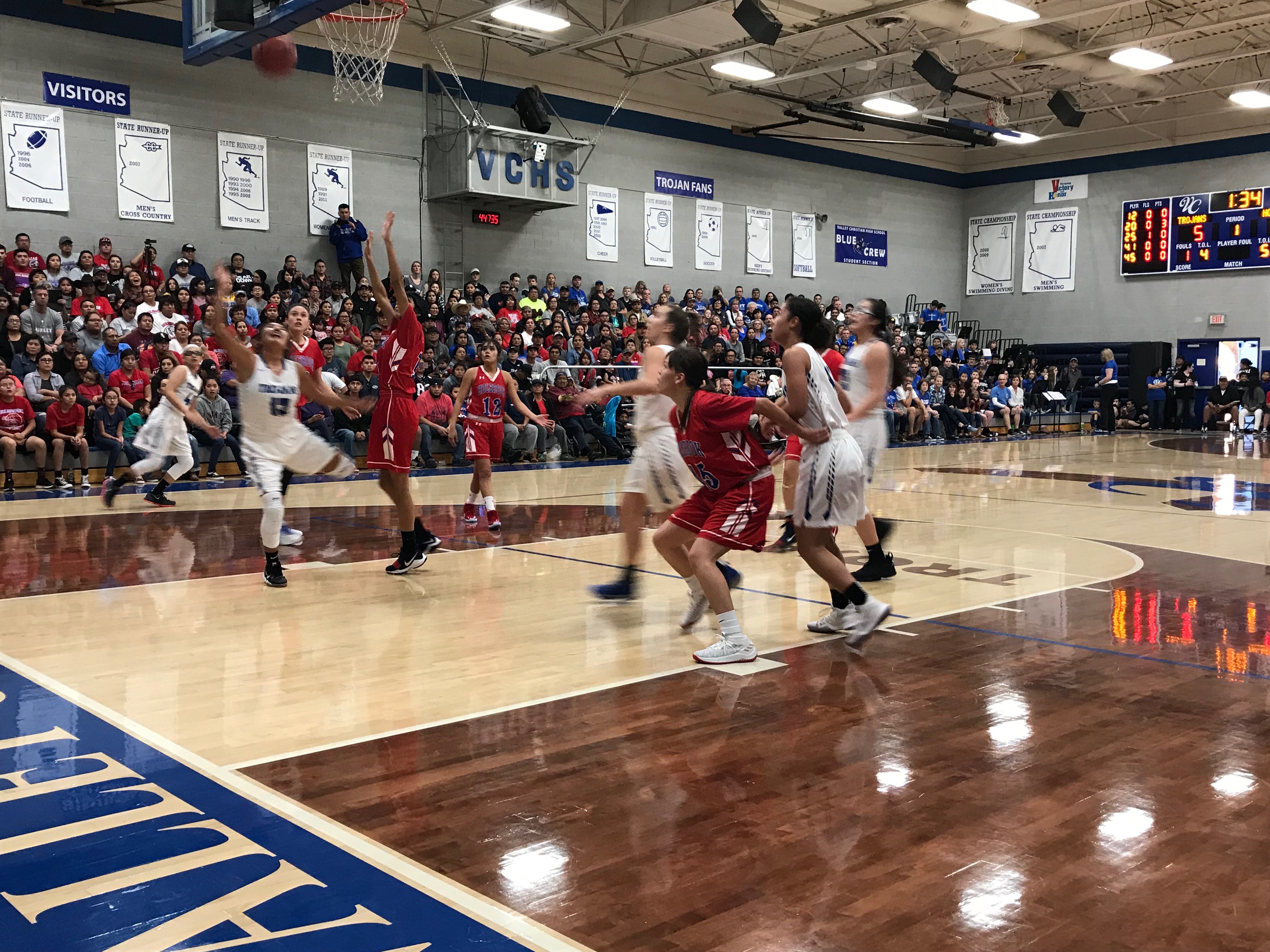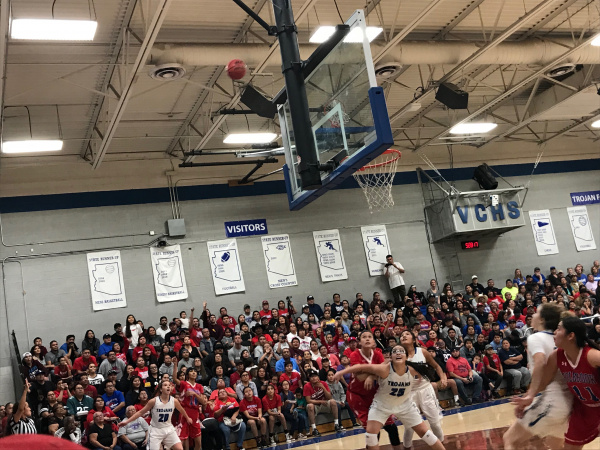 Holbrook's Elena Smith (10) launches successful 3rd-quarter 3 vs. V.Christian ((AzPreps365 photo)_
Holbrook girls basketball coach Greg Perkins looked forward to his team's matchup on Saturday afternoon with defending 3A champion Valley Christian. Perkins is always hopeful when the Roadrunners and Trojans collide, but until Saturday he'd never come out on the winning end since the teams began playing one another in the 2013-2014 season.
Using scoring balance and progressively better execution as the game wore on, Holbrook took down host Valley Christian, 62-51, at a packed Bradley Gym. Valley Christian had won the previous five meetings between the schools dating back to 2013-14.
Holbrook (18-3) entered play ranked No. 3 in 3A while Valley Christian (16-4) occupied the No. 2 spot. Holbrook saw six players score between eight and 12 points in the contest. Valley Christian relied on last year's lone returning starter -- 3A Player of the Year candidate Anna Gorman. Gorman ripped the nets for 28 points and had to work for those from constant double teams. A little offensive help for Gorman was needed in this one for the Trojans.
Holbrook, which lost in last year's semifinal to Valley Christian, used a tidy rotation of eight players. The Roadrunners were led in scoring by seniors Elena Smith and Rayanna Wauneka with 12 points each. Freshman Matehya Aberle and senior Tyanna Johnson were next with nine points apiece followed by senior Tyler Pacheco and sophomore Madison Chappell with eight each. Holbrook's depth was a factor with its bench contributing 18 points and VC's zero.
Holbrook connected on just 2-of-10 3s in the first period and both teams were unsettled through the opening stanza that ended with Holbrook on top, 12-9. The Roadrunners took the advantage to double figures by halftime oustscoring VC, 16-6, in the second quarter. VC made one field goal in the quarter and Gorman did all Trojans scoring in the quarter.
The margin was 51-33 after three quarters as Holbrook dissected VC's defense inside and out. Smith sank a pair of threes and Aberle scored seven of her nine points in the paint.
'We knew we had to come out and somehow beat their 2-3 zone," Perkins,who is in his 10th year as head coach for the Roadrunners, said. "They play it well. We didn't do that early, but were better as the game went on. We have players who can hit threes and our freshman (Aberle) did a nice job."
Perkins felt his team wore down Gorman in the first half with incessant pressure. Gorman returned to the court energized after intermission helping VC cut a 19-point deficit to 8 with a minute left.
"When you commit two defenders to a player and they still score 30 (28) you give credit," Perkins said. "She's a great player."
Gorman made 2-of-9 shots in the first half and 8-of-13 in the second half. She sliced and weaved through the lane for 19 of her 28 points after a tough first 16 minutes.
---