Dobson shakes off rough start, beats Copper Canyon in play-in game 43-28
February 8, 2018 by Warren Younger, Arizona State University
---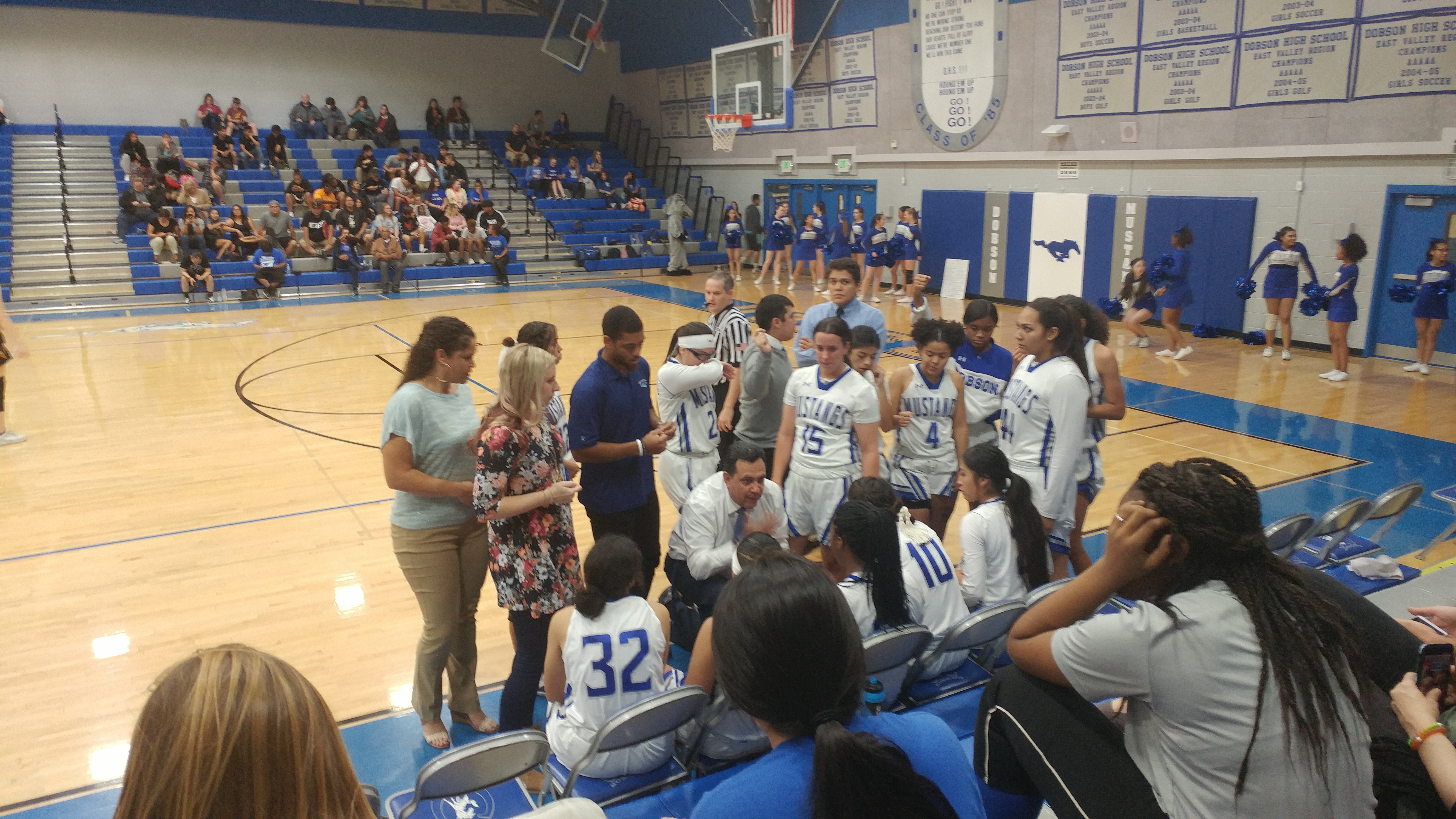 After an opening quarter that saw Dobson accumulate as many fouls as points, junior forward Vinesha Jordan lit the fire under the Mustangs with a clutch 3-point play early in the second quarter.
That sparked Dobson to a 43-28 victory over Copper Canyon in the 6A conference play-in tournament.
No. 14 Dobson's (19-9, 14-5) strong point all season has been its stellar defensive play, which was on display from the start It held No. 19 Copper Canyon (11-12, 9-8) to only six points in the first quarter. However, Dobson was held to only five, equal to the number of fouls it committed in the opening period.
"I attribute that to nerves," head coach Henry Bribiescas said. "We came out tight."
Things were looking bleak until Jordan drove to the rim, made the layu, and drew the foul to set up a 3-point play. After the free throw went in, Dobson went up 8-6 and never looked back. Jordan didn't think her play was the reason behind Dobson's resurgence.
"It helped a little," Jordan said.
Dobson captain Amaya Leon thought differently.
"That was the turning point of the game," Leon said. "That's when everyone started getting hyped."
After the 3-point play, Dobson went on a 12-0 run to start the second quarter.
Bribiescas also credited the start of the run to Jordan.
"When she hit that, it sparked the crowd," Bribiescas said. "We needed the crowd to get into it."
Even with the run in the second quarter, Dobson only led 17-13 at halftime. After making adjustments, Dobson took over the game in the third quarter, shutting out Copper Canyon completely.
"At halftime we told them to put on pressure and not foul," Bribiescas said. "They will throw the ball and turn it over and they did."
The offense also came alive as Dobson outscored Copper Canyon 20-0 to go up 37-13.
"Holding them to zero in the third quarter is an accomplishment," Bribiescas said.
Dobson has given up less than 40 points in 12 of its 19 conference games this season. Bribiescas said his team has always been defense oriented.
"We have been a team this season that has had trouble finding the basket," Bribiescas said. "But if we can hold our opponents to 30-40 points a game then the opportunities will come."
Bribiescas has said all season this team plays like a family and that's where the defense comes from. Leon agrees.
"Once we get on the same page were gonna get after it," Leon said. "We just gotta go."
Although Jordan didn't think her play sparked Dobson, she did credit her team's defense.
"We all just stepped up and played defense together," Jordan said.
Dobson advances to the next round of the 6A state championship but won't know who it plays until Saturday.
"We will be playing a top three team and probably someone who we haven't played before," Bribiescas said. "We just have to come out and play hard and play our basketball."
Leon said her team is taking it step by step.
"We will walk into the game feeling pretty good," Leon said. "Once we find out who we are playing we will work on what we need to work on."
---