6A boys soccer: Desert Vista silences Brophy, 3-0
February 10, 2018 by Les Willsey, AZPreps365
---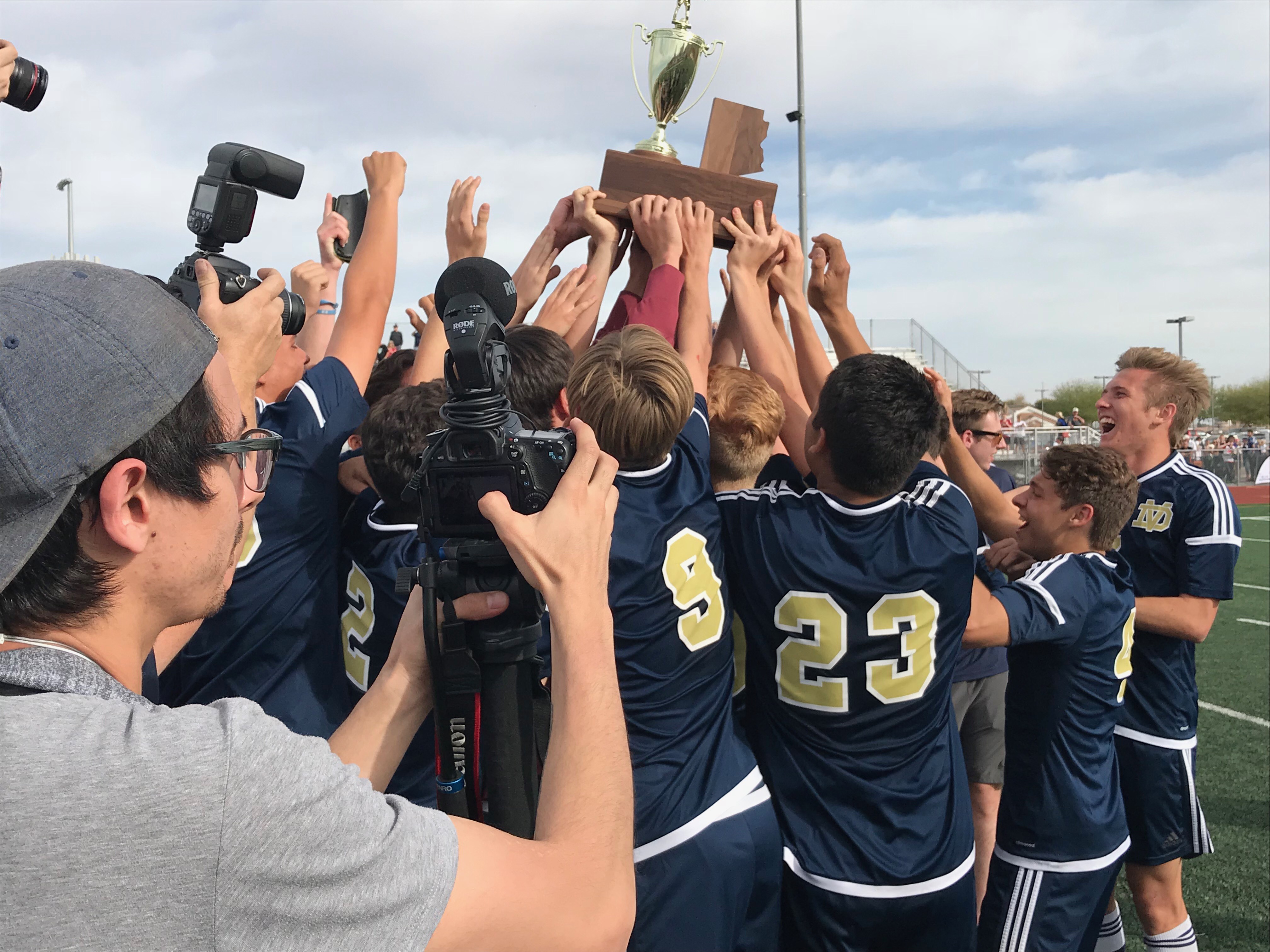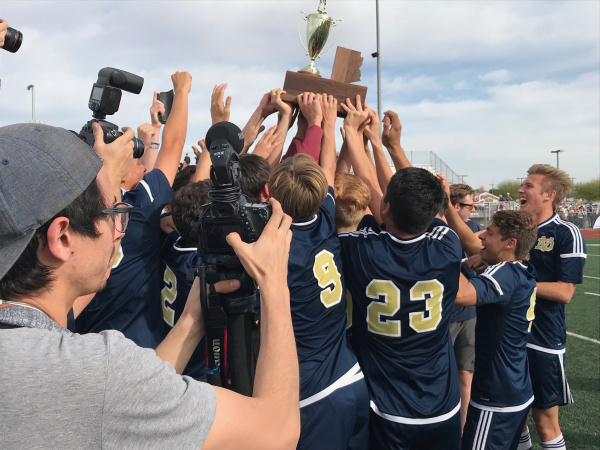 Desert Vista hoists the 6A championship trophy after blanking Brophy, 3-0. (AzPreps365 photo)
It was late in the first half and Desert Vista reserve Jayden Bourg spouted out loud to noone in particular -- "This is our game boys."
Well, the game was scoreless at the time, but Bourg's declaration came true with a strong second half by him and his teammates.
Parker Lischwe, Bourg and leading scorer Max Wennes chimed in with goals after intermission as the second-seeded Thunder shocked top-seed and tourney favorite Brophy, 3-0, in the 6A boys title game at Campo Verde High School. The championship was the first for the boys soccer program since 2006.
The title was a sweet one for Desert Vista and first-year head coach Trent Elliiott. It knocked off the only two unbeaten teams in 6A in winning the crown -- Chandler in the semis and Brophy. Desert Vista also avenged a pair of losses during the season to the Broncos -- one in the Arizona Showcase and the other a power-ranking game in mid-December. Brophy won those 1-0 and 5-2.
"To pull off this victory is amazing," Wennes said. "Our defense was stellar and shut down their forward (Carter Clemmensen)."
Wennes scored his goal in the 77th minute. He had to leave in the middle of the contest for a potential concussion, but passed the tests and re-entered in time to aid his mates. He felt comfortable when th scoreboard read 3-0.
"A 2-goal goal lead is nothing," Wennes said. "When we got the third I knew it was over."
The first half was evenly played, but Desert Vista was the more aggressive team and particularly ferocious in 10-minute stretch of the second half when it grabbed the lead. Lischwe made it 1-0 getting the touch on a throw-in by Jordan Hall in the 53rd minute. Bourg getting in some playing time, made it 2-0 as the Thunder blitzed Brophy's goal with three attackers and Bourg found the back of the net.
Hall, Michael Lafer, Ty Iannone and keepet Logan Rabasca were the stalwarts on the defensive end for the Thunder.
Desert Vista played in its sixth championship game and is now 4-2 in those matches. Brophy was gunning for its sixth championship and first since 2014. The Broncos have appeared in 11 title games and are 5-5-1.
---