Gila Ridge boys soccer takes first state championship
February 10, 2018 by Spencer Molnar, Arizona State University
---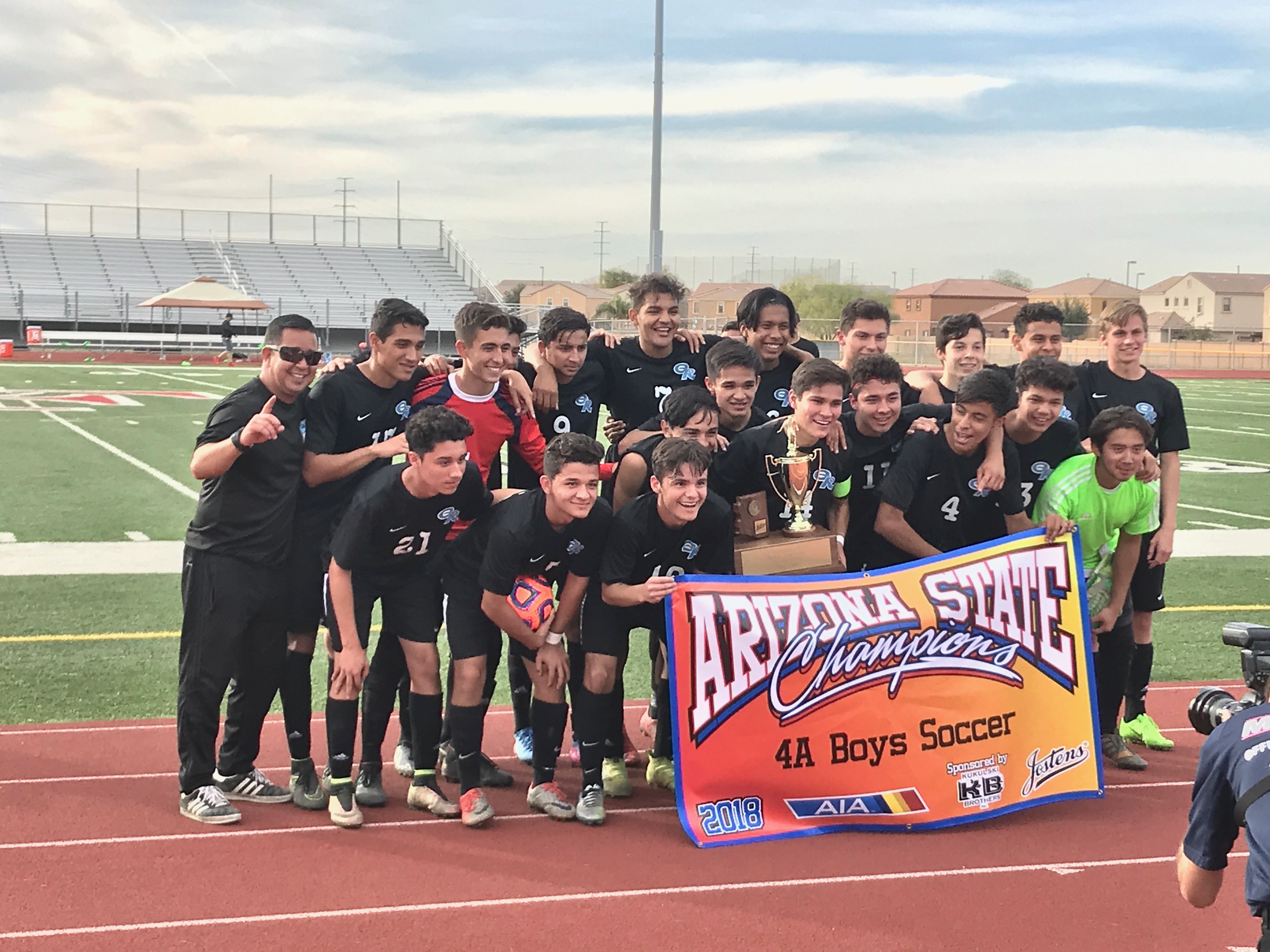 The Gila Ridge Hawks won their school's first soccer state championship Saturday afternoon, beating opponent Cortez 3-0 at Williams Field High School.
The Hawks came out strong scoring their first goal 10 minutes into the first half. Evis Fierro had the open look after teammate Jesus Robles' shot attempt was deflected.
"When the ball came across the middle, towards me, I knew I had an opportunity, so I went for it," Fierro said.
Fierro mentioned the importance of following through on coach Corey Semler's game plan.
"Coach Semler reminds all the time to play with intensity, to up the levels and keep the intensity up," Fierro said.
The Hawks did just that. Gila Ridge possessed the ball twice as much as the opposing Colts. Ball control and defense seemed to be the determining factor in this matchup.
The Colts had several opportunities to score the equalizer. Gila Ridge goalie Charlie Vasquez made some key stops to keep the momentum on the Hawks' side.
The Hawks scored their second goal with six minutes left in the first half. Arturo Ledezma scored the goal off of a well-placed corner kick by forward Esteban Franco.
Franco, a standout player for this Hawks squad all year long, was all over the ball from start to finish. Coming into today's game, he led the team with 39 goals and 26 assists.
Franco put up an additional two assists in this one. When the final whistle blew, Franco was ecstatic to be bringing home the Hawks' very first state championship trophy.
Franco wasn't the only standout senior on this Hawks team. Of the 20 players listed on the Gila Ridge roster, 15 of them are seniors. The majority of them have been playing together since sophomore year.
"I had these kids when they were sophomores, and that's when we made our first playoff berth," Semler said.
Semler didn't have the words to describe his feelings and emotions when discussing how proud he was of this Hawks team.
"The amount of work these boys have put into it, the training, the sacrifices, don't just come over night. This has been three years in the making," Semler said.
The Gila Ridge soccer team had been to the playoffs three years in a row. Semler spoke briefly on how tough it was to fall short in the semifinals last year.
"It was tough, but I am happy we had to wait. It made this victory so much sweeter," Semler said.
Team captain and senior forward Ian Meza scored the Hawks last goal of the game with 16 minutes left in regulation, making it nearly impossible for the Colts to make a comeback.
"Being a captain has been a blessing, but it doesn't just come down to me, it's the whole program," Meza said.
---