5A boys soccer: Campo Verde nips Chaparral, 1-0
February 10, 2018 by Les Willsey, AZPreps365
---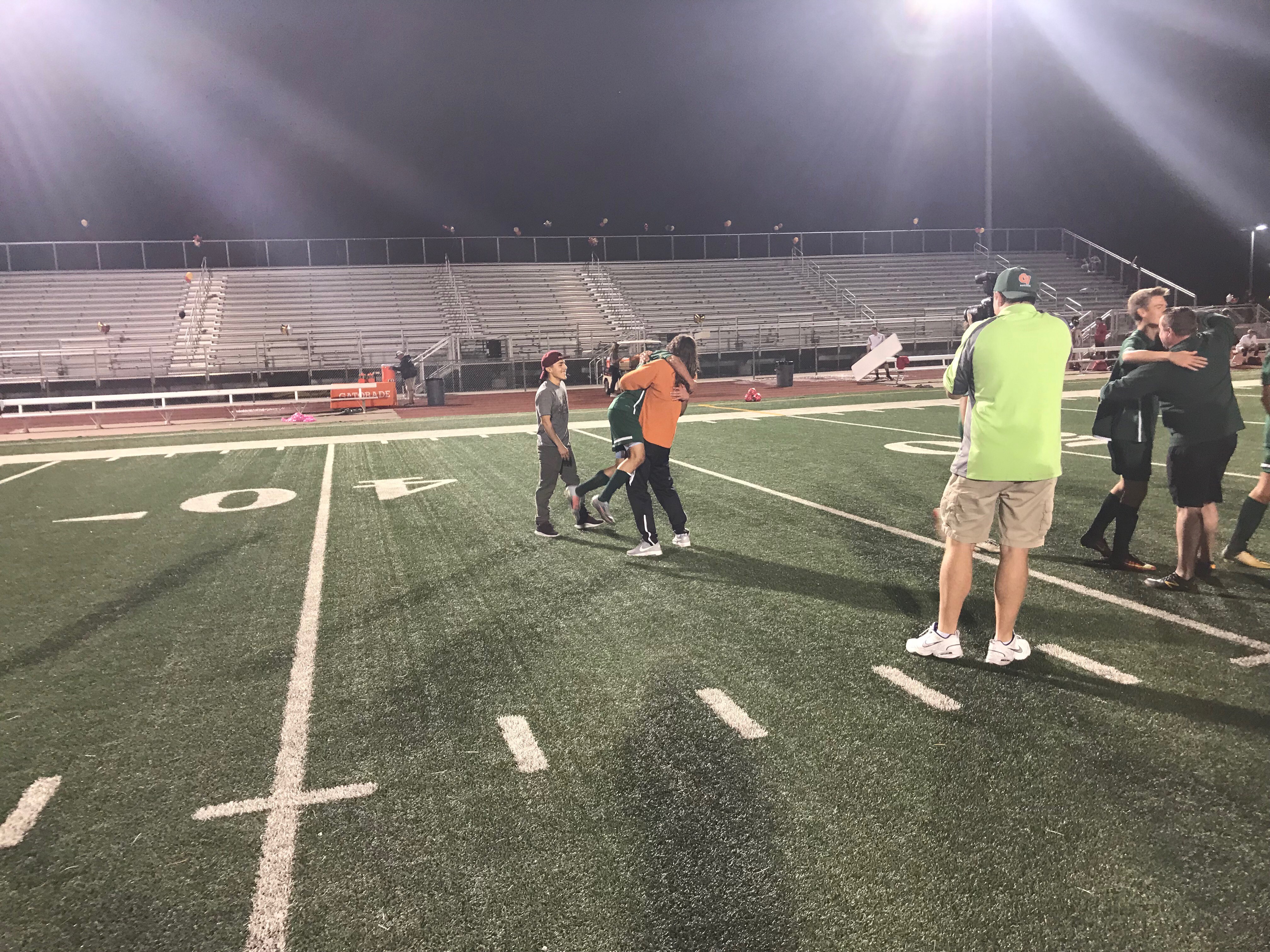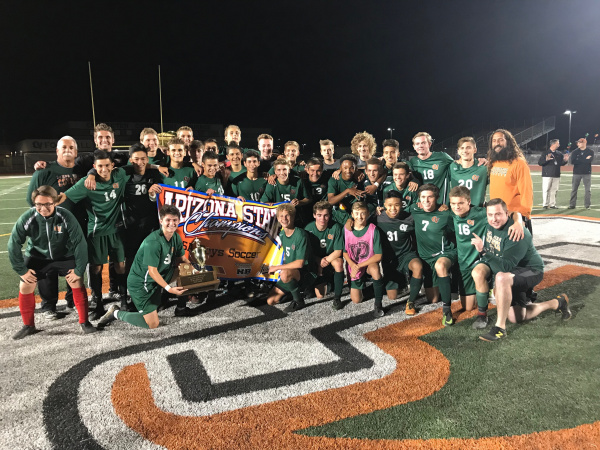 Campo Verde' boys celebrate what they missed out on last year with the 2018 title trophy (AzPreps365 photo)
Last year Campo Verde's boys soccer team was the No. 1 seed, unbeaten and untied, but finished second in the state by losing in the 5A title game to North Canyon.
The pain of that loss for many of the returning players from that squad was eased Saturday night as the sixth-seeded Coyotes pulled out a 1-0 victory over fifth-seeded Chaparral to nab the 5A championship at Campo Verde High School.
Senior forward and tri-captain Blaise Hale knocked home a header off one of the many corner kicks Campo (18-4-1) was able to amass in the 65th minute that decided the outcome. Fellow senior and tri-captain Colton Shafer, who delivers most of the corners, did the offering on this one as well.
The title was the first in the sport for the boys and coach Drew Guarneri and now stands alongside one the girls program garnered in 2013. It was a frustrating end for Chaparral and its coach Jason Speirs as they settled for runner-up honors for the seventh time in eight state championship game appearances. The Firebirds don't have an outright title as they shared the 1998 title with Rincon. when ties were not played off.
"I think these are the two best teams in 5A," Guarneri , who gave an individual hug to every player on his team as part of postgame celebration, said. "It was a chess match from beginning to end. Blaise is an underrated player. He's outstanding in the air (his header proof.) He won our semifinal game last year on a header.
"At halftime I told them to relax a little. They were a little nervous. We didn't possess as well as we did last night, but we got a lot of corners. That's what we thrive on."
Chaparral (13-3-2) wasn't able to get top scorers Ethen Cohen and Trey Gleason untracked. Cohen did have a couple good opportunities, but failed to connect. Most of Chaparral's offense was on counters attacks and Campo's defense was able to keep the Firebirds in check.
---