Yuma Catholic's state title win streak now at 4
February 11, 2018 by Jose Garcia, AZPreps365
---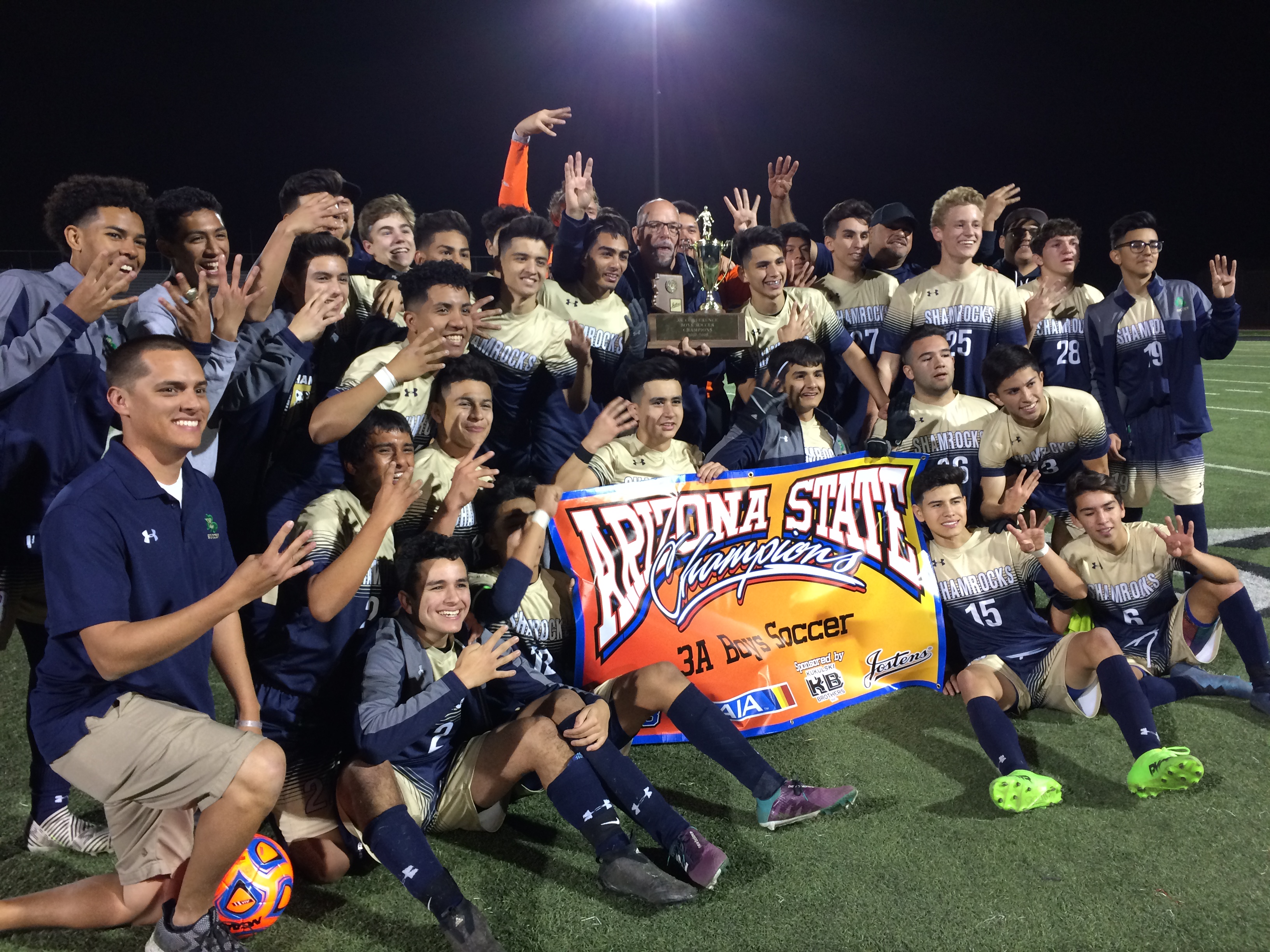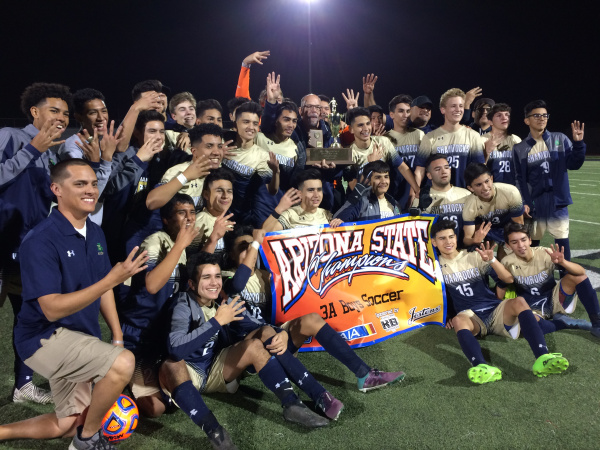 (Yuma Catholic. Photo by Jose Garcia/azpreps365.com)
Yuma Catholic was in a hurry to get to four, goals and titles.
The program blitzed Arizona College Prep from the outset of its 3A Conference title tilt, resulting in a goal within the first six minutes. It added three more, including a couple of first class goals, just before 16 minutes were left in the first half.
Yuma Catholic's speed and creativity was on display Saturday at Williams Field as it wrapped up its fourth consecutive title in style after defeating Arizona College prep 5-1. In the process, Yuma Catholic became just the third Arizona high school boys soccer program in the state to ever win four in a row.
"You just can't top that," Yuma Catholic coach Ralph Evans said.
Evans' emotions got he best of him during the interview, but he regrouped.
"We set our goals every year, and we'll set our goals right after (Saturday's) game," Evans said. "And of course winning a championship is something we always strive for."
But before we get to the Drive for Five, let's recap another great Yuma Catholic season.
Evans' boys dominated, finishing the 2017-18 campaign with an 18-0-1 record and outscoring opponents 121-9. The program hasn't lost to a 3A opponent during its 4-year title run, and, with Yuma Catholic only losing three senior starters, don't expect the winning to stop next season.
But making history wasn't the only impetus for Saturday's quick start. Yuma Catholic saw the girls lose their shot at a title at the hands of Casteel before the Yuma Catholic boys took Williams Fields' synthetic field.
"We saw our girls lose and we didn't want that feeling," Ramon Urbano said. "We saw how much they were in pain. That motivated us, and we wanted to cheer them up."
Urbano and senior defender Stockton Rush and midfielders David Castanon and Max Schiller were on Yuma Catholic's four championships teams as well as Evans.
Arizona College Prep won a school record 16 games and should also feel proud. The boys soccer team became the first team at that Chandler campus to reach a state final.
Kadin Rabo also is returning for Arizona College Prep next season. The tall, fast and physical sophomore forward scored his team's only goal, in the 32nd minute, after stealing the ball from the back line.
Arizona College Prep settled down after that goal and was more organized, keeping Yuma Catholic away from the net until the 72nd minute.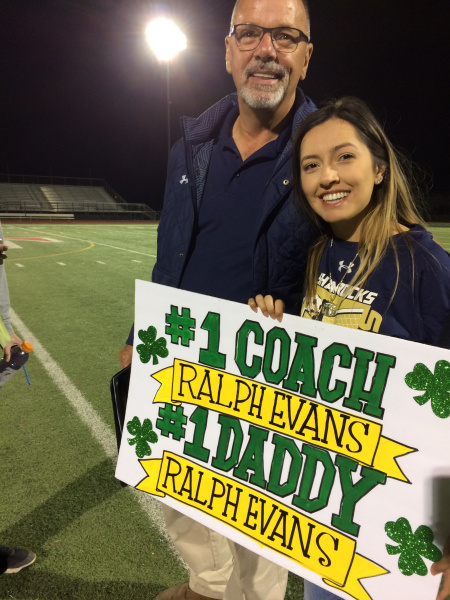 (Yuma Catholic coach Ralph Evans and his daughter Elisa Del Evans. Photo by Jose Garcia/azpreps365.com)
Yuma Catholic's goals in order:
A run by Ernie Gutierrez up the middle led to a rebound that Eleuterio Gutierrez put away.
The second goal was impressive. After a couple of stepovers by Jonah Franco, he delivered a cross right at the head of Urbano, who did the rest.
The third goal was even more impressive. Ernie Gutierrez volleyed in a corner kick from about 25 yards off a Castanon corner kick.
The fourth goal came after Arizona College Prep's coach had just given his team a pep talk on the sidelines during an injury timeout. Once play resumed, Ed Morales headed a long free kick in.
Eleuterio added the fifth goal.
---