6A boys hoops: Gilbert third quarter sinks Mesa
February 13, 2018 by Les Willsey, AZPreps365
---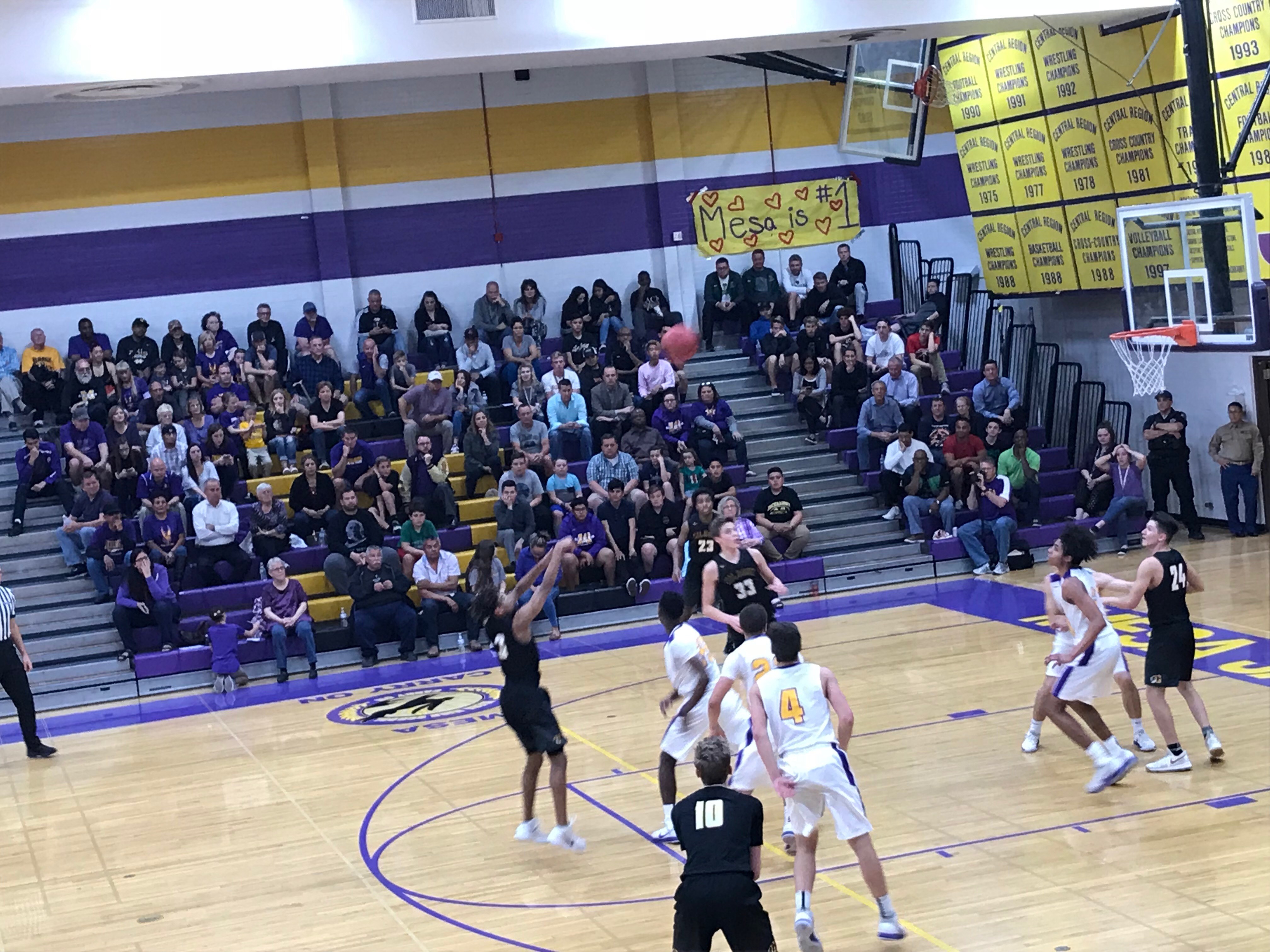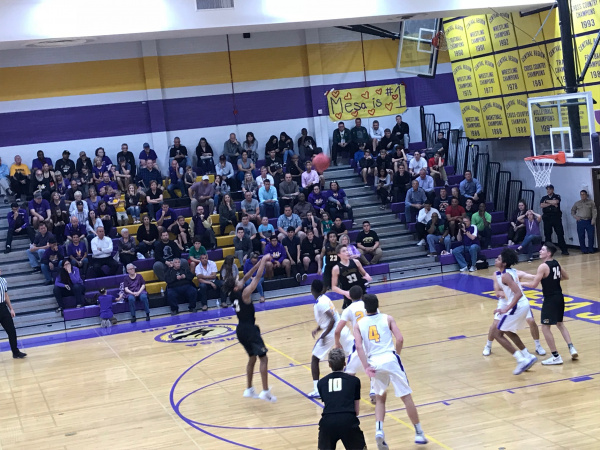 Gilbert guard Doc Self fires up successful perimeter shot in 3rd quarter and win over Mesa. (AzPreps365 photo)
What Gilbert High didn't do in the first half of Tuesday's 6A boys basketball playoff game with Mesa High was take care of the ball. Once they took care of that -- in a clean and decisive third quarter -- the evening belonged to the Tigers.
#10 Gilbert turned around a two-point halftime deficit by outscoring #7 Mesa 18-4 in the third period and went on to post a 56-39 victory over the Jackrabbits in a first-round game at Jackrabbit Gym.
Gilbert (16-11) moves on to the quarterfinals to face top-seed Pinnacle on Friday night at 6:30 at Pinnacle. Pinnacle trounced #15 Highland, 88-42. Mesa saw its season finish with a glossy 21-6 mark.
Gilbert's starting five was balanced in scoring in the victory. Brycen Long led with 11 points, Doc Self and Tyler LaGanke added 10 each and Carson Towt contributed eight. The low-man was Trajon Hawkins, who often leads the Tigers in scoring. This night Hawkins netted just six. All of them were tallied consecutively in the final 2:38 of the game as part of a 7-0 run that ended Mesa's hopes at a comeback. Playing well in reserve for Gilbert was sophomore guard Paul Maldonado, who had nine points and scored in every quarter.
"We'll be in games if we defend, rebound and take care of the ball," Gilbert coach Jay Caserio said. "We were better in the second half protecting the ball."
The teams were on their way to playing their usual tight contest that often ends with the winner and/or both teams scoring in the low 40s as they did back on November 30 when Gilbert prevailed, 44-42. An eight-turnover first half in a predominantly half-court contest was a major factor Gilbert was down 20-18. In the third quarter, Gilbert committed zero turnovers.
In addition the Tigers hit the open man the few times that was the case as Mesa wasplayed pretty fair defense itself. And on occasion the Tigers went one-on-one when they had a mismatch in the paint. Gilbert made 7 of 9 shots from the field in the third quarter, including threes from LaGanke (2) and Long (1). Mesa meanwhile turned the ball over five times in the quarter and made only 1 of 7 shots from the floor. That basket came from junior Zach Hobbs, a key portion nightly of Mesa's offense.
Hobbs, however, hardly played in the second half after putting up seven points in the first half. Hobbs picked up his fourth foul with 3:11 left in the third quarter and didn't return until 5:44 remained in the game. He fouled out 27 seconds later finishing with 9 points and leaving Mesa without a weapon that could have been huge in mounting a comeback.
Seniors Xavier Fuller and Mark Hatch led Mesa in scoring with 12 and 10 points, respectively. Hatch endured a tough night shooting, hitting on only 2 of 9 from the field. Along with Hobbs, they were the only Mesa players to score in the first three quarters.
---