Orozco, seniors propel Sunnyslope to quarterfinals
February 13, 2018 by Josh Schaefer, Arizona State University
---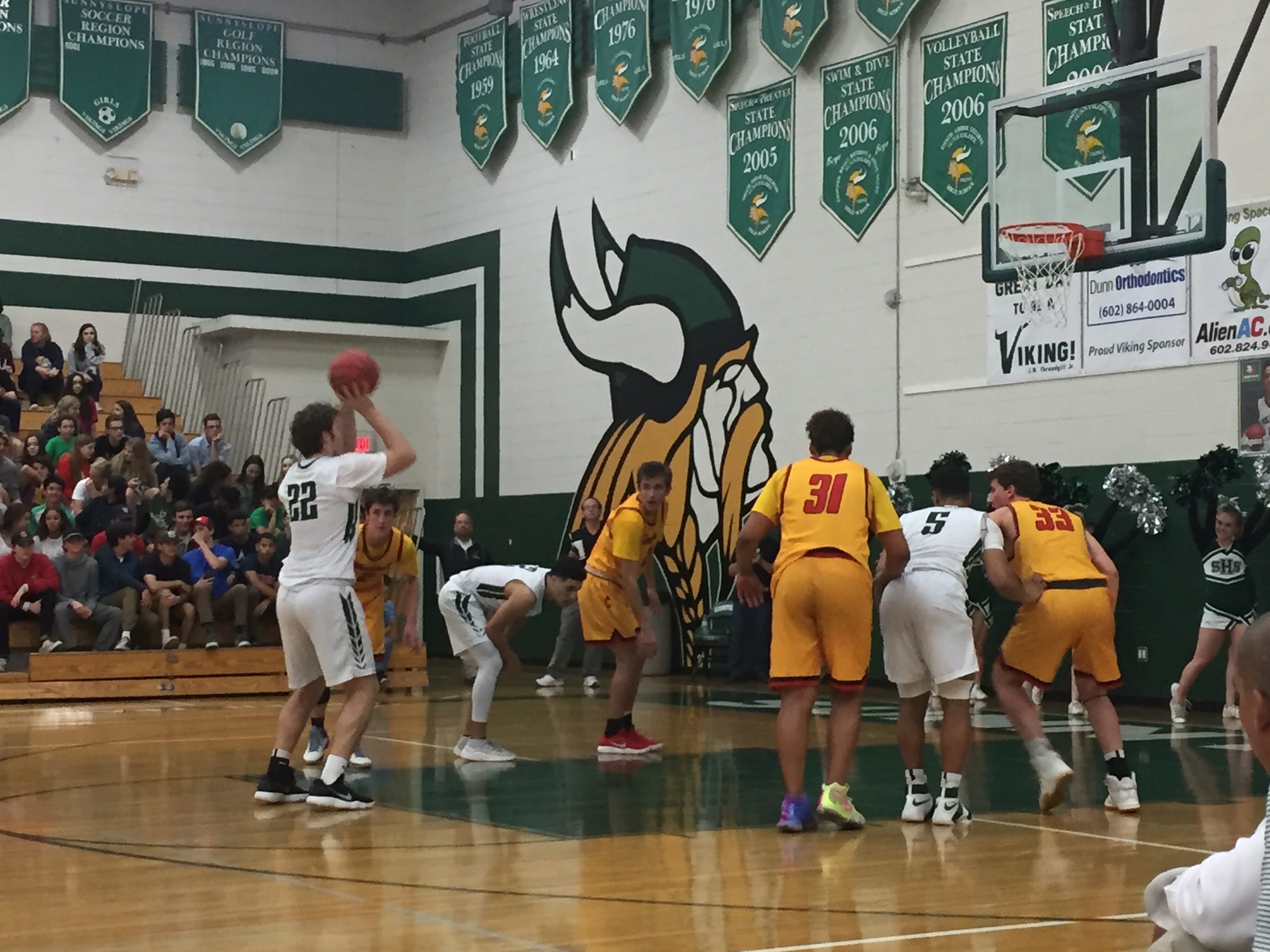 Chris Orozco had the jitters in the first quarter. Then the Sunnslope senior went to work.
Orozco dominated the paint and finished with 17 points to lead the defending 5A state champions and No. 2 seed to a 62-33 victory over No. 15 Chaparral Tuesday.
"Chris was a monster. He's shooting the ball well, he has great post moves, he's very patient down low and he's rebounding his tail off," Vikings coach Ray Portela said. "It's great to see him finish his senior season off strong."
Orozco settled down after his first basket and sent Sunnslope into the state tournament quarterfinals Friday against Tucson Sahauro.
"I felt good again and was sort of in rhythm," Orozco said. "I just knew that I had to go to work and finish."
Orozco wasn't the only Sunnyslope player who had a slow start to the game. Despite jumping out to an early lead, Sunnyslope was forced to make adjustments at the end of the first quarter due to a lackluster start.
"A lot of the guys were shooting the ball well but we weren't getting out to the lead we wanted. We kept our poise and stayed level-headed," Portela said.
"We just talked it over and got our jitters out," senior Allan Abayev said of the Vikings first quarter adjustments.
The Vikings outscored the Firebirds 18-5 in the second quarter, claiming a 31-13 halftime lead. Orozco contributed to the final eight points of the half by either scoring or setting up baskets. The leadership of Sunnyslope's six key seniors heavily contributed to the team's second quarter turnaround.
"The senior leadership definitely played a part because we're all trusting in each other and we know our capabilities," Orozco said. "If we're not doing something right, we get on each other. That's the perk of playing four years together at the varsity level. We hold each other accountable."
Added Abayev: "We've been playing together since we were little. [Senior leadership] definitely helps now, and it will help in the future.''
It was raining 3-pointers to start the second half. Sunnyslope senior Jaran Whitfield traded 3-pointers with Chaparral's Alem Huseinovic and Alec Bryan. Kyle Fischer, who finished with 15 points, also added a triple for the Vikings early in the third quarter.
"We hit some big buckets. We don't get too down on ourselves on the defensive end if they score. We just come back and attack them even harder," Portela said.
Despite a sharp offensive attack to start the half, the Firebirds struggled to keep up with the Vikings. Sunnyslope repeated its first half total and outscored Chaparral 31-20 in the second half.
---