Baseball: Mesquite answers big in 3rd inning to top Notre Dame
March 9, 2018 by Les Willsey, AZPreps365
---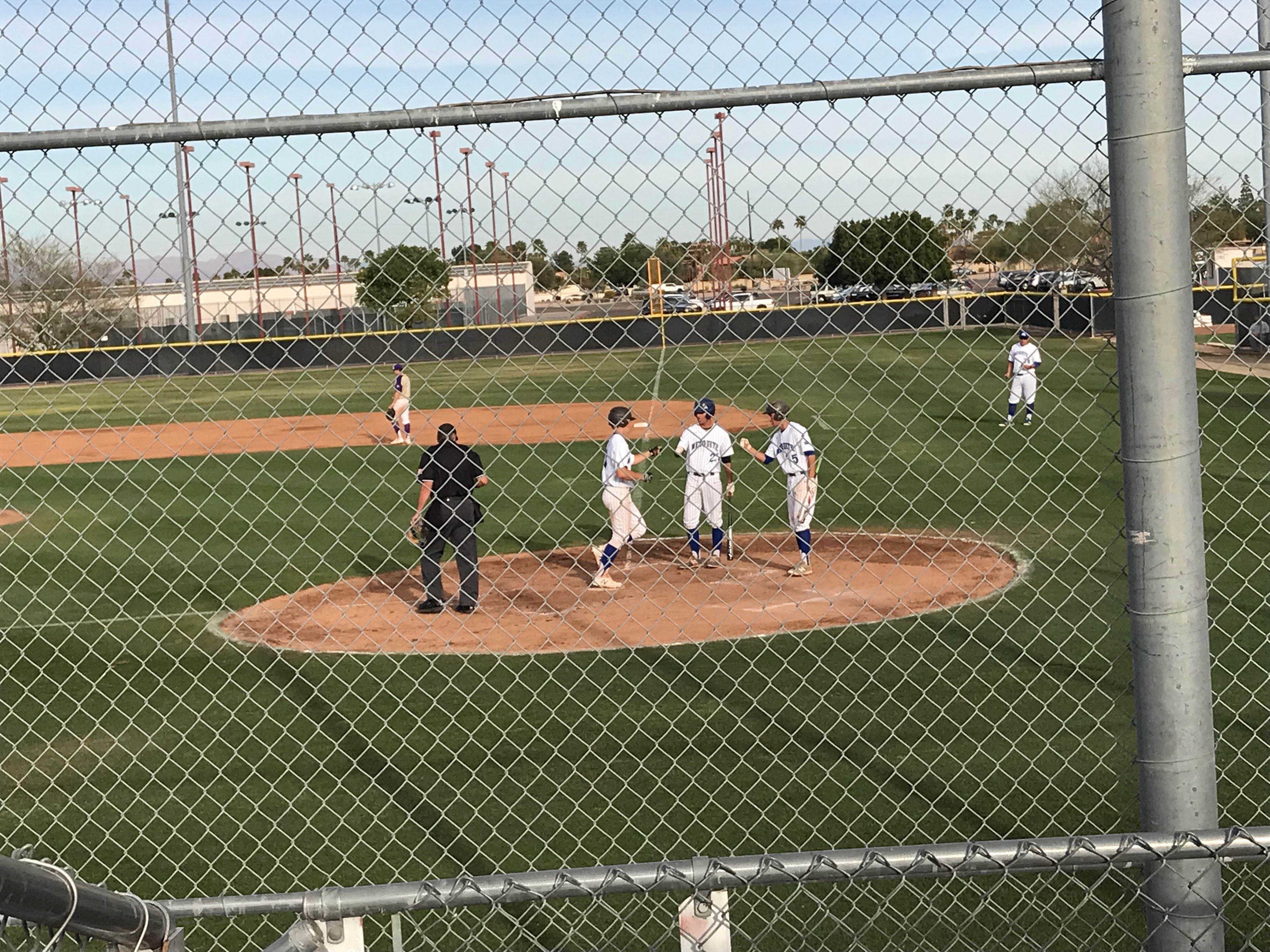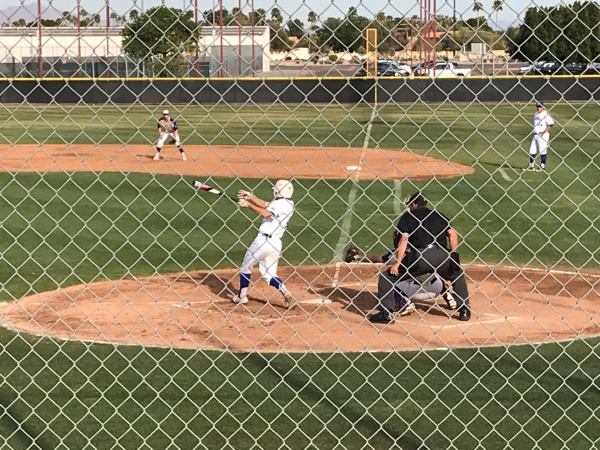 Mesquite's Holden Breeze rips one of his 4 doubles and five hits in win over Notre Dame Prep. (AzPreps365 photo)
A sagely Mesquite assistant coach pointed to the Wildcats' strength prior to Friday's matchup with Notre Dame Prep as it's pitching and defense. That certainly was the case last season.
In this game, however, Mesquite needed all the offense it could muster and the bats provided just enough to outlast the Saints, 13-11, in a 5A non-region clash at Mesquite High School. The Wildcats cranked out 15 hits with the big day belonging to leadoff hitter Holden Breeze with four doubles and an infield single. Breeze drove in four runs and scored three.
Mesquite improved to 8-2 overall and remained unblemished in power-ranking games at 5-0. Notre Dame saw its record even out at 4-4 -- all of those games are power-ranking games.
Mesquite played see-one, play-one the the first two innings with Notre Dame. Notre Dame scored one in the first and one in the second; Mesquite did the same. In the third, Notre Dame made it more of a challenge to answer. The Saints rolled out five runs and chased junior left-hander T.J. Clarkson. Clarkson entered the game with a shiny 0.70 earned-run average through his first two starts -both wins. He left having surrendered eight hits, four walks and seven earned runs. The big hit in the third for Notre Dame was a bases-loaded double by Tyler Cranston that capped the rally and sent Clarkson from the mound to first base.
So how did Mesquite respond? Nearly double what Notre Dame put on it. Mesquite scored nine runs and sent 14 batters to the plate against three pitchers before the final out of the inning was secured.
"This was an ugly one," Mesquite coach Jeff Holland said. "I guess you have to say we responded. We have a year more experience this year and so far we have hit the ball better than last year. Still, our bread and butter is going to be our pitching and defense."
Mesquite's nine-run rally began with four successive hits -- including a two-run homer by Clarkson ro right-center field to start things. A strikeout, walk, hit batter and wild pitch plate another run before Breeze's third double put the Wildcats ahead to stay, 8-7. Willie Cano, David Watson and Jacob Henderson added RBI to complete the inning.
Watson, who took over for Clarkson on the hill, shut down Notre Dame fo the next three-plus innings. In that stretch Watson allowed two hits, no walks and fanned five. His teammates added two more runs to take to the seventh. Mesquite needed them.
Watson was tagged for four runs, three hits and two walks in the seventh and the tying run was at the plate when Watson registered his seventh strikeout to end the threat and game. The key blow was a three-run homer by Alex Nyberg.
"David did a great job slowing them down," Holland said. "He relaxed too much the last inning, but he got it done."
Watson and Henderson had two hits each for Mesquite. Cranston, Joseph Terlizzi, Griffen Chewing, Jarrett Pille and Tag Bross all had two hits for Notre Dame.
---