Rez ball takes center stage
March 10, 2018 by Jose Garcia, AZPreps365
---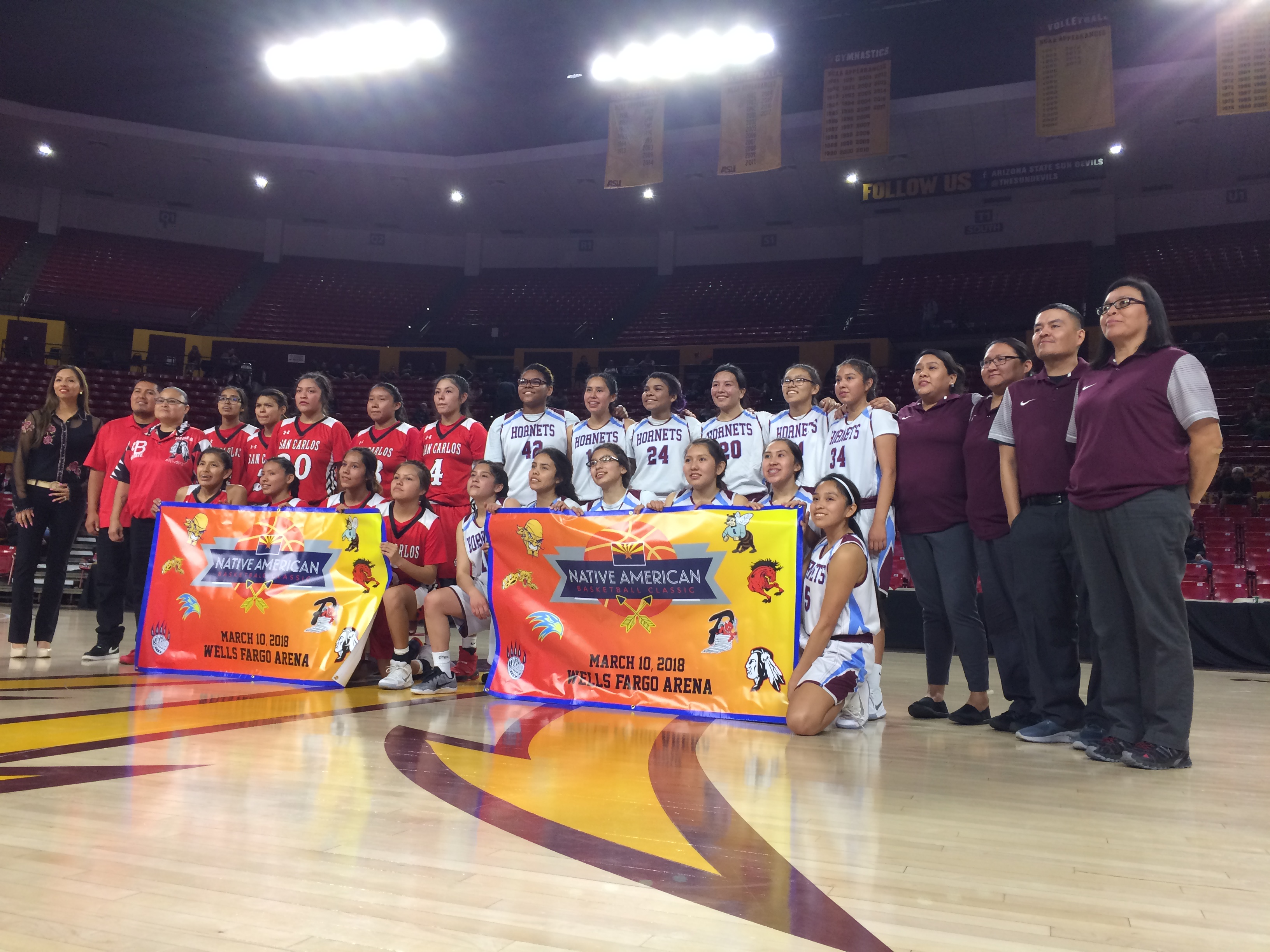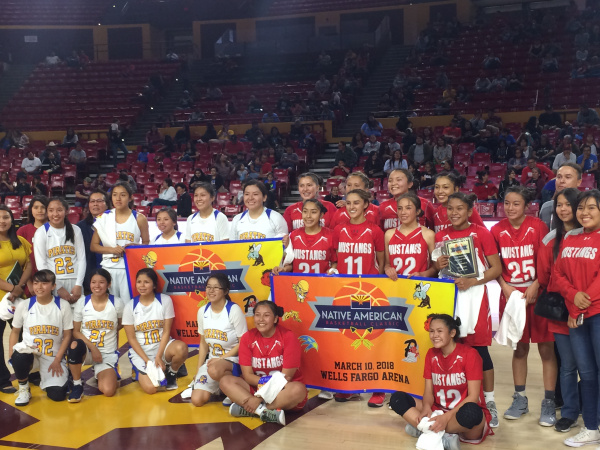 (Valley Sanders and Monument Valley pose for a photo after their game Saturday. Photo by Jose Garcia/azpreps365.com)
Keanu Kootswatewa ran down the court, stopped and heaved up a three pointer.
Swish.
Kootswatewa couldn't contain his excitement over the made basket and neither could the crowd at Wells Fargo Arena. It was one of a handful of moments in which a player, team or attendee was celebrated Saturday during the first annual Native American Classic.
The day-long event honored Native Americans and one of their passions, basketball. Ten Native American teams took Wells Fargo Arena's court and played as if it mattered in the rankings.
"You've heard of the term rez ball, and I would like to think that these kids really take to that," Alchesay coach Kyle Goklish said. "Any time they get on the court they are hustling and competing. The desire to play is always there."
Transition baskets. All out defense. Three-pointers.
They are staples of rez ball, and they were on exhibition Saturday. One of the five games included a matchup between Special Olympics Unified teams Hopi High and Page.
Kootswatewa represented Hopi, and he wasn't the only one that had a good time. His teammate, Theralynne Huma, followed Kootswatewa's three pointer with a high-five moment of her own after also converting a shot from beyond the arc.
For halftime entertainment, fans were treated to a couple of routines by young Native American hoop dancers. The girls basketball teams of 3A Monument Valley and 2A Valley Sanders kicked off the day with a competitive encounter, which Monument Valley won 60-58.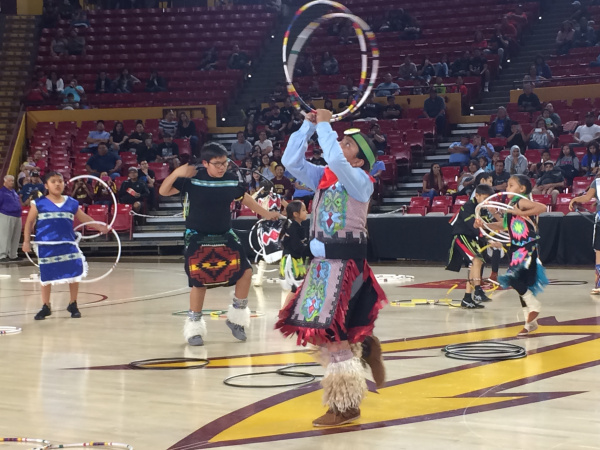 (Hoop dancers performed during halftime of a couple of games Saturday. Photo by Jose Garcia@azpreps365.com)
Four of Saturday's games featured inter-conference matchups.
Monument Valley was one of the Cinderella teams this past season, reaching the 3A final after starting its state tournament run in the play-in tournament. The 2A Alchesay and 3A Page boys followed the first game with another entertaining encounter.
Alchesay, the 2A state runner up, fell behind 11-1 but quickly rallied behind its transition game. Players from both squads were diving for loose balls every chance they got, forcing officials to jump out of the way.
At least one official in each of Saturday's games was Native American. Alchesay's balanced attack, led by San Juan Slick's 14 points, defeated Page 65-59.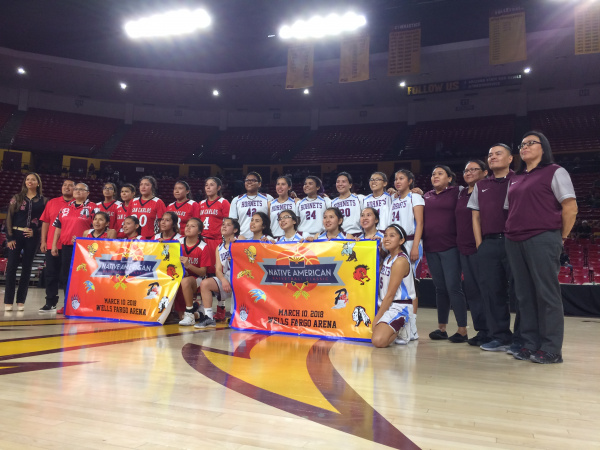 (San Carlos and Ganado pose for a photo after their game. Photo by Jose Garcia/azpreps365.com)
With a few minutes remaining in their game, the 3A Ganado and 2A San Carlos girls were also locked in a tight game.
But, with the score 35-33 in Ganado's favor, Ganado began pulling away to claim a 55-41 victory.
The final game of the day also didn't disappoint. San Carlos trailed by 15 in the third quarter, but climbed back and got within two points (63-61) after a three by Christian Nosie with 26.2 left in the game.
But Chinle's boys made their free throws at the end and held on for a 67-61 win.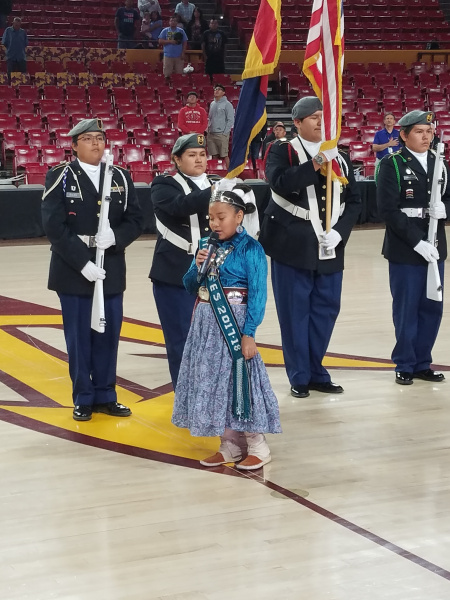 (Uriah Harris sang the the national anthem before one of Saturday's games. Photo by Seth Polansky/azpreps365.com)
---