Baseball: Highland ends skid, tops Dobson, Chapin TX
March 12, 2018 by Les Willsey, AZPreps365
---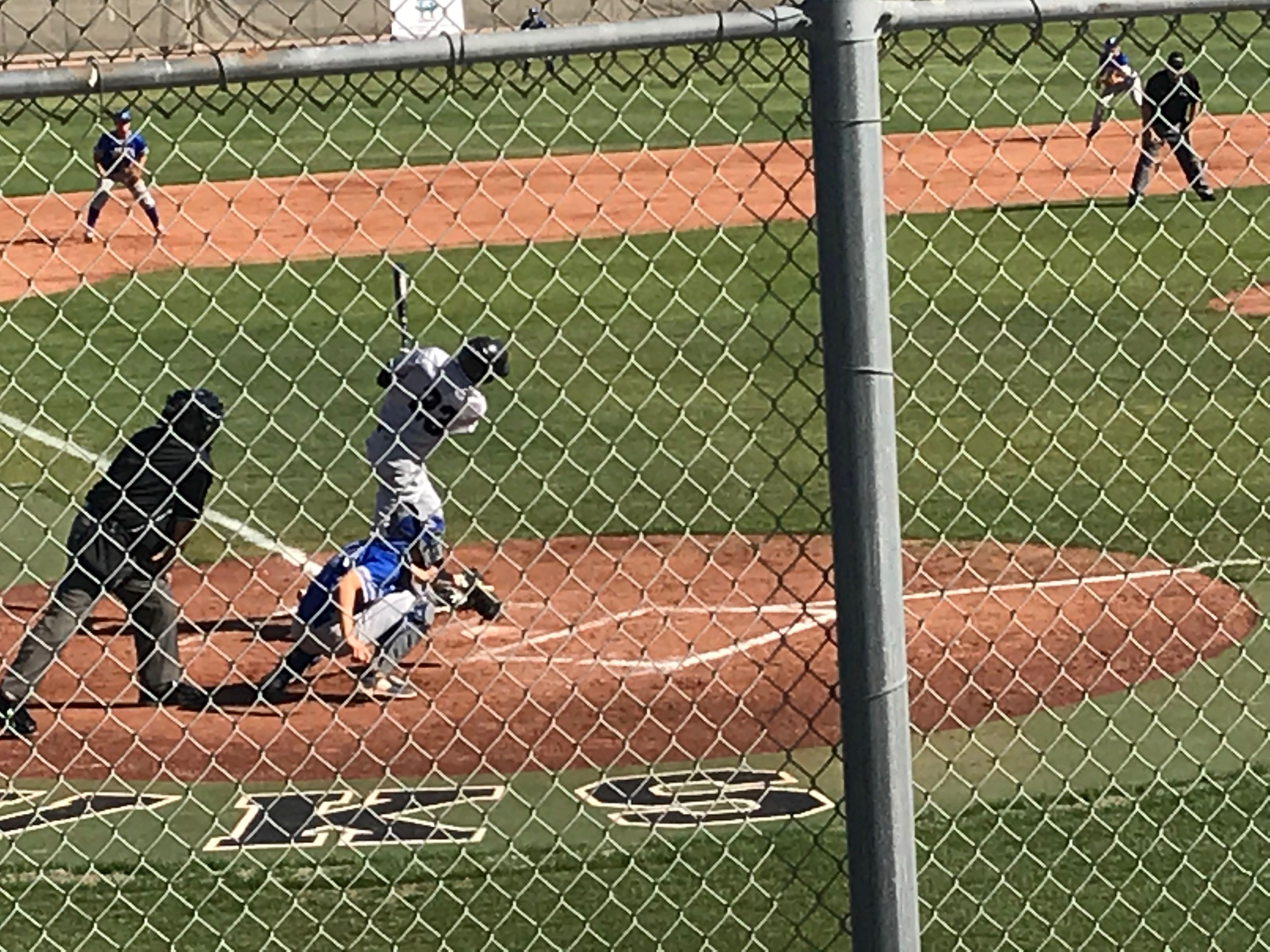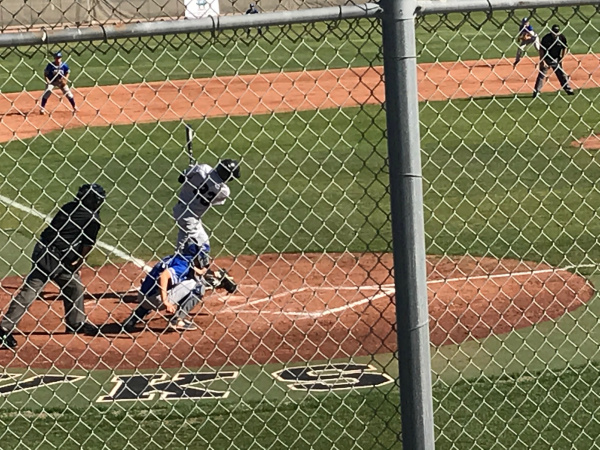 Highland's Dakota Thornton pokes RBI single in 3rd inning in win over Dobson. (AzPrep365 photo
Highland used the first day and its first game of the 3rd annual Bob Everett Classic to snap a five-game losing streak with a 12-2 victory over Dobson at Highland High. Some nine hours later the Hawks doubled their pleasure with another big-run rally to bust open a close game with a 10-5 victory over Chapin TX.
HIghland (4-7) strung together six hits, two Dobson errors and a couple wild pitches to score six runs in the fourth inning and break open what at the time was a 2-1 lead for the Hawks. Dobson dropped to 4-7 for the season after losing its second game of the day 9-6 to Casa Grande. HIghland has a second game late tonight against Chapin (TX).
Highland's top three hitters in its order led the way combining for six hits, seven RBi and five runs. Leadoff hitter Kaleb Herbert had a pair of singled and a triple, Conner Webster a single and double and Dakota Thornton two RBI singles in his first two at-bats that put Highlan dup, 2-1.
Trey Cutchen and Aaron Kopas also had two hits for Highland. Kyle Conway started and pitched four innings allowing one run for the Hawks to pick up the win. Tanner Skaare and Herbert ptiched the final three innings giving up the other run.
Top hitters for Dobson were cleanup hitter Ben Ferguson with two hits and both RBI. Jake Owen also had two hits for the Mustangs.
In Highland's victory over Chapin, Connor Webster stroked a two-run triple to highlight a four-run, fifth inning rallly after Chapin had sliced the Hawks' lead to 6-5 in the top of the frame. Highland took advantage of eight hits and like number of walks from Chapin pitchers to account for its double-digit run total. Kohner Cullimore earned the win with four innings of work.
MONDAY'S OTHER POOL PLAY RESULTS
At Highland HS -- Williams Field 8, Mesa High 7; At Campo Verde HS -- Desert Vista 10, Campo Verde 2, Desert Vista 8, Skyline 3; Desert Ridge 13, Marcos de NIza 3; At Mesquite HS -- Mesquite 8, Maricopa 0; Prescott 9, Maricopa 0, Mesquite 4, Gilbert 0.
POOL PLAY STANDINGS THROUGH MONDAY MARCH 12
Pool A -- Highland 2-0, Casa Grande 1-0, Chapin (TX) 0-1, Dobson 0-2. Pool B -- Desert Ridge 2-0, Williams Field 1-0, Marcos de Niza 0-1, Mesa 0-2. Pool C -- Desert Vista 2-0, Campo Verde1-1, Skyline 1-1, McClintock 0-2. Pool D -- Mesquite 2-0, Prescott 1-0, Gilbert 0-1, Maricopa 0-2.
---