Baseball: Williams Field claims spot in Bob Everett Classic semis
March 13, 2018 by Les Willsey, AZPreps365
---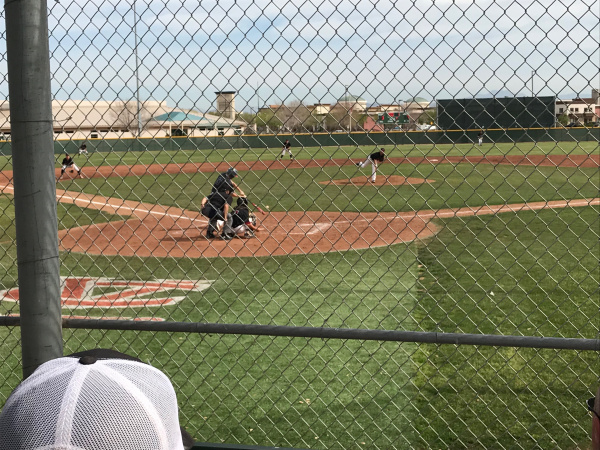 Williams Field's Talon Brown lines his 3rd hit Tuesday in win over Desert Ridge. (AzPreps365 photo)
Williams Field's baseball team wasn't proficient in all areas Tuesday morning, but in one they were outstanding - scoring with two outs.
The Black Hawks tallied five times with two outs in the fourth inning to break a tie and went on to beat Desert Ridge, 9-5, in pool play at the Bob Everett Classic at Campo Verde High School.
In all, Williams Field scored seven of its nine runs with two outs and derailed the Jaguars (5-9) chance at a semifinal berth Wednesday for a a couple hours. Williams Field evened its record at 5-5 in beating Desert Ridge, but fell back under .500 with a 15-5, 5-inning loss to Marcos de Niza.
That loss didn't come back to knock them out of a semifinal berth as Mesa High delivered a 10-3 victory over Marcos de Niza that prevented a three-way tie that would have gon Desert Ridge's way in the tie-breaking rules. It left Williams Field tied with Desert Ridge in pool play at 2-1, but the berth went Williams Field's way thanks to their morning victory.
n Williams Field's win over Desert Ridge, the Jaguars had scored twice in the bottom of the third to tie the game at 2. Desert Ridge starting pitcher Branden Cohn knocked in the tying runs with a two-out infield single.
Cohn, who lasted four innings, was one pitch away from putting a zero on the WF scoreboard in the fourth. With the bases loaded and two outs, Cohn went to a 3-2 count on leadoff hitter Ty Amenta. Amenta lofted a single to right for the first two runs. Camden Plewe and Landon Kerby followed with first-pitch RBI singles and additional run scored on on a throw.
Wllliams Field pitcher Talon Brown played a large part in the victory. Brown threw five-plus innings, allowed 10 hits and all the runs, three earned. He limited damage by not issuing any walks. At the plate he was 3 for 3 with a single, double and triple and his spot in the order scored three times. Plewe had two hits as did Kerby, who came off the bench to deliver. Kyson Fuentes pitched two scoreless innings in relief for the Black Hawks.
While walks didn't hurt Williams Field vs. Desert Ridge, they were fatal in the loss to Marcos de Niza as were two-out runs. Williams Field surrendered six runs in the first inning to Marcos -- with six walks part of the uprising, including three with the bases loaded. All of Marcos de Niza's runs in the first scored with two outs.
The other tournament semifinal berths belong to Mesquite, Desert Vista and Highland. Mesquite posted its third shutout in as many pool games with an 8-0 win over Prescott to clinch its pool. Mesquite plays Desert Vista, which was 3-0 in its pool and toppled McClintock, 9-1, on Tuesday, Highland finished perfect in pool play, scoring six runs in the first inning and finishing with four in the the sixth tor run-rule Casa Grande, 13-3.
The semifinals on Wednesday are set for 6 p.m. Highland will host Williams Field and Mesquite will host Desert Vista. The winners play in Thursday's title game at 6 p.m. at Highland High.
---