Kibler's request to coach 1 more season denied
April 13, 2018 by Jose Garcia, AZPreps365
---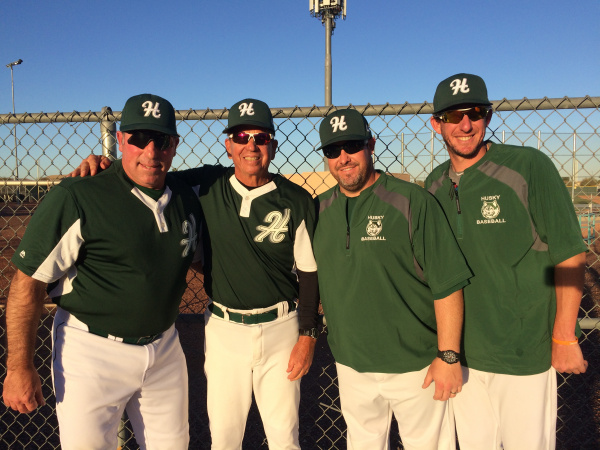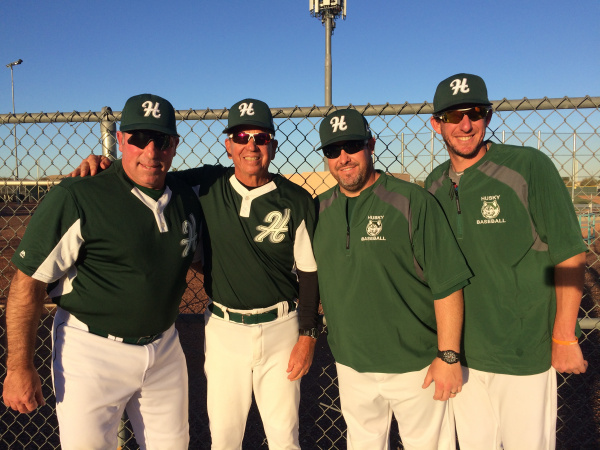 (Horizon baseball coach Eric Kibler, second from left, with staff members Bob Strachan, David Moore and Jeff Urlaub.)
Baseball coach Eric Kibler's request to coach one more season at Horizon High was denied.
A voice message was left with the school's athletic director seeking a comment.
"It's not about me," Kibler said. "It's about the culture and players and alumni. I just wanted another year to go out on a positive note. This is not the way I wanted it to happen."
Kibler is the state's all-time leader in career baseball wins with 806.
He presented Horizon administrators four reasons why he wanted to remain as coach during the 2018-19 school year. They are: a smooth transition for everybody involved in the program, the honor to coach a 39th season, to allow the program to plan hosting tournaments and other community activities, and to finish with Collin Demas and his junior classmates.
Demas is in his third season with the Horizon program and was diagnosed with Leukemia in January. In a letter of support, the Demas family stated, "From the second we found out (about Demas), coach Kibler and the entire coaching staff have gone above and beyond to support Collin and our family."
The letter went on to state that Horizon's coaches are teaching "our boys more than (just) baseball."
Kibler informed his players this week that he and his staff, which includes longtime coaches Bob Strachan, Jerry Stone, Pete Crimando and Jim Cox, might not be back next season.
"This being my 38th year, I would like the honor to coach one more year," said Kibler in a letter he presented to his administration. "I have put my heart and soul into this program and would like to end it on my terms. The program has brought the school positive recognition state wide, nationally and internationally."
Horizon is currently ranked No. 16 in the 6A power rankings and is fighting for a postseason berth with five games remaining in its regular season.
The team travels to Tolleson tonight.
---