BEACH VOLLEYBALL: Ironwood Ridge beat Deer Valley for first postseason win in program history
April 24, 2018 by Andy Morales, AZPreps365
---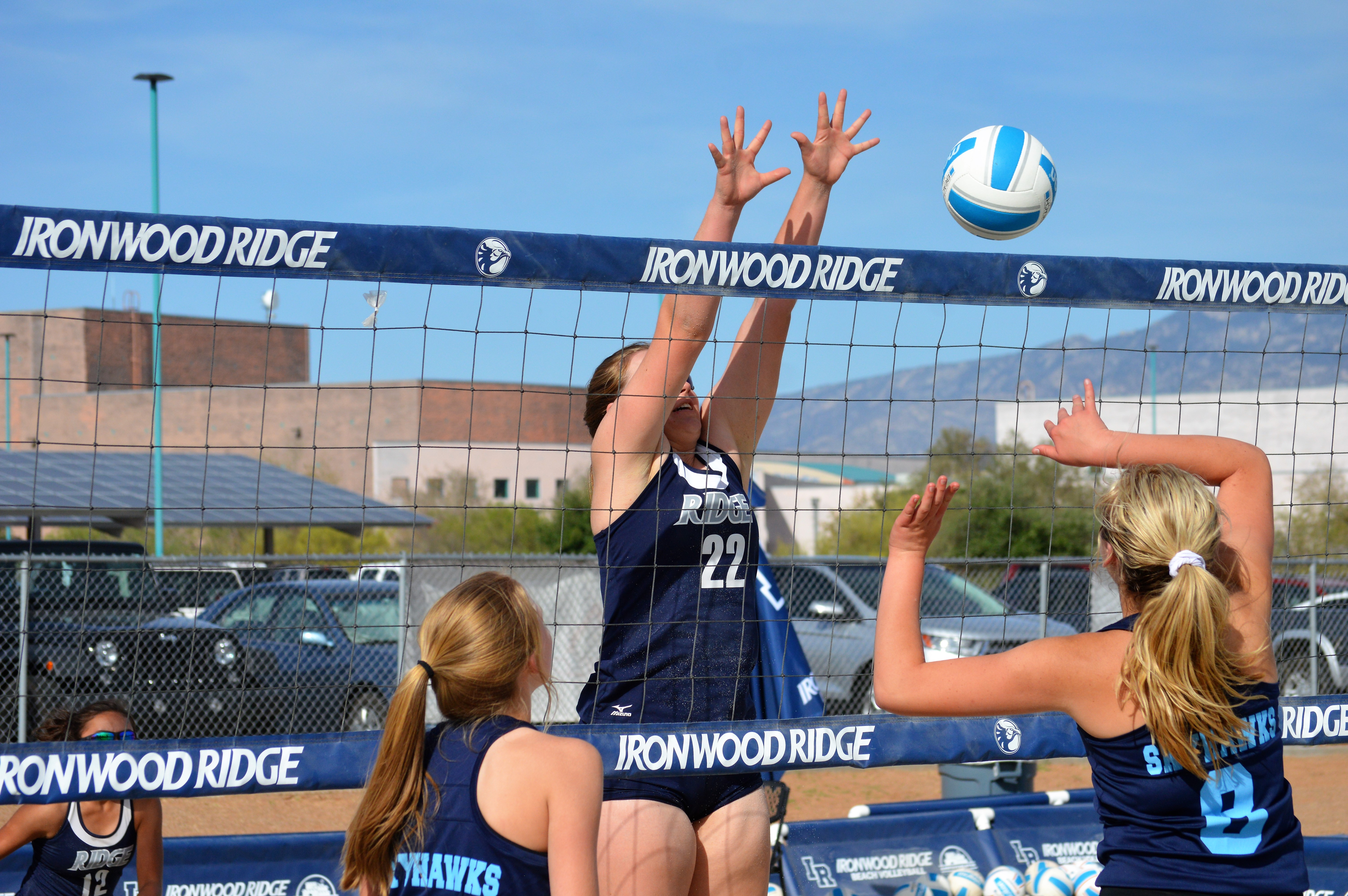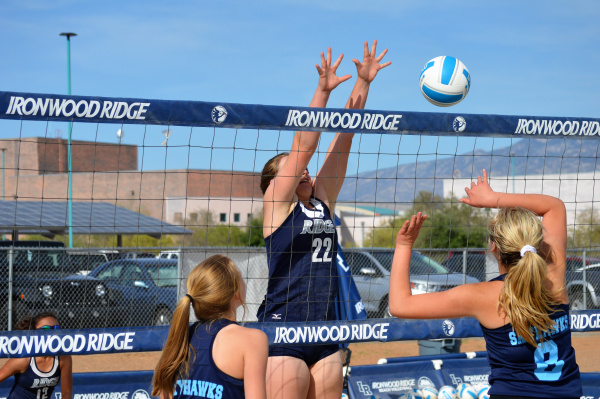 Morgan Smith (22) goes up for a block for Ironwood Ridge (Andy Morales/AZPreps365.com)
No. 8 Ironwood Ridge beat No. 9 Deer Valley 4-1 on Tuesday to advance to the quarterfinal round of the Division I state beach volleyball tournament. The victory was the first postseason win for the Nighthawk program.
Jacqueline Gomez and Morgan Smith put the Nighthawks up 1-0 from the fourth spot thanks to a 21-15, 21-9 win over Bree Rudolph and Ashlynn Compo. Alyssa Feltman and Sophia Gomez followed that up with a 21-12, 21-18 victory over Lanae Gonzales and Tatum Stelter to give Ironwood Ridge a commanding 2-0 lead.
Taylor Salese and Breanna Boch came through with a 21-11, 21-4 sweep over Carsyn Schuch and Savannah Davis to send the Nighthawks to the quarterfinal round. The Skyhawks came through with a victory from Avrey Dunn and Allison Howard. The No. 3 pair from Deer Valley outlasted Jill Durrant and Sydney Taylor 13-21, 21-10, 15-11.
The Nighthawks came away with a 21-15, 21-9 victory in the final match involving the top two pairs with Morgan Gappmayer and Sarah Semon coming through over Kaley Hosler and Kendall Coleman.
Gappmayer will be playing indoor for NAU next year but the senior outside hitter likes what she sees from her current team and what will be coming down the road.
"I'm know as a net player, but beach volleyball has definitely helped my defense," Gappmayer said. "I've learned how to read the offense and that will help me when I'm in the back row."
The Amphitheater School District built three facilities in the district with one at Ironwood Ridge, another at Canyon del Oro and four more courts at Amphitheater High School. Each of the three facilities rival what one might find on a college campus.
"Having our own court has made us play with pride," Gappmayer added. "When you play with pride you tend to play better and we are also getting in a lot of good players."
The Nighthawks will travel to top seed O'Connor on Tuesday. The Eagles beat Ironwood Ridge 4-1 on April 9.
---