Pusch Ridge dominates tennis individual state championships
April 28, 2018 by Seth Polansky, AZPreps365
---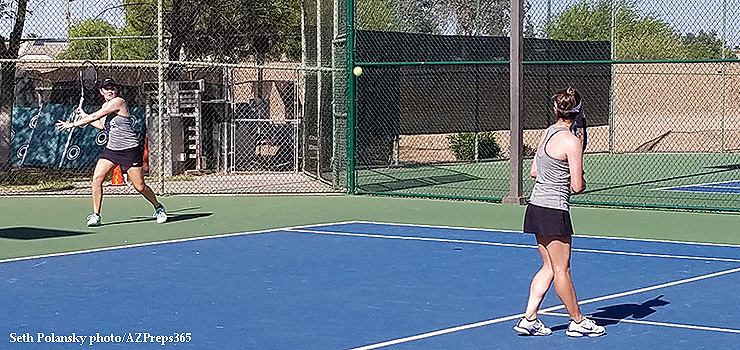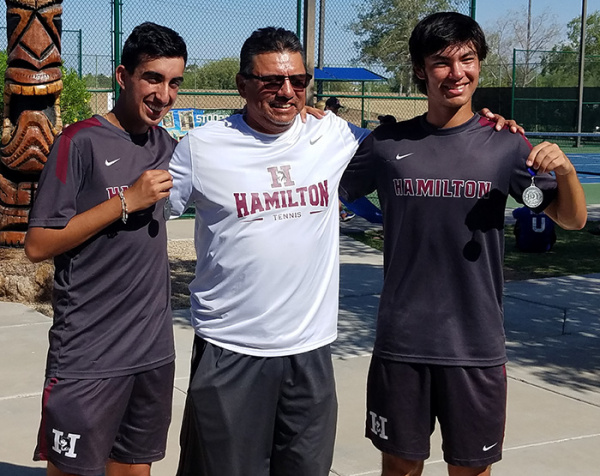 Hamilton's Freddie Wentling and Neil Bhardwaja, along with coach Phil Gonzales, show off their first place medalions. (Seth Polansky photo/AZPreps365)
The first champions of the AIA spring sports season were crowned today, and for the members of the Pusch Ridge Christian Academy tennis team, it was a very successful outing from the Paseo Racquet Club in Glendale.
The Lions became the first school since Arcadia in 1988 to sweep the singles and doubles individual titles in both genders, and it was the seventh time in AIA history that accomplishment has been achieved.
"The kids are competitive, work hard and love each other. And they don't slack off," said head coach Andy Fetsis, whose children Christian and Sofia each came away with titles today. "This was a just great opportunity for us to see all the hard work pay off. There were moments where you can see the momentum shift toward the opponents. But our kids just battled back and got focused."
Top-seeded Preston Grammond took his title match in straight sets over Adway Gopakumar of Scottsdale Prep 6-2, 6-0 to defend his state crown. Grammond overcame a long semifinal earlier in the day, taking that one in three sets over Federico Niccacci of St. David 6-3, 4-6, 6-1. The second-seeded doubles team of Christian Fetsis and Diego Rodriguez defeated Joey Haertzen and Reilley Leudde of Northland Prep 6-1, 6-3. Fetsis and Haertzen went through the tournament unscathed not dropping a set.
On the girls side, Christian's sister Sofia Fetsis claimed the singles title in straight sets 6-2, 6-0 over Katerina Stender of Gilbert Classical. And it was an all-Pusch Ridge affair in the doubles championships as Kate Maxfield and Hailey Brack earned bragging rights over their teammates Emma Reilly and Colleen Harris 6-2, 7-6 (2).
Sofia Fetsis became the first Lions girls singles state champion since 2010, and PRCA earned its first doubles title since 2013, its fourth in school history.
"We told the team we believe in them," Andy Fetsis added. "They worked hard for the opportunity to be here. And to get to the state tournament in any sport, it's who wants it most. Who makes the fewest mistakes and pushes through the adversity."
Chaparral senior Tripp Dillon made easy work of the Division I boys singles flight, defeating Ethan Lee of Rincon/University 6-0, 6-4 in the championship. The four games Dillon gave up in the title match was the most in any set for him in the tournament, only allowing seven games in six total rounds. Dillon became the fourth Chaparral boys singles champion, all of which have been won in the past 13 years.
"It took four years for me but it feels pretty good taking it home like this," said Dillon "I've played a lot of tournaments in the summers and traveling. I knew some people were looking to beat me (as the top seed), but just grinding over these four years made this possible."
The Division I boys doubles tournament went to Freddie Wentling and Neil Bhardwaja of Hamilton. The top-seeded duo also swept the field through six rounds, dropping only 14 games along the way. The pair became the first-ever Huskies to bring home an individual state championship in tennis in either gender.
"I feel that everyone wants to be the No. 1 seed. And we had a bunch of challenges the whole time," Bhardwaja said. "We played some great schools."
"We always look out for each other and everything was just a big group effort," added Wentling.
On the girls side in Division I, Desert Mountain sophomore Hailey Stelse stunned top-ranked and defending state champion Liza Isayev of Horizon 6-4, 6-1 in the championship match. Stelse blanked Rimona Rouf of Desert Vista in the semifinals in a rematch of a tournament earlier this season in which Rouf came out on top. Stelse won four of her six matches in the tournament in convincing 6-0, 6-0 fashion.
"I just felt that I was very focused and was able to pull this out," Stelse said. "I was super excited once I realized I won state. I have wanted this since freshman year."
The Wolves made it a Division I girls sweep with Josie Frazier and McKenna Koeing defeating Erica Stutz and Emily Even of Xavier Prep 6-1, 6-0. It was one of the more dominant performances in AIA history with the pair only dropping only two games in six rounds en route to the title with four shutouts. Frazier adds to her personal collection of championship hardware after coming out on top of the singles bracket in 2016. It was the first girls doubles title in school history, and the third singles title in 11 years.
One of the state's most storied programs is Catalina Foothills out of Tucson. In AIA history, the school has won a combined 10 singles titles, 19 doubles titles and 25 team titles. The Falcons can add three more trophies to that case with victories in Division II boys doubles, girls singles and girls doubles.
George Jiang and Mason Lee earned a hard-fought 6-2, 4-6, 6-2 win over Harry Carozza and Ryan Hildebrand of Cactus Shadows in boys doubles. Jiang was also 2017's Division II boys singles state champion. Chloe Gavino and Abby Watson outdueled Arcadia's top-seeded and defending title holding-pair of Jillian Rasmussen and Katie Reed 6-4, 4-6, 6-4. And Selma Fereres won the last match of the day over Samantha Loving of Salpointe Catholic 6-4, 6-2.
Watson won her third state doubles title with her third different partner. And Fereres, the team's No. 3-ranked singles player during the season, was elevated to compete in the singles flight of the state tournament. As the top seed in the tourney, Fereres didn't drop a set in six rounds, but did slow down due to the heat. She won her semifinals match earlier in the day 6-2, 6-4 over Danielle Quenzler of Cactus Shadows.
"I've been really fortunate that a lot of talented tennis players that have come to our school to play," said Catalina Foothills girls coach and 2017 NFHS Girls Tennis Coach of the Year Kristie Stevens. "It was kind of a toss-up by only getting one doubles team in the tournament and only one singles player. We left it up to the girls for who wanted to play singles or doubles. This gave Selma an opportunity to really come through. So for her to win a state title as a No. 3 singles player in your program, we're pretty blessed. We did have the depth this year."
Stevens added, "Chloe is our No. 1 in singles, but she wanted to play doubles with Abby, who is an amazing doubles player. And with this, I am so happy for them. It has a lot to do with the girls and their commitment who want to play high school tennis and want to play for their school. It came down to who was going to miss, who was going to blink. Both teams were fighting for it and never giving up. Every point and every game was earned."
The only individual to keep Catalina Foothills from representing in all four flights at the state championship round, Deer Valley's Oliver Boleratzky took home first place by defeating Anton Nazaroff of Foothills 6-1, 6-0 in the semifinals before fighting through for a 6-4, 7-6 (5) victory over Colin McConnon of Cactus Shadows in the championship. McConnon was coming off a three-set victory earlier in the day in the semifinals and couldn't keep up with Boleratzky in the 100-degree heat. This marks the first-ever title in tennis for the school.
These schools return to the courts this week in pursuit of the AIA team tennis championships to be awarded on Saturday, May 5 also at Paseo. The defending champions are:
Division I boys – Brophy Prep
Division I girls – Desert Mountain
Division II boys – Catalina Foothills
Division II girls – Arcadia
Division III boys – Tanque Verde
Division III girls – Pusch Ridge
---