Perry, Ft. Hills crowned first beach volleyball champs
May 3, 2018 by Jose Garcia, AZPreps365
---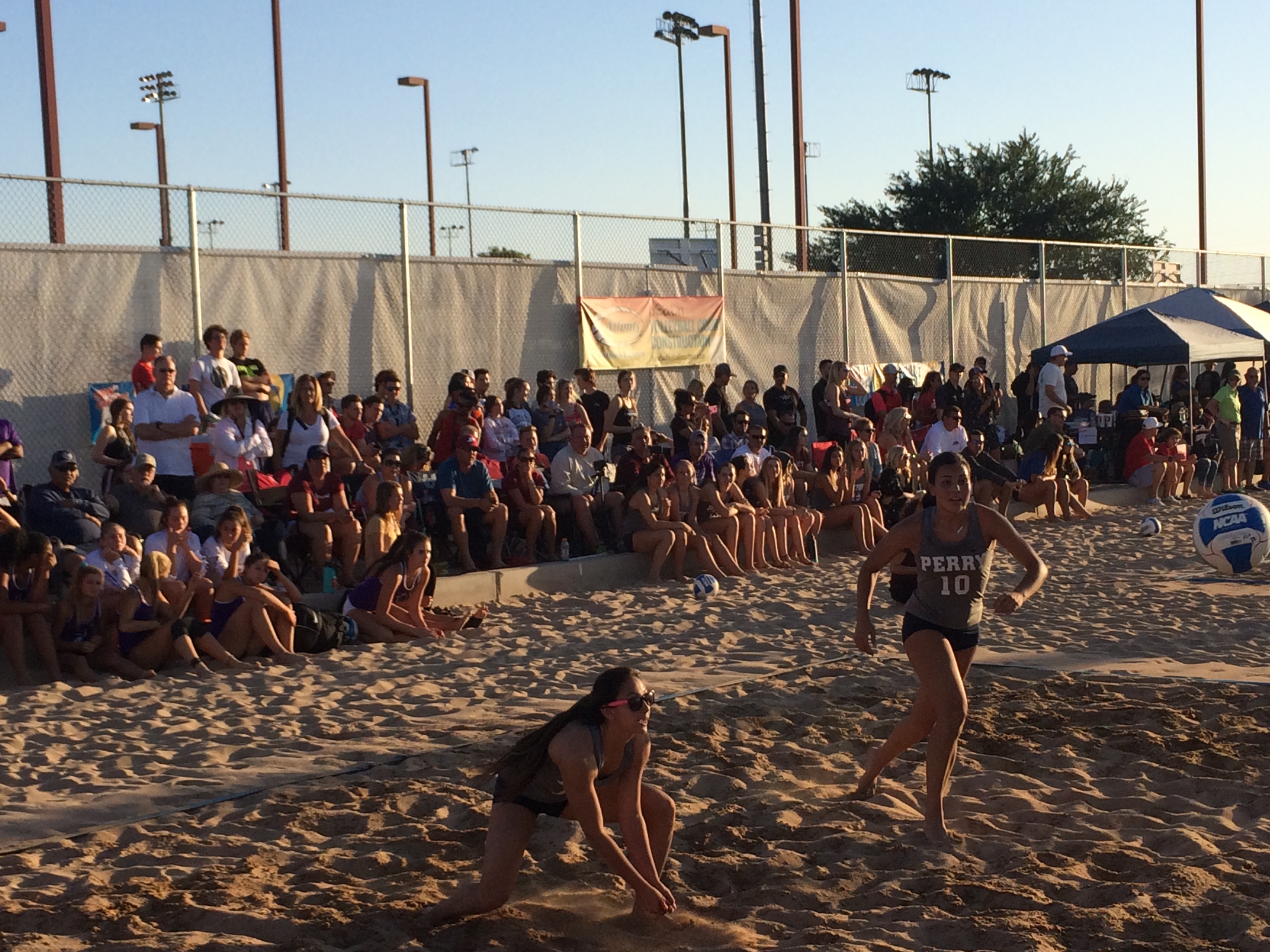 Perry and Fountain Hills made history, becoming the first programs to win Arizona Interscholastic Association sanctioned beach volleyball team titles.
The sport was run as a pilot program the previous six seasons, but the interest in the sport grew. So much so that 53 schools participated this season.
In the process, Arizona became the first state to introduce beach volleyball as a high school sport. It didn't reach Thursday's well-attended finals at Mesquite, but it's worth mentioning that Xavier had a big hand in helping the sport get off the ground here, encouraging other programs to play in the sand.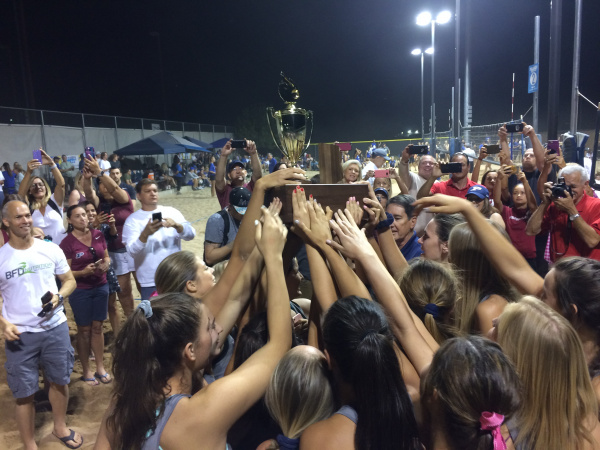 (Perry celebrates after winning Division I title.)
During the first six seasons, Xavier also dominated, winning every non-sanctioned title it played for and going 82-3 in its first seven beach volleyball seasons. But Thursday belonged to Perry and Fountain Hills as well as the firsts state beach volleyball runner-ups, Millennium and Valley Christian.
In beach team volleyball, each school has five teams of two players, and the first school to win three of its five matches is determined the winner. Perry defeated Millennium 4-1 for the Division I title, and Fountain Hills also won by the same score to take the Division II crown.
A handful of the players at Mesquite are headed to college to play beach volleyball on scholarship, so the beach volleyball skill level is high in Arizona, where the indoor game also continues to develop at a high level.
Just ask Perry's head coach, Fred Mann. It might be his first beach title, but the South Africa native is no stranger to holding trophies.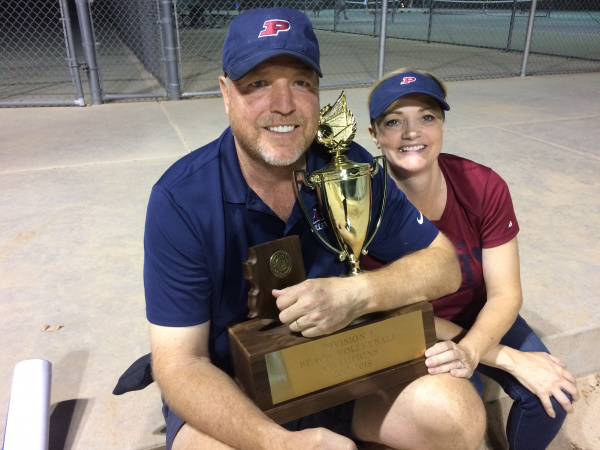 (Fred Mann and his wfie Angie)
Mann also made history Wednesday, becoming the first Arizona volleyball high school coach to own indoor titles in boys and girls and now a beach volleyball championship.
"Top to bottom, we just had a deep team this season," Mann said.
The same could be said about Fountain Hills, which won indoor and non-sanctioned beach titles last year. The program repeated that feat this season.
In charge of those those teams is a man who doesn't hold back his passion for the sport, Peter McGloin. He was celebrating with his team every chance he got Wednesday.
Last year, Fountain Hills didn't clinch its state semifinal and championship victories until its No. 1 seeded volleyball team of KC McMahon and Alexa Armenta won their matches. This year, the team cruised to its title.
"He (McGloin) is the reason why we've won it a couple of times," McMahon said. "He says we can do something even when we think we can't."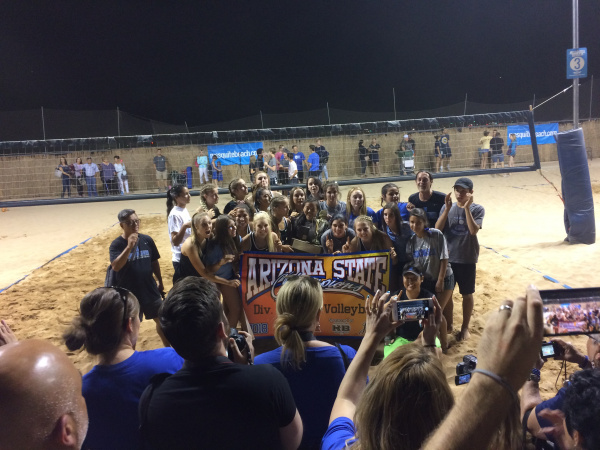 (Fountain HIlls celebrates with its fans. Photo by Jose Garcia/azpreps365.com)
Rosters
Perry
Morgan Mann
Portia Valadez
Kylee Brinkerhoff
Liz Melita
Brooklyn Poling
Tatum Stall
Melissa Blockey
Matea Suan
Halle Razo
Erin Myers
Ryann Davis
Ellie McDonald
Noelle Weintraub
Taylor Pennington
Jenna Heller
Millennium
Nicole Hoff
Alana Rennie
Hannah Waters
Alyssa Avitia
Ashley Antoniak
Kaitlin Bruchhuaser
Annika Payne
Sedona Sherman
Natalie Lopez
Bailey Schlosser
Denise Morales
Jordyn Coupe
Fountain Hills
Ashley Beck
Gina Woods
Misty McCall
KC McMahon
Barett Nolan
Paula Iwaoka
Alexa Armenta
Nicole Gadaev
Corrin Schultze
Andi Bohlman
Alyssa Barbagallo
Jelina Lynch
Valley Christian
Rebeca Ainsworth
Abby Juist
Macy McClain
Ellie Mouer
Bridgette Ronan
Breanna Brooks
Audrey Brown
Makena Schaetzle
Malory Hanenburg
Jasmine Plummer
Megan Davies
Nevina Plummer
Paige Rodrigues
Courtney Dyer
Abigail Calicchio
Kenzi Kerkhoff
Emma Richardson
---