6A boys volleyball: Perry eliminates 2-time defending champ Boulder Creek
May 5, 2018 by Les Willsey, AZPreps365
---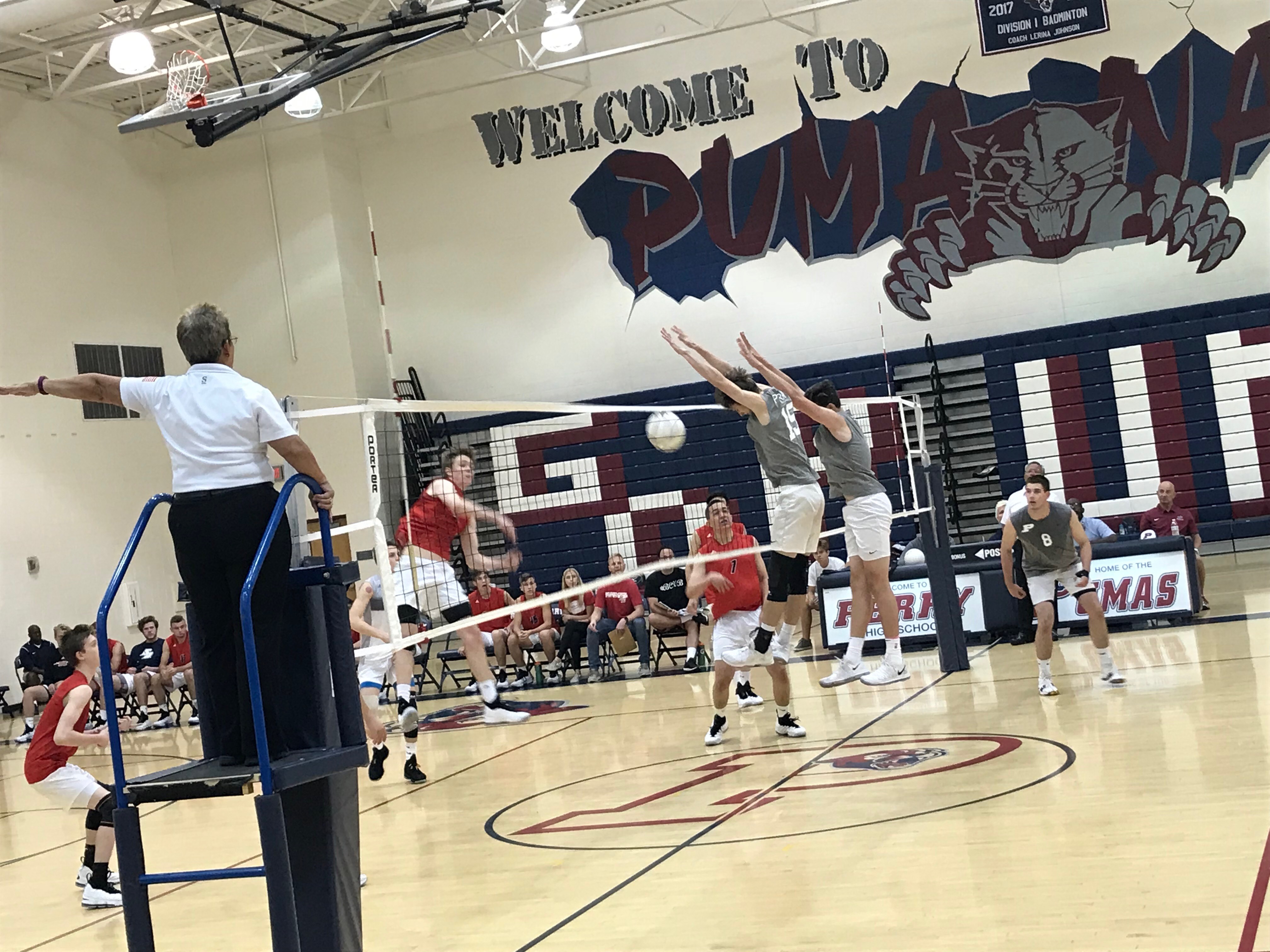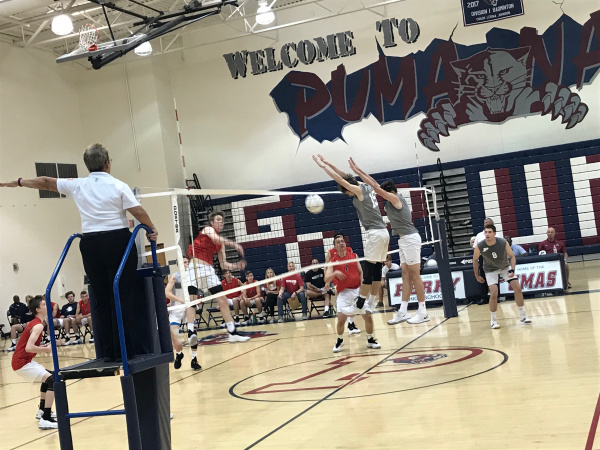 Perry's Zach Morrill (15) rejects an attack from Boulder Creek's Jackson Hickman during the Pumas five-set win over the Jaguars on Saturday night. (AzPreps365 photo)
There was very little breathing room Saturday night in what proved to be the best 6A state boys volleyballl match by far in the day's round of 16.
#8 Perry alternated wins in four tight sets and prevailed going away in the fifth in knocking off two-time defending state champ and #9 Boulder Creek at Perry HIgh. Scores were 25-23, 22-25, 25-23, 23-25 and 15-8.
Next up for Chandler is #1 seed Chandler, last year's runner-up. Chandler advanced with a 3-0 win over Rincon/University. Perry and Chandler play Tuesday May 8 at 6:30 at Chandler High. Boulder Creek finished its season 27-18.
Fans likely were anticipating another nail-biter in the decisive set, but it never materialized. The Pumas jumped to 5-1 lead earning fhree of the points and taking a couple via Boulder Creek errors. Zach Morrill and Collin Hoag tallied on kills and setter Daxton Tolman's block forced Boulder Creek to ask for an early time out.
Three points later the margin was 8-2 with Hoag adding a kill and block and sophomore Nathan Schildgen coming through with another block. That prompted Boulder Creek coach Taylor Stallman to burn his final timeout. Boulder Creek pulled within three once (8-5), but Perry was determined not to let the biggest margin of the night either team had get away.
Perry coach Ryan Tolman wasn't sure he could pinpoint what turned the tide in the decisive set.
"I don't know, I wish I could tell you," Tolman said. "Our guys played with a lot of energy the last set. It helped we were playing at home. We we had four sophomores get a lot of time. There were lots of contributions."
Leading the attack was senior outside hitter Collin Hoag with 21 kills. Morrill checked in with 14. A trio of players shared the top of the blocking stats with senior Dallin Hawkins (six), Daxton Tolman (five) and Schildgen (four). Daxton Tolman led in assists with 44 and had 10 digs. Sophomore setter Carson Bashford also made an impact.
Boulder Creek was led on the attack by junior hitters Jackson Hickman and Braiden Franco. Hickman found the floor 23 times unofficially. Franco was next unofficially with 14
---