Brophy, Desert Mtn. repeat as D-I team champs
May 5, 2018 by Jose Garcia, AZPreps365
---
Josh Belgrad sure has a flair for the dramatic.
He needed to win his match last year to clinch the tennis team championship for Brophy. On Saturday, Belgrad was in the same spot, in the heat and in front of fans and teammates as the final moments of the Division I match unfolded.
Belgrad, Brophy's No. 5, trailed 2-5 in the third set but didn't buckle. He rallied to win the set and seal the second consecutive title for Brophy.
The Desert Mountain girls also left Glendale's Paseo Racquet Center with a championship trophy and repeated as champs, defeating Chaparral 5-2 for its Division I crown Saturday.
Belgrad's 3-6, 6-2, 7-5 win clinched a 5-1 Brophy win against a tired and undermanned Desert Mountain team that battled. Three of the singles matches went three sets.
Desert Mountain still had some fight after Friday's draining semifinal clash with Hamilton. But Brophy, including Belgrad, jabbed back.
"I had to fight and get that match for me," Belgrad said. "I've worked too hard and been in the gym. This team is so special. I got the last win, but there were three, three-set matches that we were fortunate to pull out. At the end of the day that's just the grit we have."
Belgrad's clincher capped a 17-0 season for Brophy.
Brophy's Eric Chalmers, a former Brophy player who helped Brophy win two team titles as a player, is in his second season as coach. He was hired by his former coach, Bill Woods, Brophy's athletic director and 13-time tennis coaching champ.
But from 2015-2016, Desert Mountain was the titlist, snapping a three-year championship streak by Brophy. In stepped Chalmers.
"Take care of the small things and big things will happen," Chalmers said.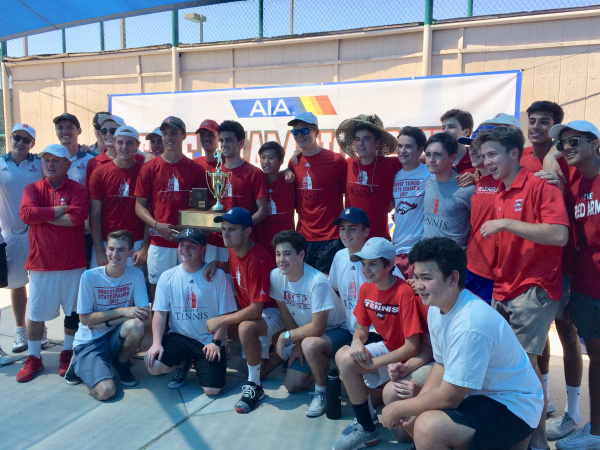 (Brophy)
Brophy-Desert Mountain results
No. 1 Desert Mountain's Adam Oscislawski
def. Brophy's Jack Woodrow
No. 2 Brophy's Andrew Chong def. Desert Mountain's Jonny Auh 7-6 (11-9), 6-2
No. 3 Brophy's Greg Abbott def. Desert Mountain's Ryan Bear 4-6, 6-2, 6-0
No. 4 Brophy's Drew Postillion def. Desert Mountain's Sean Inness 5-7, 6-1, 6-1
No. 5 Brophy's Josh Belgrad def. Desert Mountain's Franco Toscano 3-6, 6-2, 7-5
No. 6 Brophy's Owen Blade def. Desert Mountain's Adriel Ducrocq 7-6 (7-5), 6-0
Desert Mountain repeats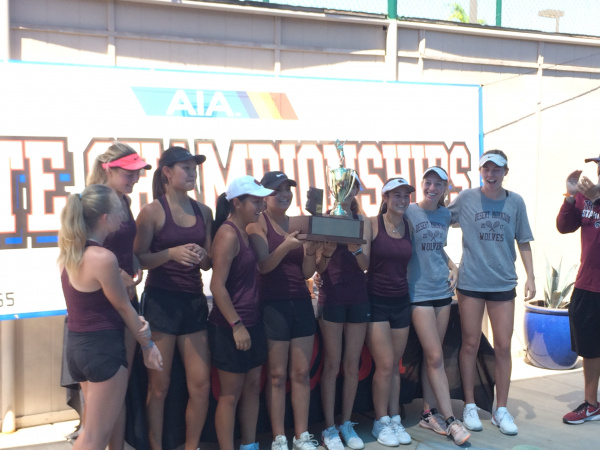 (Desert Mountain)
Desert Mountain defends
Something else besides basketball was tugging at Desert Mountain coach Mark Schumaker.
He accepted to coach Mesa's boys basketball team recently but reversed course and will remain at Desert Mountain. Besides basketball, this is also his first year coaching tennis at Desert Mountain, and Schumaker loved the experience.
"Honestly, it (tennis) is," said Schumaker about the other reason for remaining at Desert Mountain. "Being a basketball coach, that's my life. (Tennis) is such a stress free environment. I've never coached girls before, and these girls are so easy to be around."
Having a championship caliber team likely made life a little bit easier for Schumaker.
Desert Mountain finished the year a perfect 18-0 after a 5-2 win over Chaparral.
Desert Mountain's No. 1 doubles team, Josie Frazier and McKenna Koenig, clinched the title after its victory.
"We support each other on the court," Koenig said.
Game. Set. Match. CHAMPIONSHIP! Back 2 Back State Champions! Wolves took Singles, Doubles and State! Congrats to the Wolves for a PERFECT season (18-0)! pic.twitter.com/MzV44J0KZQ

— DMHS Girls Tennis (@dmhsgirlstennis) May 5, 2018
Koenig also won her singles match and so did her sister, Ava, a freshman.
Frazier is headed to William and Mary next year. Frazier, Koenig and Desert Mountain's No. 3, Hailey Stelse, lost only two combined matches this season.
Stelse won the singles title this year, and Frazier and Koenig won the doubles at state. Desert Mountain will lose only two seniors off this season's team.
Desert Mountain-Chaparral results
No. 1 Desert Mountain's Josie Frazier def. Chaparral's Grace Koester 6-2, 6-1
No. 2 Desert Mountain's McKenna Koenig def. Chaparral's Katie Kort 6-0, 6-0
No. 3 Desert Mountain's Hailey Stelse def. Chaparral's Anya Ramras 6-0, 6-0
No. 4 Chaparral's Cassie Seminoff def. Desert Mountain's Sophia Zhang 6-2, 6-3
No. 5 Desert Mountain's Ava Koenig def. Chaparral's No. 5 Anna Ramsook 6-3, 6-2
No. 6 Chaparral's Erin Hannen def. Desert Mountain's Esther Gold 6-0, 6-1
Desert Mountain's Josie Frazier-McKenna Koenig def. Chaparral's Grace Koester-Anya Ramras 8-4
---