4A baseball: Catalina Foothills advances to final
May 9, 2018 by Jose Garcia, AZPreps365
---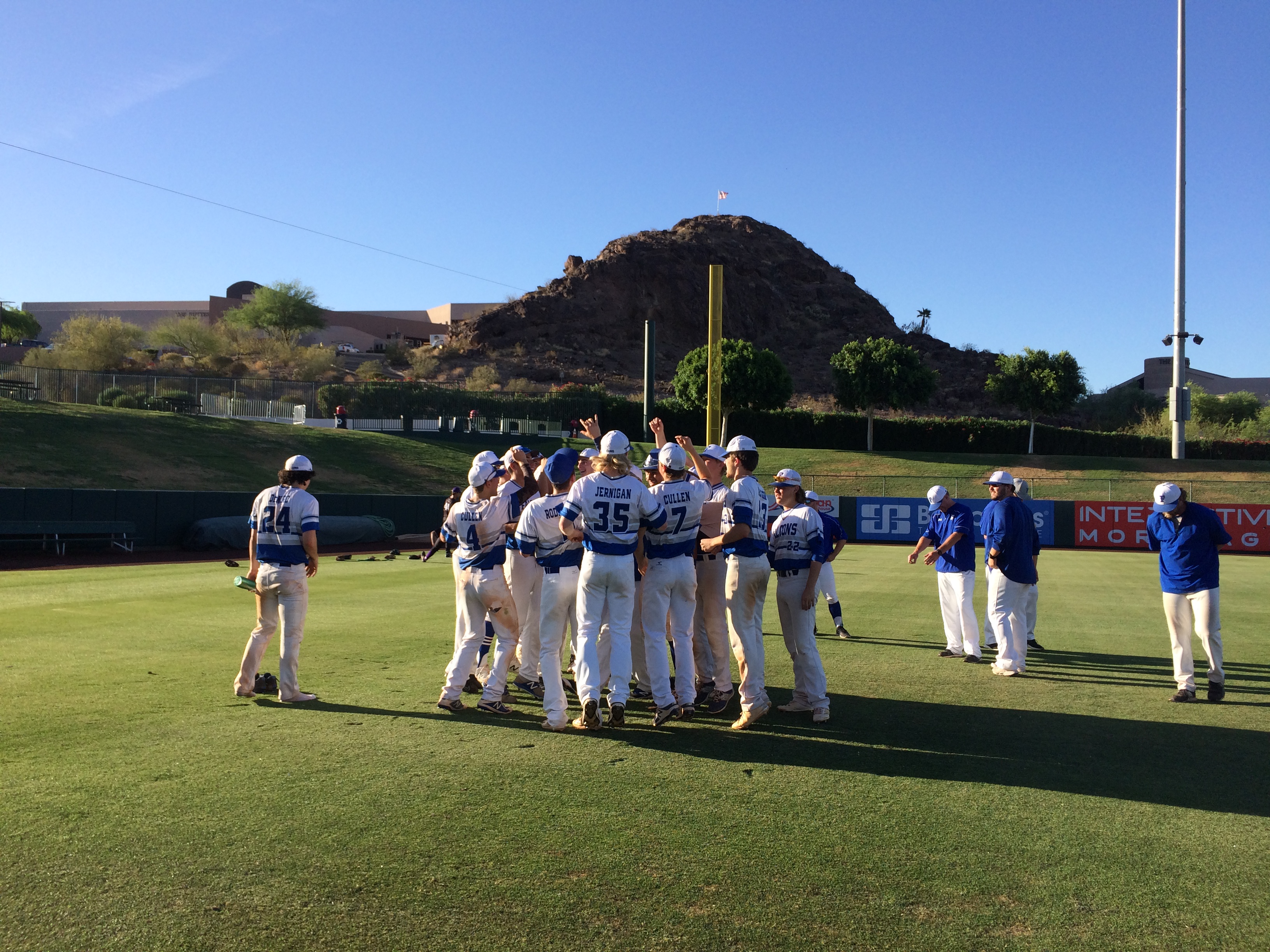 (Catalina Foothills celebrates after defeating St. Mary's in the 4A Conference semifinals. Photo by Jose Garcia/azpreps365.com)
Dante DeNiro is tired of being asked if he's related to the famous actor.
(He's not.)
But autograph seekers might want to rush over to Catalina Foothills High to catch the newest in-state baseball stars in the 4A Conference. With the tying run at first, DeNiro struck out the final batter at Tempe Diablo Stadium to send his Catalina Foothills cast to the 4A Conference championship game.
But the senior reliever/catcher had a lot of help this season and in his team's 2-1 Wednesday state semifinal victory over a St. Mary's team that exceeded expectations this season. The winner of Saturday's Nogales-Sunrise Mountain elimination game at Hohokam Stadium advances to Monday's final against Catalina Foothills at Hohokam.
Nogales, the defending champ, defeated Sunrise Mountain 6-0 in Wednesday's semifinal nightcap at Tempe Diablo.
Catalina Foothills rebounded from last year's non-playoff, sub-.500 season to reach the program's third title game.
"These kids have been a work in progress for years," Catalina Foothills coach James Baldwin said. "This was not a one day gig. This has been four years in the making. They deserve all of the credit. It's all been about team chemistry."
That team chemistry was tested during a pitching duel between St. Mary's lefty Angel Montoya and Cole Altherr.
The teams only had three hits after four innings, and No. 2 Catalina Foothills (26-7) needed a Matthew Cullen sacrifice fly in the fourth to score its first run.
But St. Mary's Aidan Sanford responded with an at-bat that epitomized his team's will this season to tie the game in the top of the sixth. Sanford, the grandson of former longtime St. Mary's coach and athletic director Jim Sanford, hit a two-out, full-count RBI single to center on the 10th pitch of the at-bat.
"It's definitely a special season (for us)," said St. Mary's coach Joseph Ponce, whose team finished 21-12. "Especially after going 5-22-1 (two years ago). We went 11-11 last year, which I think is respectable, especially in the 4A Conference that's really solid.
"Our kids have a lot of fight in them, and they battled to the very last out."
This was only the fourth time that St. Mary's reached the state semifinals since the school opened in 1917.
Sanford's hit took Altherr out as a pitcher, but not as a hitter.
Altherr came back to score the eventual winning run in the bottom of the sixth. He got on base after a two-out single and scored after St. Mary's outfield committed an error during a single by Cullen.
The error was the only big blemish in the game for No. 11 seed St. Mary's, which needed to defeat Catalina Foothills twice to advance to its first baseball championship game. Altherr and Montoya each scattered only five hits and allowed one earned run.
DeNiro retired the four batters he faced.
"For the most part it was our chemistry and our ability to come together as a team," said Deniro about Catalina Foothills becoming a championship caliber team this season. "I don't even think we are as talented as last year, but I just think our chemistry and overall bond has made our team successful."
Nogales stays alive
Nogales (28-5) snapped Sunrise Mountain's 17-game win streak thanks in part to one of its four captains, Markie Lopez.
The senior struck out 10 in 6 2/3 innings and held Sunrise Mountain to four hits. He was 5-1 with a 1.79 ERA before the game.
It was the first time that a team shuout Sunrise Mountain and handed ace Troy Balko (8-1) a loss this season. Nogales' bus broke down just as it was heading toward Tempe.
But that didn't put the breaks on Lopez and his team.
"I just wanted to give back with as much sweat and blood as I could for my team," Lopez said. "Because they would do that for me."
No. 5 hitter Marcel Bachelier and designated hitter Kenneth Jimenez had four of Nogales' nine hits and reached base a combined seven times.
The elimination game between Sunrise Mtn.-Nogales is on Saturday at Hohokam @ 6:30. Nogales' Markie Lopez struck out 10 tonight in 6-0 win. pic.twitter.com/puI1qp3e6n

— Jose E. Garcia (@AZPreps365Jose) May 10, 2018
---