Boys volleyball: Higley (5A), Desert Vista (6A) nab championships
May 11, 2018 by Les Willsey, AZPreps365
---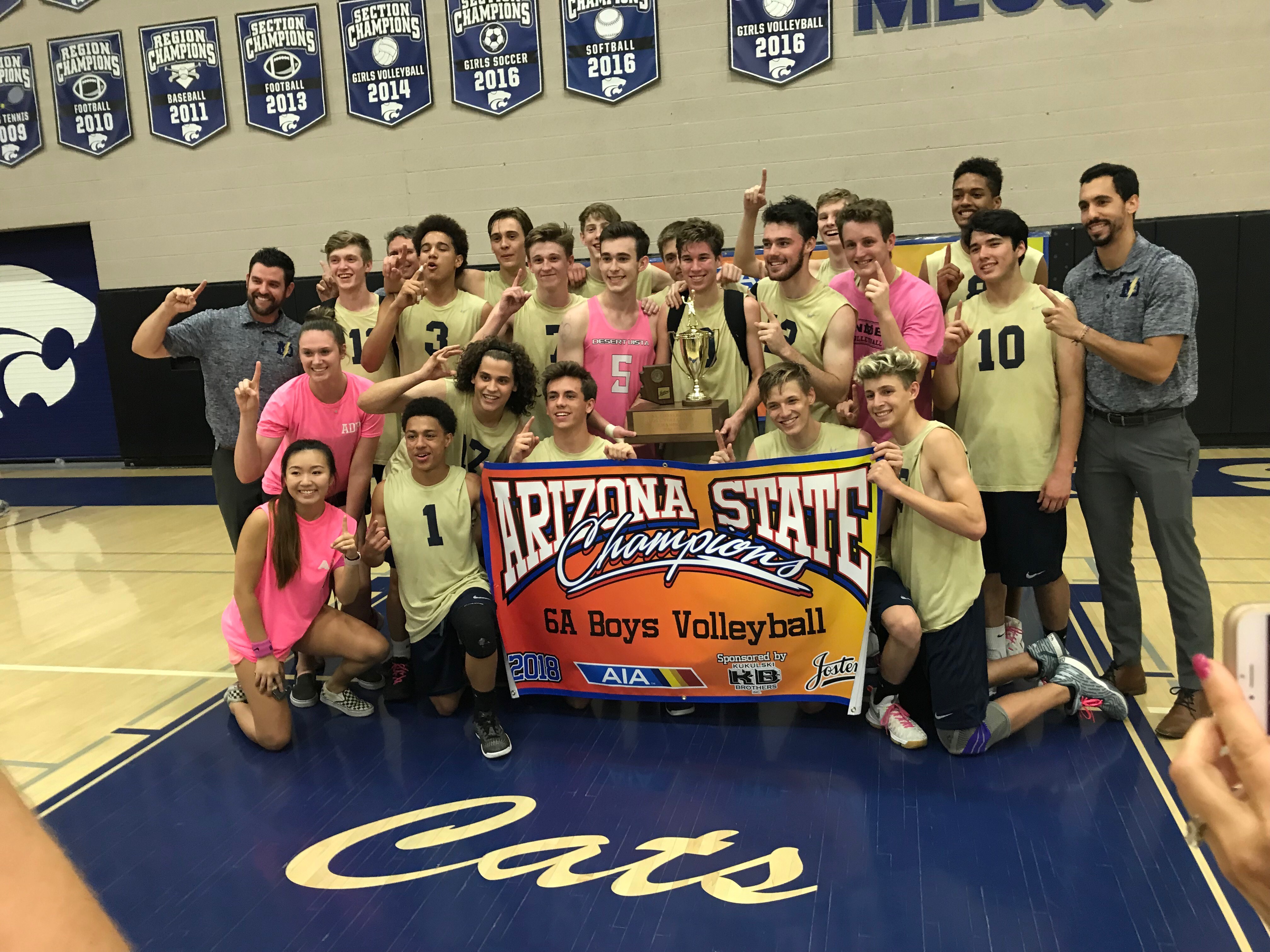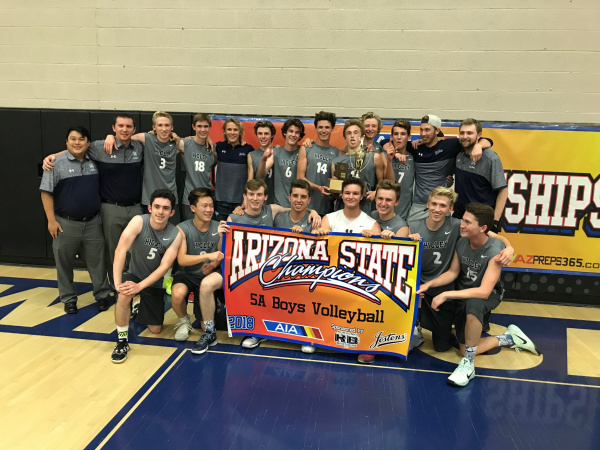 Higley celebrates the school's first boys volleyball title a 3-2 win over ALA-QC (AzPreps365 photo)
#7 Higley saved its best for last Friday night in distancing itself just enough from #5 American Leadership Academy in the 5A boys volleyball championship match at Mesquite High School.
The Knights found the floor with regularity in the decisive fifth set pulling away to take a six-point decison and win its first boys volleyball title. Scores were 25-19, 21-25, 25-21, 18-25, 15-9.
"We decided we needed to set to the outsides the last set," Higley coach Andrew Yamashiro said. "We had a lot of success with it."
Senior Dreyson Cattani collected five kills in the final set and the Kinghts had 11 alltold. Cattani finished unofficially with 16 kills.
"We picked it up when we needed to," Cattani said. "It was hard to get it going both sides. We made some adjustments and they paid off."
This was the third year for Yamashiro guiding Higley. They qualified for the first round in D-I in 2016 advanced to the quarterfinals in 5A last year and stepped the need two spots to claim a trophy.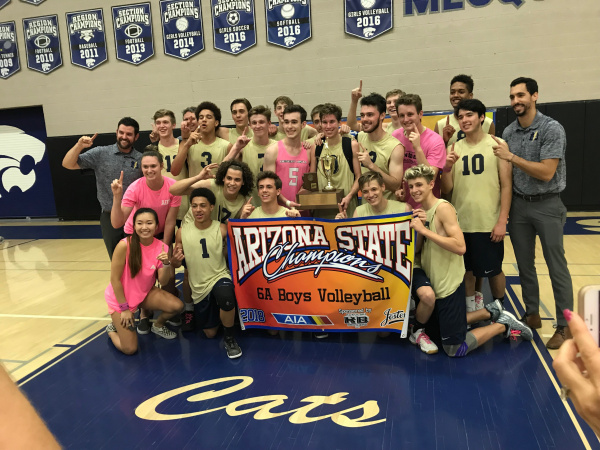 Desert Vista smiles for the cameras with the school's 2nd boys volleyball crown. (AZPreps365 photo)
In the 6A title match, #2 Desert Vista, playing in remembrance of girls volleyball player and team manager Alex DePriest, surprising took down #4 Sandra Day O'Connor in three sets. Scores were 25-22, 26-24 and 25-18. It was Desert Vista's second boys volleyball title. The other was claimed in 2007.
Shortly after clinching the match, Thunder players gathered and chanted with an admiring crowd ADP, ADP, ADP.
The key juncture in the match was the ending to the second set. SDO had controlled the set most of the way and seemed on its way to evening things at 1-1. With three-and-four-point leads at times in the set, Desert Vista pulled even and actually led for the first time in the set, 22-21. SDO bounced back and had set point at 24-23, but a Thunder kill, a hitting error and Nick Heeres finishing kill made it 2-0 Thunder.
"The end of the second set I think deflated their sails," Desert Vista coach Clay Webb said. "We followed it up with a strong start and momentun in the third. I kept telling our gjuys this year fi we stay consistent the only guys that can beat us are us."
Desert Vista's attack was multi-pronged with junior Landon Fuller leading with 11 kills. Depre Rogers, Isaac Skidmore, Jaden Rollins and Mason Harbertson produced six kills apiece.
Webb is looking forward to next year knowing he'll have about half the players who saw extensive action Friday back since they are juniors.
Sandra Day O'Connor, coached by Troy Dueling was bdding for its first title. Dueling has a pair of titles to his credit over the last four years. Both while guiding Boulder Creek.
O'Connor was blitzed early in the third set, falling behind 14-3. The Eagles pulled as close as 22-18 and certainly could have packed in it much sooner given the opening of the set.
---