6A baseball: O'Connor soars past Mountain Ridge for title
May 15, 2018 by Les Willsey, AZPreps365
---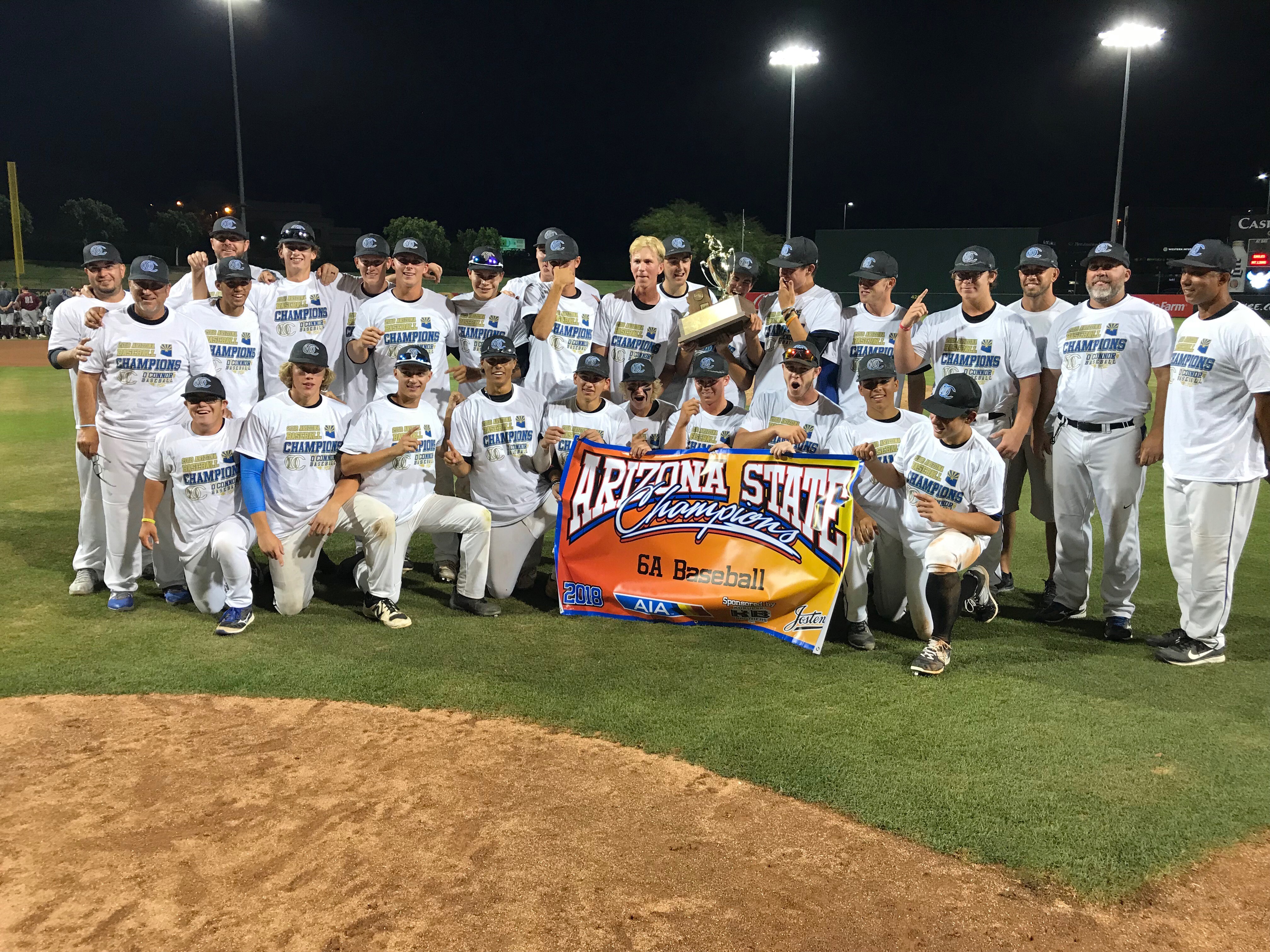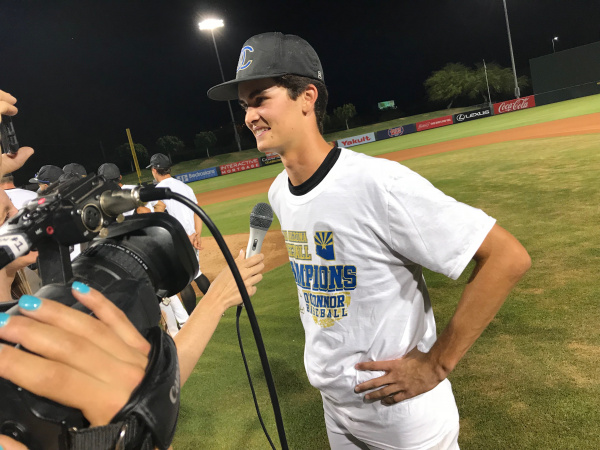 SDO freshman Barrett Skaugrud takes questions after pitching team to 6A title. (AzPreps365 photo)
It was a bit of bold choice, yet an easy one for Sandra Day O'Connor coach Jeff Baumgartner to make knowing what his choice to start had done earlier in the year.
Baumgartner chose to start freshman Barrett Skaugrud on the hill for the Eagles' most important game since 2008 when it lost in its first and only championship appearance.
Baumgartner was rewarded handsomely as the 6-foot, 135-pound frosh pitched #7 Sandra Day O'Connor to a 7-1 victory over #5 Mountain Ridge in the 6A championship game at Diablo Stadium.
Sandra Day O'Connor finished the season 22-10 while Mountain Ridge ended 21-10-1. Mountain Ridge was playing in its second title game in school history. The last one was in 2016 an ended a runner-up finish to Hamilton.
"He (Barrett) is a kid that pounds the strike zone and he did it again tonight," Baumgartner said. "Our defense was great behind him. He has three pitches he can throw for strikes and he had them working."
Barrett Skaugrud was told he was getting the ball and his coach had no qualms about it.
"He told me he had confidence in me," Skaugrud said "We went out and did the job."
Skaugrud finiished his freshman year with a 5-1 record, that also included a postseason start vs. Westwood on May 1, won in extra innings by SDO, 4-3. He had the requisit experience earlier in the year to have Baumgartner's nod.
Skaugrud didn't have to match up against Mountain Ridge ace left-hander Matthew Liberatore. Liberatore was unable to pitch since he didn't have the required four days rest from his last outing on Saturday that advanced Mountain Ridge to the final.
So how did Barrett Skaugrud fashion the historic outing for the SDO? He was in a tie game after two innings (1-1). Skaugrud gave up leadoff single in the bottom of the first that was erased by a 5-4-3 double play. The second inning started rough with Mountain Ridge getting a triple and double that tied the game at 1 with no outs. Skaugrud again used a 4-3 double play and ground out to escape further damage. From there he carried his team on his back until they put together a pair of three-run innings (fourth and sixth) to break the game open.
Skaugrud allowed back-to-back singles with one out in the third and had to face No. 3 hitter Jacob Robson and cleanup hitter Preston Godfrey to bypass any damage. He responded by fanning both - his first two strikeouts of the evening.
Over the final four innings he surrendered three singles and rang up six of his eight strikeouts. His final line was seven innings, nine hits, no walks and the 8 Ks.
The walks were a key stat in the game. Mountain Ridge pitchers -- starter Mitchael Dyer, Zach Martinez and Zach Rogers -- issued eight walks and two hit batters to go with seven hits. Five of O'Connor's runs were scored by batters who reached via walk or hit by pitch.
O'Connor's key hits came from Noah Burgarello ( a two-run double) that capped the toe-breaking three-run fourth and 4-1 SDO lead. Barrett Skaugrud's older brother, junior Mason, tapped a two-run single up the middle to end the sixth-inning, three spot.
---