Liberty completes championship run
May 15, 2018 by Jose Garcia, AZPreps365
---
Liberty
Coach Chris Raymond placed his elbow on a brick in Liberty's dugout so many times that it came loose and became the team's lucky charm.
Everything starts with one step, or one brick, an author once said. On Tuesday at Tempe Diablo Stadium, Liberty finished constructing a championship season.
After it won 6-2 and snapped Verrado's 19-game win streak in the 5A Conference final, every Lions player took turns signing the brick. Speaking of bricks, there's a Liberty player or two who are built solid like them, beginning with its 6-3, 220-pound catcher with a Mohawk-like haircut, Brady Welch.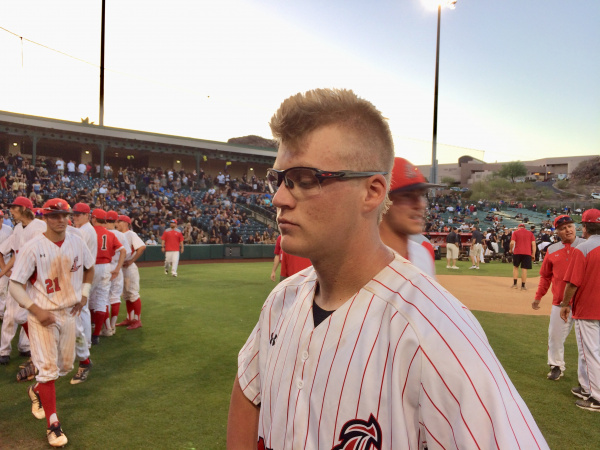 Brady Welch
"We're tough," Raymond said. "With this group, they are super mentally tough. They are physically tough. If you saw us work out, you would say, 'Wow. They aren't baseball players. They look like a football team.'
"But they are baseball people. They are grinders."
Welch hit a double and two singles with two RBIs and walked once in his final high school game.
There's also Liberty's ace, Chandler Murphy, a University of Arizona signee who seemed to get out of trouble whenever Verrado got men on base. The senior along with Cameron Bracke and J.D. Wadleigh limited Verrado's first four batters to just four hits.
Murphy pitched 3 2/3 innings, allowing three hits and striking out five.
"We became a unit this season," Murphy said. "We bonded together really well."
It could be argued that last year's Liberty team was more talented.
But this year's team was more driven, partly because losing in the 2017 semifinals didn't sit well with the team. Liberty (23-8) ended its season winning its final 11 games.
But it wasn't the only tough team on the field Tuesday. Verrado has been through a lot emotionally in the past week or so.
It's closer, Bryan McKinsey, passed away in his sleep almost 24 hours before its semifinal game against Notre Dame.
Breckyn Montano and Tyler Shelton held McKinsey's No. 6 jersey during the playing of the national anthem. McKinsey played a big role in helping his school reach a state championship game for the first time.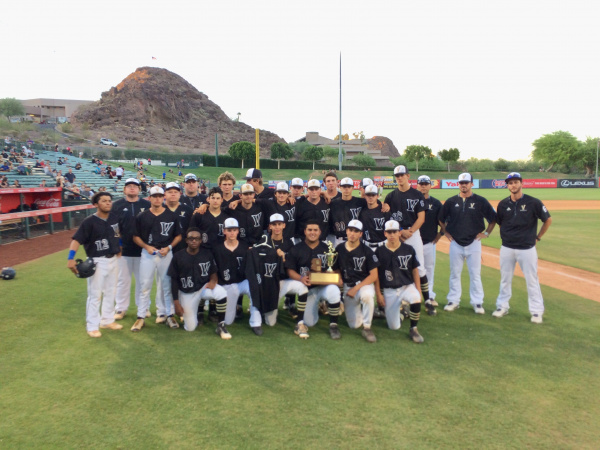 A couple of Verrado players hold up the 5A state runner-up trophy and Bryan McKinsey's jersey.
5A State runners-up!
Thank you to all the Viper families for and friends for all your support this amazing season. Thank you to the Verrado administration, teachers, students and all Vipers fans for supporting these young men through tough times and our great season. #oneverrado

— VIPERS BASEBALL (@verradobaseball) May 16, 2018
No. 2 seed Verrado (27-5) went up 2-1 in the first inning after a bases full infield single by Jake King (2 or 4). But the fourth-seeded Lions went ahead for good after scoring two in the third, two in the fifth and one in the sixth. Verrado stranded 15 base runners.
In the bottom of the seventh, Verrado loaded the bases. But Wadleigh struck out Verrado's lead off hitter to end the game, setting off Liberty's celebration after clinching the program's second championship crown.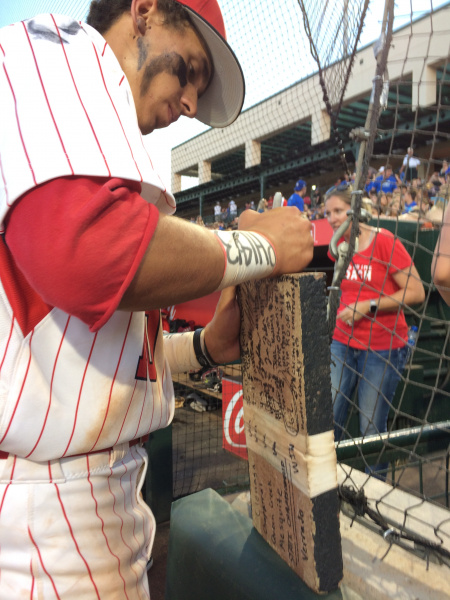 A Liberty player signs the team's lucky charm, a brick from its dugout.
---