Senior softball all-star games
June 7, 2018 by Les Willsey, AZPreps365
---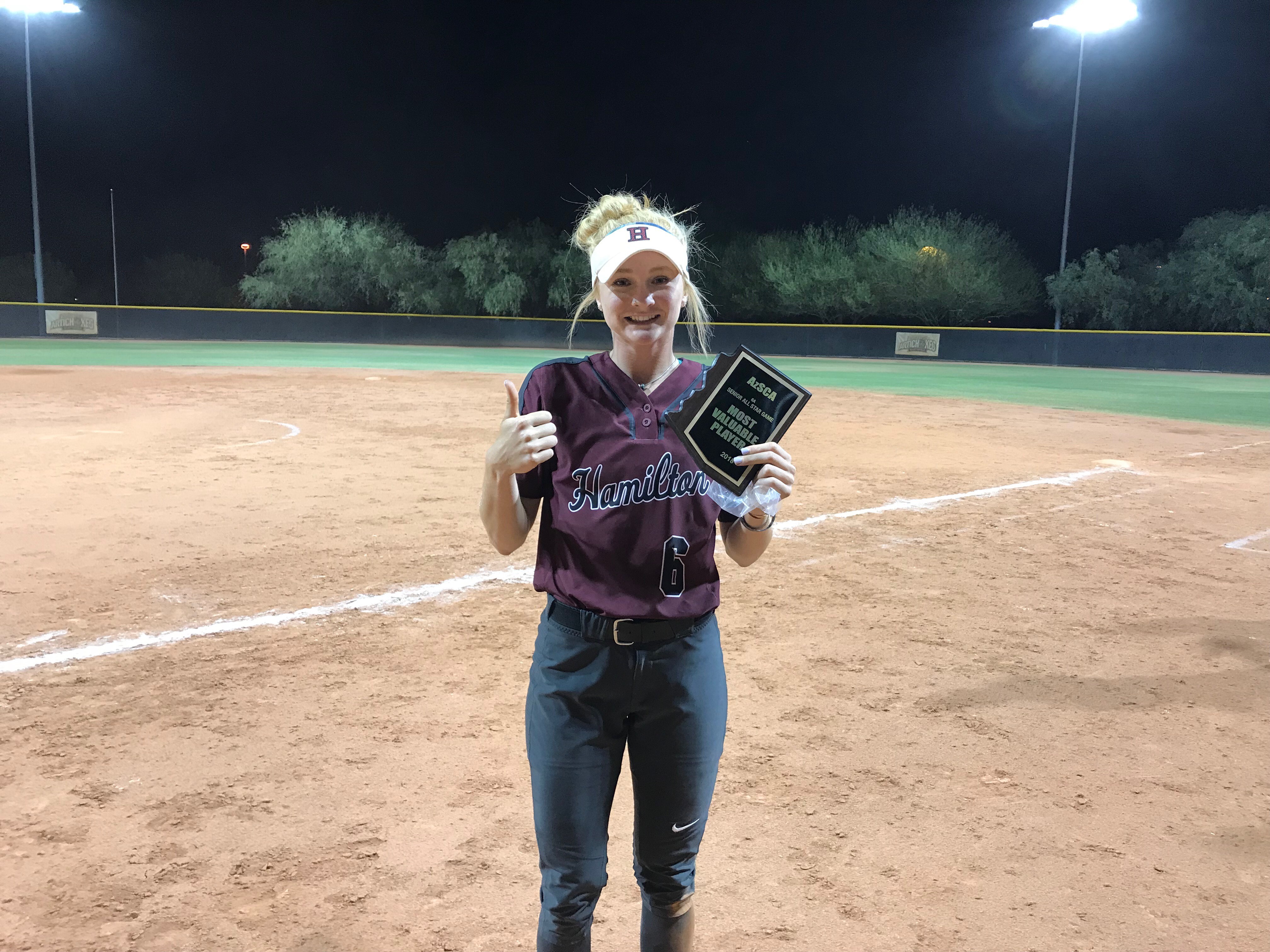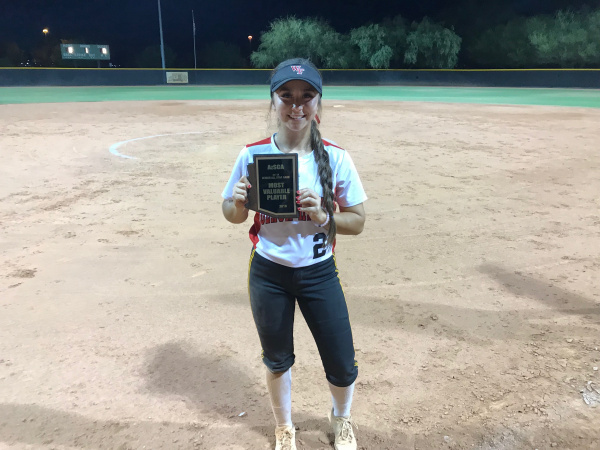 Williams Field's Natalie Castro earned 4A-5A game MVP honors reaching base five times. (AzPreps365 photo)
The 4A-5A Blue team had an array of players share the load offensively in its 12-10 victory over the Red Team on Wednesday night in the annual Arizona Softball Coaches Association Senior All-Star game at Scottsdale Community.
Cienega's Kaitlyn Anderson, Queen Creek's Millie Parra and Julia Heitz and Marana Mountain View's Alexis Vanderwerf each knocked in two runs as the Blue team scored three times in the sixth and seventh to post the come-from-behind win.
But in one of the those rare instances a player from the losing team could not be denied game most valuable player honors. That player was Williams Field outfielder Natalie Castro. Castro, who is headed to Phoenix College, reached base in all five of her plate appearances. She had two hits, walked twice and reached on a fielder's choice in which she ended up circling the bases. Castro also scored four times, stole three bases and chipped in an RBI from the leadoff spot.
Coaches from both teams huddled at game's end to sort out the MVP and the discussion ended abruptly when her performance was presented. Castro's game is speed and her ability to cover ground in centerfield. All her numbers came by not hitting the ball out of the infield.
Back to the Blue team's effort. Parra slugged one of the game's two home runs - a two-run shot in that capped a three-run first inning. Heitz tied the game at 5 in the fourth with a two-out, two-run single. Anderson's RBI came in the first inning via a single and on a perfectly executed squeeze bunt that tied on a bow on the three-run sixth. Vanderwerf supplied the final two runs with a two-run single It proved needed as the Red team rallied for two in the bottom of the seventh before Heitz came on to secure the final out.
Leading the offense for the Red team besides Castro were Mesquite's Fallon Dragich (two-run homer), Williams Field's Berlin Colvin (double and two RBI), Cactus Shadows Kayla Henderson and Elizabeth Raby with two hits each and Cactus' Emilie Guerra with two hits.
6A GAME
6A RED 6, 6A BLUE 3: One swing of the bat essentially was the difference and it came off the bat of game MVP Abby Andersen (Hamilton) in the second all-star contest at SCC.
Andersen rocketed a grand slam in the fourth inning to propel her team to victory. Andersen also pitched a pair of scoreless innings and stole a base. She is headed to ASU this fall. Her round-tripper came with two outs and the Blue team trailing, 2-1. It was a no-doubter and rustled a set of trees well beyond the center-field fence. It scored Valley Vista's Thalia Lara, Basha's Alyssa Wright and Trevor Browne's Val Morales-Orona, who reached on a single, fielder's choice and walk, respectively, off Mesa Mountain View pitcher Skylar Westbrook.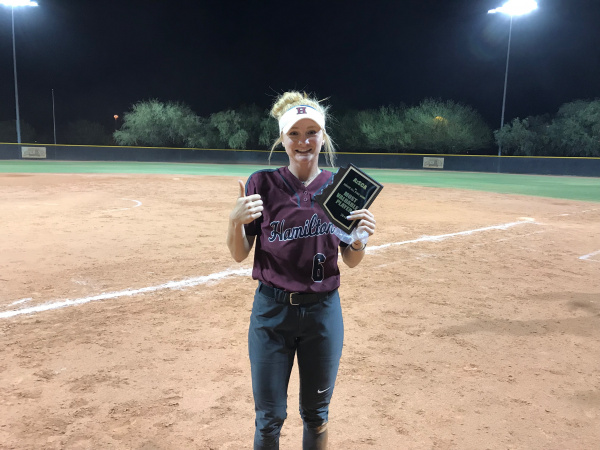 Hamilton's Abby Andersen's bat and pitching helped her team win 6A game and MVP honors. (AzPreps365 photo)
Andersen combined with Xavier Prep's Mercedes Silva,Trevor Browne's Tatum Lucero, Basha's Trinity Smith and Kenadee Rausch to limit the Blue team to three runs. Smith and Sandra Day O'Connor's Grace Lyons drove in the Red team's other runs -- Smith with a double in the third inning and Lyons with a single in the fifth.
Mountain Pointe's Danielle Farinas pitched a pair of scoreless innings for the Blue team and drove in two of its three runs with a single in the third and home run in the sixth.
---