Lady X hoop title goes to Millennium
June 9, 2018 by Les Willsey, AZPreps365
---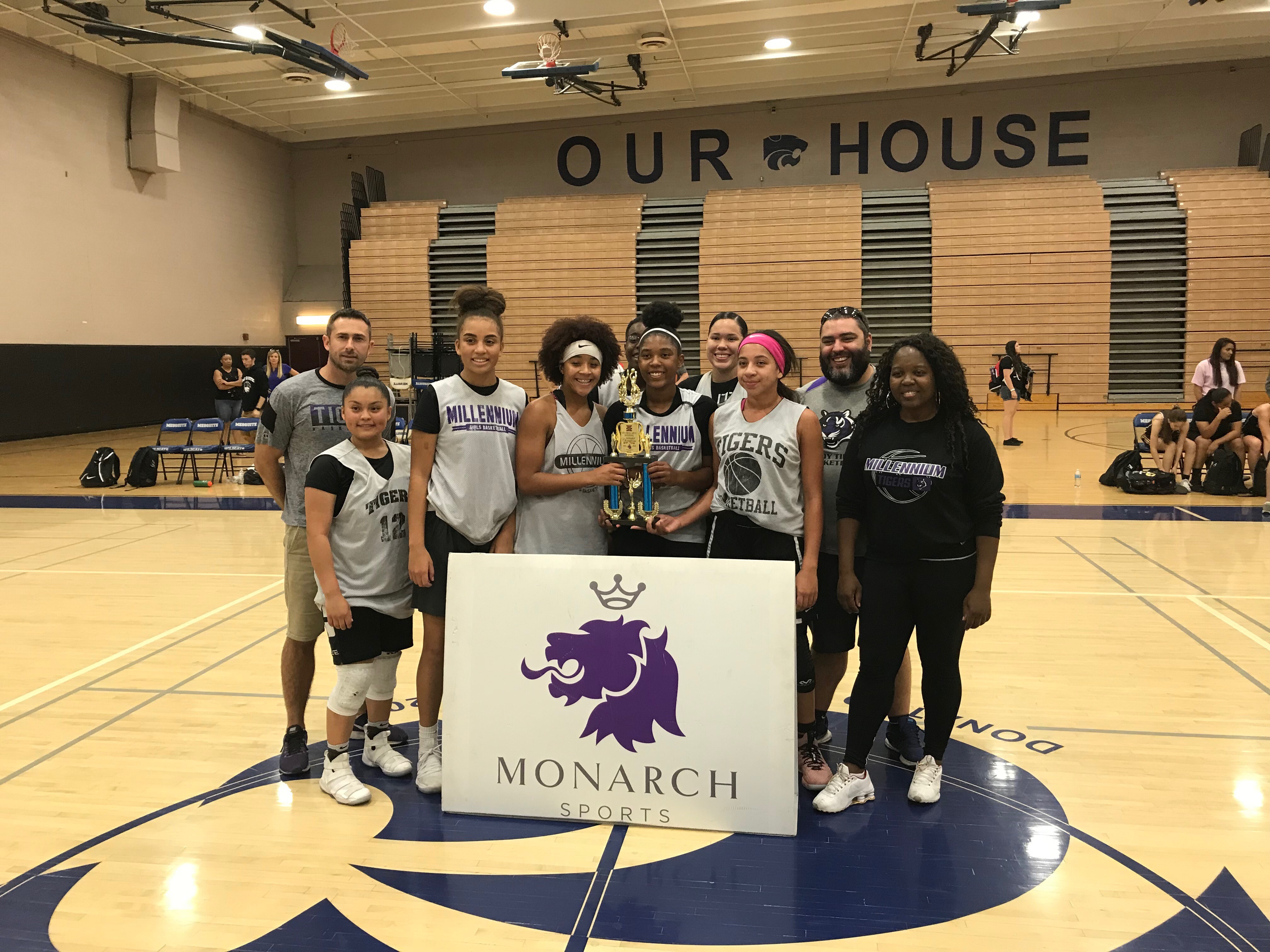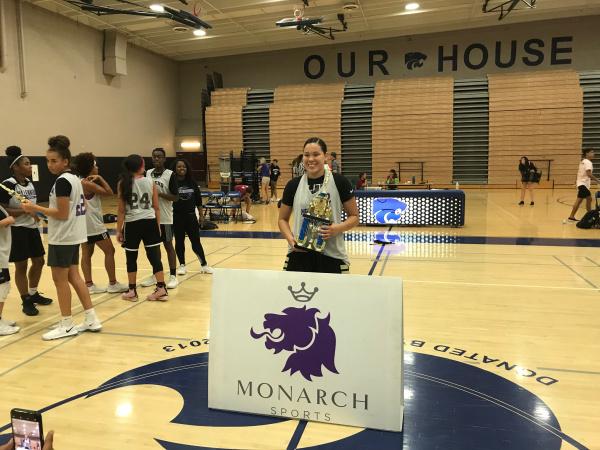 Millennium's Dominique Phillips is the Lady X most outstanding player for 2018 (AZPreps365 photo
It was apparent this weekend why Millennium girls basketball coach Cory Rojeck likes the mix of of veterans returning and young players tasting their first varsity experience for the coming season.
Senior Dominique Phillips and freshman Treyanna Crisp were quite the offensive tandem Saturday, leading Millennium to a 70-55 victory over Gilbert High in the champinship game of the 5th annual Lady X Extravaganza at Mesquite High School. Phiilips took home the tournament's most outstanding player award in leading the six-member all-tournament squad.
Millennium complete the two-day tournament 4-0. Phillips, who will play in her fourth varsity season come November, poured in 36 points in the title contest to go with 17 in a narrow 59-55 win over Hamilton in the semifinals. Crisp took the lead in the semis with 26 poiints, including a tie-breaking 3 with 55 seconds to play. Crisp checked in with 15 in the defeat of Gilbert.
Millennium had just seven players available for Saturday's semis and finals, but overall they worked well together in fashioning wins.
"Dominique was the only senior here today and showed her leadership,"Rojeck said. "Our freshman fit right in and shot the ball well. We didn't have two of our big players (Ali Zelaya and Alaina Diggs).But I didn't hear our players talk about it. They showed up, played hard and just asked when the next game was."
Millennium, who along with Gilbert will play in the 5A Conference this winter after both reached the 6A semis last year, took a 34-22 lead to intermission playing a steady game. If Gilbert had ideas of attacking that lead they never materialized. Millennium opened the second half with a 17-4 run the first five minutes. Essentially, that was that with a 51-26 advantage.
Rojeck didn't want to forget the efforts of his other players - point guard Jasmine Singleton, guard Amoret Maxwell, guards Mya Herrera and Kylie Grant and forward Kassidy Dixon. Grant chipped in with 11 points in the championship game.
"Jasmine goes out and because she might score zero points, she is still the most important person out there leading our offense. The others haven't had a lot of playing time or none at all on varsity. They played very well together."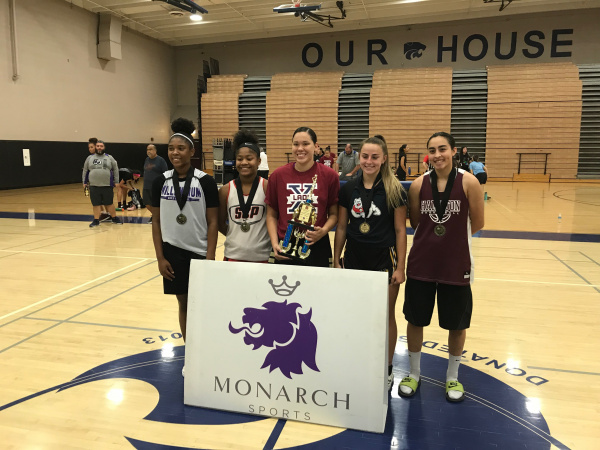 Lady X all-tourney team -- Treyanna Crisp, Lee Wilis, Phillips, Hanna Cavinder, Raeline Denning - not pictured Perry's Madiso Conner. (AzPreps365 photo)
Gilbert's twin guard duo of Hanna and Haley Cavinder had a tough time getting untracked in the first half of the title game, combining for only nine points. Haley Cavinder heated up in the second half (26 of her 31 points). Her hot shooting wasn't nearly enough to dent the deficit appreciably.
In Saturday's other placement games, Valley Vista topped Desert Mountain forn seventh place in overtime; Perry topped Mesquite, 45-38 for fifth and Hamilton bested Seton Catholif, 48-36, for third.
Joining Phillips on the all-tournament team were teammate Crisp, Gilbert's Hanna Cavinder, Hamilton's Raelin Denning, Perry's Madison Conner and Seton's Lee Willis.
---