Multi-sport standout Nicole Powell inducted in NFHS Hall of Fame
July 5, 2018 by Seth Polansky, AZPreps365
---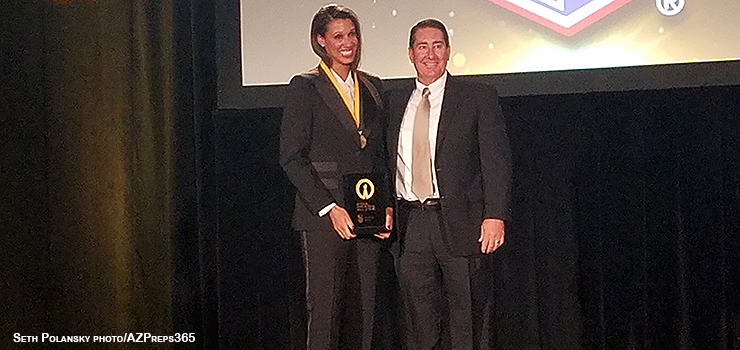 It's all about opportunities. The opportunities that exist at schools for students to be a part of something. Opportunities parents can give their children by getting them to and from practice, to and from games. The opportunities that kids can create for themselves with proper self-motivation.
Nicole Powell took advantage of every opportunity that came her way. Track champion, tennis champion, badminton champion, member of the band, student council leader. And, of course, becoming possibly the greatest high school girls basketball player in the history of Arizona.
Through her efforts, now we can call Powell a National Federation of State High School Associations (NFHS) Hall of Famer.
Powell was inducted on Monday, July 2, in Chicago alongside 11 other student-athletes, coaches, officials and administrators, including the legendary Tom Osborne from Nebraska and the man who revolutionized the high jump, Dick Fosbury and his "Fosbury Flop." It was part of the 99th annual meeting for the NFHS.
Fittingly, it's at this conference that all the state associations convene to come up with bigger and better ways to provide as many opportunities as possible for the younger generation.
"I'm grateful to my parents who put me in everything," Powell said. "There was no master plan. They just let me try lots of things. So I had that open and curious mentality throughout my childhood, into high school and beyond. I was very fortunate to get encouragement from different teachers and coaches. But at the same time, and I think it was just as important, my parents were happy that I wanted to do it. They never said no. They never said I couldn't do it. Nothing ever held me back."
They once asked George Mallory why he climbed Mr. Everest. The answer was, "Because it was there." It's like that.
Powell's journey to the Hall of Fame started at the Desert West Recreation Center just off I-10 in Phoenix where her mother Ruth worked. And it was actually tennis that Powell mastered first. Whether it was tennis or anything else she set her mind to, Ruth and Nicole's father Lawrence made sure she saw everything to the end. Nicole became that shining beacon of accomplishment by fulfilling her promises and putting in 100 percent effort on all endeavors big and small.
These opportunities continued to present themselves at Mountain Pointe High School. Under the tutelage of former principal and AIA Executive Director Dr. Harold Slemmer, it was an environment where anything was possible. And that's how Powell ended up playing so many sports. Each person at Mountain Pointe saw something in this standout individual and wanted to harness that talent.
"From the first day Nicole walked onto campus you could see her joy for life. It was so contagious among the student body," Slemmer said. "Everybody wanted Nicole on their team. Everybody wanted Nicole in their classroom. She brought an energy to that school in its early years that helped developed the traditions it has now. She was one of those students who could never be duplicated and exemplified what high school could be for somebody when they come in with the right attitude."
When her four years were finished as a member of what seemed to be the Pride's entire athletic department, there was just one thing that eluded the record-setter. And that was a state championship. Three trips to the state title game and three losses to Chandler. But her 2,478 career points and 1,760 rebounds would be a permanent reminder of her legacy. And after mulling over tons of offers to play at the next level, the decision was made to head west and attend Stanford. She was already familiar with the Cardinal. Powell saw them play against Arizona State every year, just 10 minutes from her house.
"It's just something when I was really young that got implanted," Powell added. "I knew it was an academically strong school and academics were always stressed in my house. I was playing tennis and I had a Stanford hat. That's how the seed was planted. I also did a report on Stanford in Ms. Cleveland's English class. It was those images of Stanford Olympians in the 1996 games, with all the other female superstars on the American teams. As a young girl playing sports and seeing that success, it shaped me to achieve my goals and my path."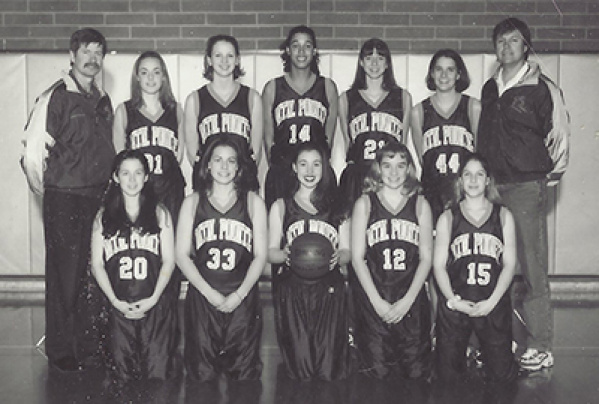 Nicole Powell (back row, center) in her senior season at Mountain Pointe
Being named Pac-10 Player of the Year twice and winning four conference titles was yet another feather in the cap. But that championship remained elusive. Powell was part on an Elite Eight team her senior season that dropped a 62-60 heartbreaker to Tennessee with a trip to the Final Four on the line. With or without that hardware, she still graduated with a degree in Urban Studies from Stanford University and had yet another goal in front of her … the WNBA.
Following Powell's senior campaign she was drafted third overall by the Charlotte Sting, just behind superstars Diana Taurasi and Alana Beard. In her second season as a pro in 2005 as a member of the Sacramento Monarchs, Powell was named the league's Most Improved Player and was part of a team that roared into the WNBA postseason. And when it was all said and done, there it was. That missing championship.
"It hit me on a couple levels," remembered Powell. "We were the underdogs, but we were united as a team. It was one of my greatest team experiences because we exhibited all the clichés of teamwork in sports. We stayed together and that was really powerful. Every team, every year, even in individual sports, there's only one team or one individual is that walks away happy. To finally be on that high was incredibly special and I enjoy talking about it."
Following a remarkable 11-year career in the league and a stint internationally, it was time for that next phase. Of course it was going to be in basketball. And it came in the form of joining the Gonzaga coaching staff for one season followed by the University of Oregon's women's basketball team as an assistant coach. From this came an unexpected meeting with Grand Canyon University Athletic Director Mike Vaught during the Final Four in which another opportunity presented itself. The Lopes were finalizing their transition to NCAA Division I to start the 2017-18 school year and needed a women's coach to compliment Dan Majerle and the very popular men's team. An offer was made. And Powell again thought, why not?
The prodigal daughter was coming home. Just about 13 miles from her childhood house.
Now as a head coach, Powell sees the path to success for current players the same way she saw it for herself. The more you put in, the more you get out of it. And those are the players she can't wait to recruit to build something special at GCU.
"For the student-athletes today, work really hard because you don't know what awesome things can come of it. Focusing on the process might be easier said than done. But do focus on being a good teammate and have fun. It sounds really lame, but it's the truth."
---