Beler Shines as Arcadia Outlasts St. Mary's in 55-39 Shootout
September 8, 2018 by Cole Bailey, Arizona State University
---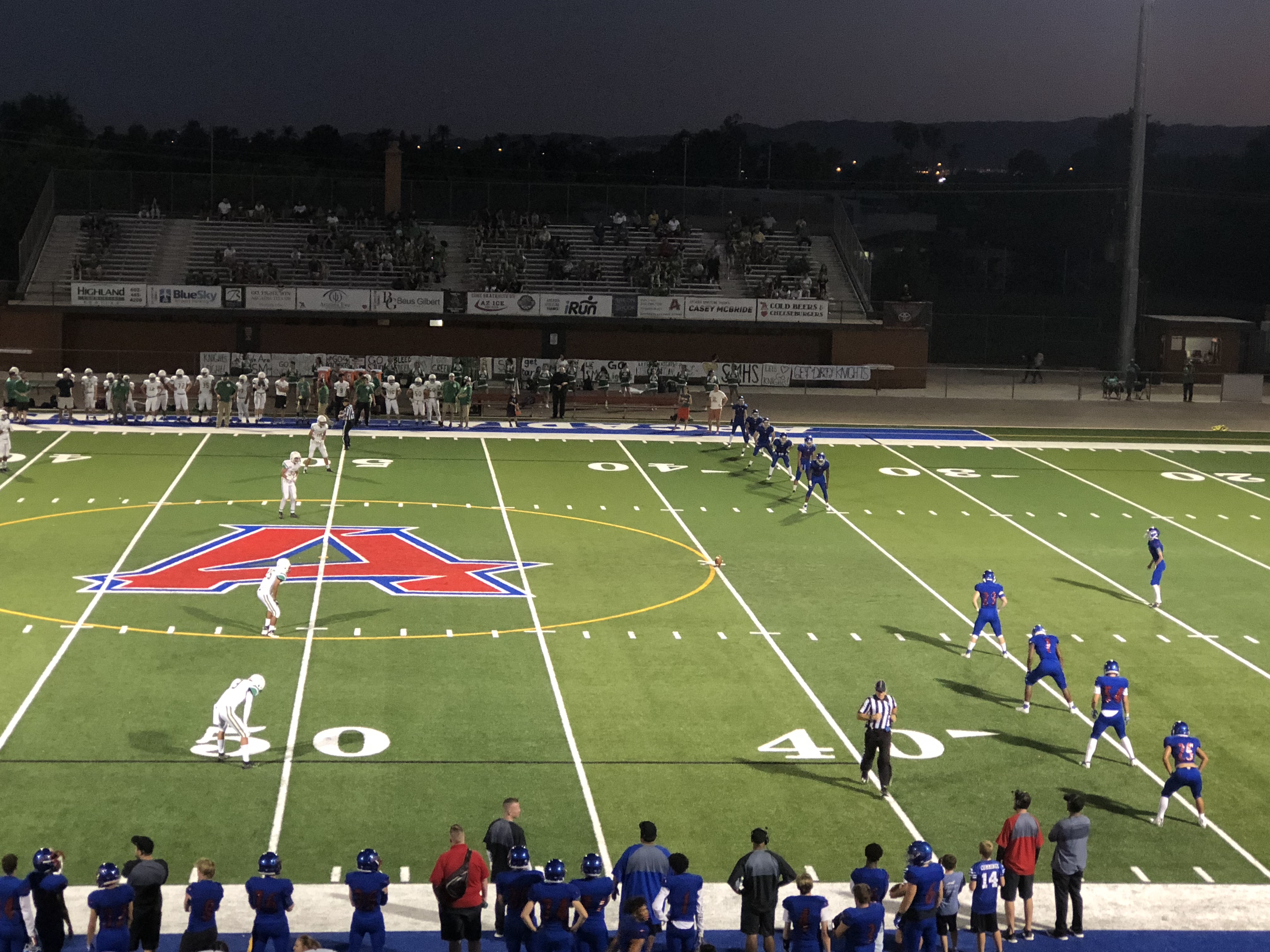 Offense has been the star of Arcadia football's games so far this season, and Friday night was no exception. Led by quarterback Kadin Beler's eight touchdowns, the Titans defeated St. Mary's 55-39.
Arcadia came out of the gates red hot, scoring on its first drive via a Beler rushing touchdown from two yards out. They then got the ball back after a fumble by St. Mary's, which they turned into seven more points after a 62-yard touchdown pass from Beler to running back Paxton Earl.
"Kadin was throwing the ball really well," Earl said. "Before the game, Coach told us that we were going to throw the ball a little more than we were going to run the ball, so I was expecting a little bigger role in the receiving game, and Kadin did just that."
The Titans' defense recovered yet another fumble on the ensuing drive after St. Mary's flubbed a backwards pass, and the offense yet again capitalized with another long Beler touchdown pass, this one a 36-yarder to wide receiver Crew Edwards to make the score 21-0.
"Offensively I think it was a record-breaking night," Arcadia head coach Kerry Taylor said about his offense's performance after the game. "We moved the ball really consistently almost every drive. I thought we ran the ball well, threw the ball well and the players executed pretty well."
St. Mary's battled back after their rough start however, as they scored on their first drive of the second quarter on an eight-yard run by Jessie Parada-Gonzales to cut the deficit to 21-6. The two teams traded touchdowns from there until halftime, with both scoring twice to send it to the break with Arcadia leading 33-20.
The Knights made it a one-score game on their first drive after halftime, as running back Frank Navarro scored from 10 yards out to bring the score to 33-27.
"I was really pleased because we could've gotten demoralized with the three turnovers in the first half," St. Mary's head coach Tom Brittain said about his team's resiliency after falling behind early. "Overall, for a young team, I thought it was a step in the right direction for us."
The worn-out Knights defense had no answer for Beler as the game went on, however, and Arcadia started to pull away because of it. After Navarro's score, the junior quarterback quickly led the Titans down the field, capping off the drive with a five-yard touchdown pass to wide receiver Samaury Alexander to bring their lead back up to two scores.
"We knew that as we kept scoring points, they were getting tired on that side of the ball," Taylor said. "Defensively we just knew we needed one or two stops in the second half and we would build a big enough cushion to put the ball game away, and that's what we did."
"The second half, them wearing down our defense, that was disappointing," Brittain said.
Beler wasn't done here though, as he led Arcadia on another long drive halfway through the fourth quarter that ended with him punching it in from one yard out to bring the score to 49-27, a lead that would prove insurmountable.
"I just did what I do best, just play football," Beler said about his performance. "I just tried to help the team out in the best way that I could."
With their victory Arcadia picked up its fourth straight win to start the season, a mark that the Titans have not seen in a while. They wrap up non-league play next week when they go on the road to face Shadow Mountain.
"It's big for the entire community and the school," Beler said about his team's great start. "All the energy we've brought into the school with the new coach and the new season, it's been amazing."
As for Saint Mary's, their loss brought their record down to 1-2. They return home next week for a matchup against Cortez, where they will be looking to improve upon this week's performance.
"We've got to learn where our weaknesses are," Brittain said. "We have to recommit ourselves to conditioning and stop making mental mistakes with turnovers."
---