Perry Continues Undefeated Streak With Win Over Queen Creek
September 11, 2018 by Nadia Testroet, Arizona State University
---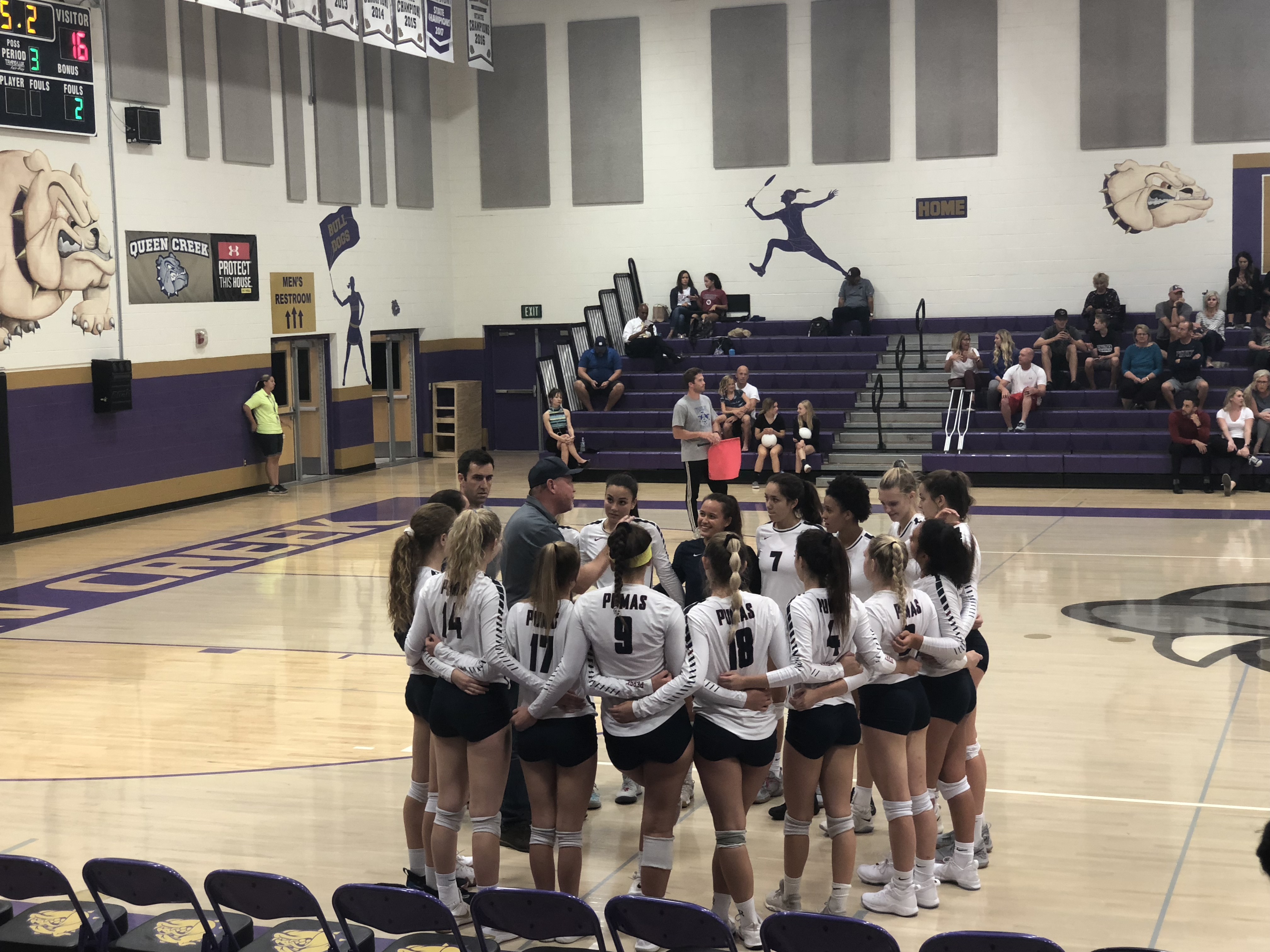 The Perry girls volleyball squad posted its fourth consecutive win Tuesday night in a dual match against the Queen Creek Bulldogs.
In the first game, Perry played with ease to win 25-16. The Pumas took the next two 25-11 and 25-15.
No. 9 senior outside hitter Brooklyn Poling started the match off strong with multiple kills to get the ball rolling in the first game. Perry also showcased its strengths after each dig by the back row and seamless sets by senior captain Madison Beasley.
No. 8 junior outside hitter Sian Richardson shined throughout every set, drilling several key shots. After making very few unforced errors to record the victory, Richardson was named the Player of the Match. In the third game, Richardson consecutively aced her serves which ensured the win for the Pumas.
"We did an excellent job at serving and getting them out of system. They have two hitters we can't stop if they get a good set," said head coach Fred Mann. "The key to a match is trying to get them out of their system and heading into the next match I'd still like to see us work on our defense some more."
Leading the team in total blocks, No. 11 senior middle blocker Megan Schulte challenged the Bulldogs by her strong force at the net.
While Perry mainly has a lineup filled with juniors and seniors, Queen Creek had to rely on younger players to fill their roster.
No. 5 setter Jaden Drollinger is only a sophomore but leads her team in both serving aces and assists. Drollinger's effort stood out among her teammates as she hustled all over the court to get to the ball for a good set.
While the Bulldogs fought hard, they ultimately came up short against a stronger, more experienced team.
"We've had a rough couple of weeks, playing three matches per week for the last two weeks, so I think some of the girls are just tired," said head coach Erica Crismon. "Overall, we need to be more disciplined on defense. Our block just kind of bails out really quickly, and in 6A with all these big hitters we can't leave an outside hitter one-on-one."
"I think next time the girls need to communicate and give a little more work ethic," said assistant coach Turner Beall. "Skill can only take you so far, but work ethic and drive can take you to a lot of places."
The Perry Pumas' next home match this Thursday, Sept. 13, at 6 p.m.as they host the Corona del Sol Aztecs.
---