Valley Christian loses to Fountain Hills in four sets
September 12, 2018 by Jake Fitzgerald, Arizona State University
---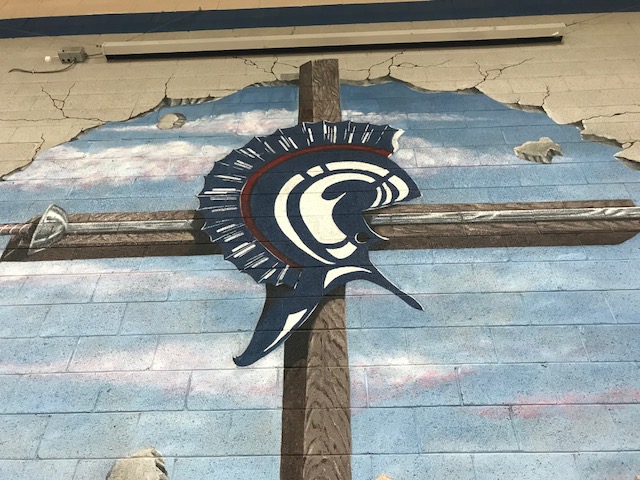 Valley Christian coach Lindsey Ramsland moved junior setter Abigail Calicchio to outside hitter in Tuesday's match against powerful Fountain Hills.
Ramsland usually runs a 6-2 offense with Emma and Abigail Calicchio, who are known as the "setter sisters."
For this match, she needed more power at outside against the undefeated Falcons.
"She is amazing,'' Ramsland said. "She is one of those players who you can count on to do anything."
Calicchio did everything from passing, setting and hitting, finishing with 15 kills, including a couple 10-foot line, and four digs.
But it wasn't enough. Valley Christain lost in four sets to fall to 2-3 with its second straight loss.
"I don't like losing, however, I am not feeling bad because I saw improvement tonight," Ramsland said about the 3-1 loss. "All I can really ask from my girls is to improve and get better. We still have games and we still have so much more room to grow."
Calicchio is the leader in assists for the team with 60 and now becomes a bigger part of the offense.
"People will see Abigail and they will ask is she a setter, a libero or an outside hitter,'' Ramsland said. "She has a vertical, she is crazy, she is a beast.
"She had some crazy swings today and hit a couple at the 10-foot line," Ramsland said. "She is such a humble leader. She is a coach's dream."
Outside hitter Cara Braun finished with eight kills, one block and two digs.
Setter Emma Calicchio had one kill, three aces and 28 assists.
Middle blockers Ella Womack and Breanna Brooks combined for three kills, two aces and two blocks.
"I knew that this would be a hard matchup for us win or loss," Ramsland said "I knew that both teams would be fighting like crazy to get that win.
"My biggest thing is that I wanted my middle blockers to step up to get some blocks and that is what they did. Tonight proved to me that even though we are a young team, we are really good. If we start to fix those little things and start playing more as a team then they are going to be unstoppable."
---