Long days for Desert Vista volleyball players
September 12, 2018 by Karrissa Herrera, Arizona State University
---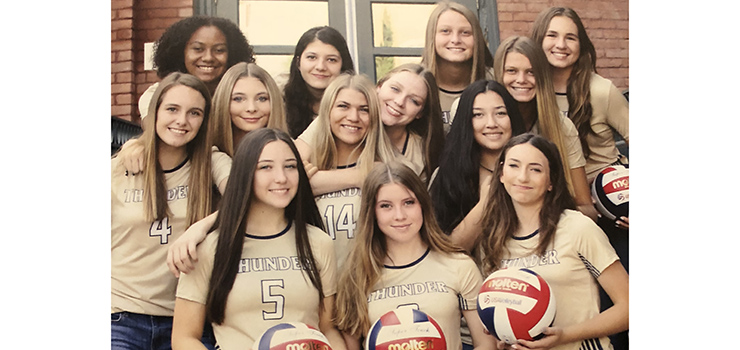 Their day starts at the crack of dawn. They get to school before 7:30 a.m., and put in a long day in the classroom.
Then it's off to the gym for a strenuous 2 ½-hour practice six days a week. "It basically takes three-fourths of your life," says Jennifer Soto of Desert Vista.
The life of a volleyball player is not like the life of a typical student.
Soto and Kamilah Anderson play club volleyball, which consumes eight months of the year besides playing for Desert Vista. "I don't really have time for much other than that," Soto says.
Anderson also plays sand volleyball for Desert Vista. Brooke Blutreich plays club sand volleyball as well as track and field for Desert Vista.
The key to managing volleyball and everyday life is to "just get your homework done whenever you can to see if you have spare time to like go to a football game or something," Soto says.
The team of 14 girls gets along like "the three best friends that anyone could have," as Alan from The Hangover says. "We're unique," Anderson says.
"We like to jam to music," she says.
It's one of their pregame rituals. They go into the small gym located next to the gym where the matches are played, jam out to all their music, dance and play wall-ball.
It helps them loosen up as competition awaits. And when they get the big W at home, they celebrate at Dutch Bros. That's happened once in a 3-1 start.
They stay hungr because there is competition on the team and spots can easily be replaced if they become complacent.
As a team, they get hungry for redemption after a loss. "Against other teams, it's just like we're young but we're continuously getting better so like the teams we might lose to at the beginning of the season we want to come back and beat them in state or tournaments," Soto says.
Blutreich says it's not just hard work on the court but also in the classroom.. "Just work really hard, because the only way you could play is if you have good grades," Blutreich says.
Their goal? "Get to state, win a championship," she says.
---