Southern Arizona Football Preview
September 12, 2018 by Andy Morales, AZPreps365
---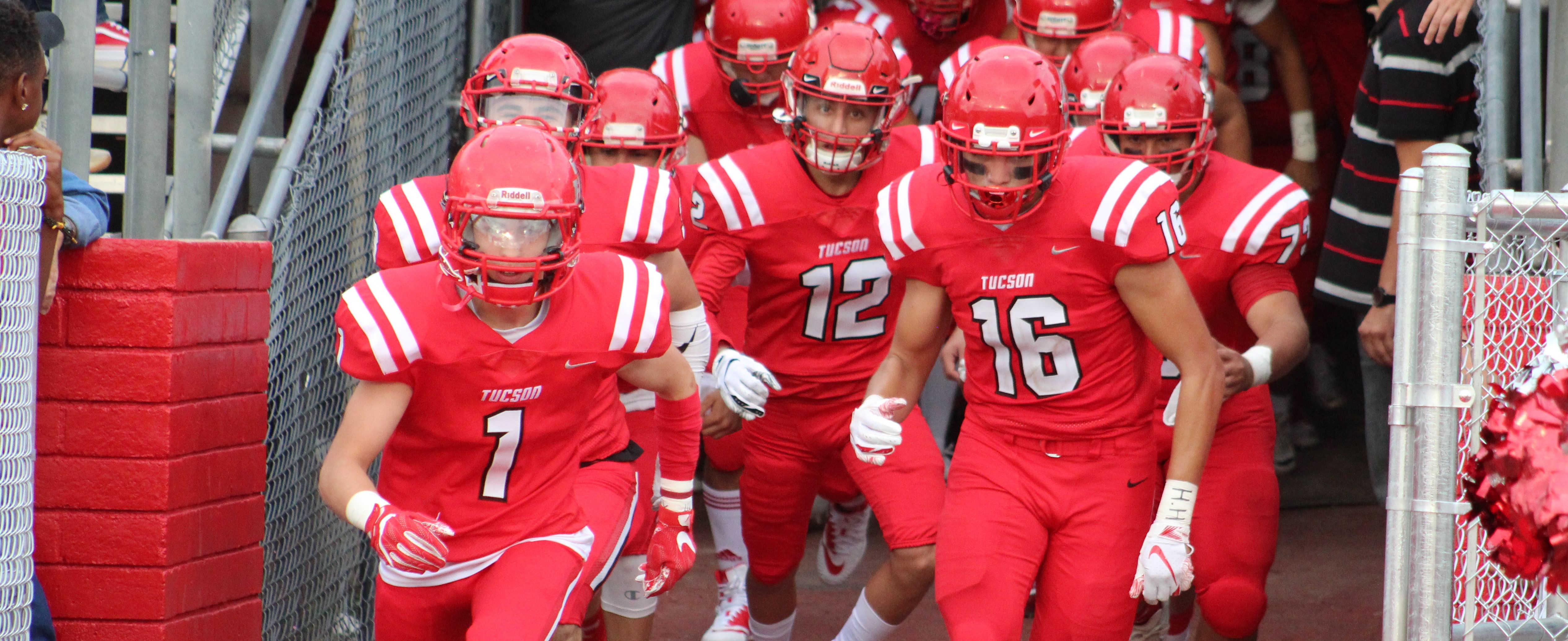 There are 27 games featuring teams from Southern Arizona this Friday and Saturday with only Douglas (4-0) and Catalina Foothills (1-3) taking a bye week break. That means 37 teams are in action from 1A to 6A so let's take a closer look:
Friday, Sept. 14
5A Mountain View (0-3) at 6A Tucson (4-0, 3-0)
The Badgers are oh so close to clinching the 6A Metro title but this is a non-region game against a 5A rival. The Mountain Lions may not have a win to their name but this is a rivalry game nonetheless. The Badgers need this game to have a chance for a top-16 finish.
5A Williams Field (3-1) at 5A Marana (4-0)
The Tigers have the guns and the Black Hawks like to take the ball away. Big power points to the victor and Marana has the home field edge.
5A Desert View (1-2) at 5A Buena (2-1)
The Colts are the surprise team in 5A, making the 5A Southern Region all the m ore difficult with Marana, Cienega and Ironwood Ridge in the mix. The 5A Sonoran is wide open and Desert View still has a shot.
5A Rincon/UHS (0-3) at 5A Cienega (2-1)
Moving down to 5A has still proven difficult for the Rangers. Coupled with a trip to Vail, this game could get out of hand early.
5A Centennial (3-0) at 5A Ironwood Ridge (1-2)
The Nighthawks aren't used to being underdogs but the Coyotes just beat Cienega 35-0.
5A Paradise Valley (3-0) at 5A Flowing Wells (3-1)
It looks like an even draw but taking a look at opponent's records reveals a bigger divide. The Trojans opponents have a 2-9 combined record while the Caballeros have done it against opponents with a 9-5 record.
5A Sunnyside (2-1) at 4A Pueblo (1-2)
The Warriors are struggling to score and the Blue Devils are looking to come up with a win before taking on Sahuaro, Cienega, Nogales, Ironwood Ridge, Marana and Buena.
5A Nogales (2-1) at 4A Walden Grove (2-1)
More of a "must win" scenario for the Apaches due to the playoff qualifications need in the 5A Conference. Too close to call.
5A Empire (0-3) at 4A Palo Verde (1-2)
We knew making the jump to 5A would be difficult for the Ravens and this is a must win situation.
5A Cholla (0-4) at 4A Sahuaro (3-1, 1-0)
The Cougars are a few seconds away from a perfect record. Look for a lot of playing time for the second string which should help down the stretch.
4A Rio Rico (1-3) at 4A Casa Grande (3-1)
Look for the Cougars to get back on track with a win at home.
4A Amphitheater (1-3) at 4A Canyon del Oro (2-1)
The Dorados are for real and need to take care of business before region play starts.
4A Salpointe (3-0) at 4A Cactus (3-0)
This is the toughest game of the season for the Cobras so far and it's hard to prepare for the Lancers. Look for Salpointe to pull away.
3A Catalina (1-2) at 3A Payson (1-2)
A long trip for the Trojans. Flip a coin on this one.
3A Snowflake (3-1) at 3A Pusch Ridge (1-2)
Could be a statement game for either team.
3A Sabino (1-2) at 3A Blue Ridge (2-2)
Both teams have struggled to remain consistent. First team to get a double-digit lead probably wins.
3A Winslow (2-2, 0-1) at 3A Tanque Verde (1-2)
A long trip could give the edge to the Hawks at home.
2A Benson (2-1) at 2A Thatcher (4-0)
The Eagles just reloaded.
2A Tombstone (3-0) at 2A Globe (1-3)
The Yellow Jackets could go 4-0 a year after going 0-10.
2A Pima (1-2) at 2A Bisbee (2-1)
The Pumas look to stay hot at home.
2A Willcox (2-1) at 2A San Manuel (0-3)
The Cowboys are trying to keep up with Tombstone, Benson and Bisbee.
2A Miami (1-2) at 2A Santa Rita (0-3)
The Vandals are an established 2A program. The Eagles are just starting out.
2A Morenci (3-1) at 2A Santa Cruz (1-2)
Not the same Dust Devil team we are used to and the Wildcats look tough.
1A Fort Thomas (3-0, 1-0) at 1A St. David (3-1, 1-0)
The 1A game of the week?
1A Baboquivari (1-3, 0-1) at 1A Valley Union (0-4)
The Blue Devils look to pick up first win at home.
1A NFL Yet (2-2, 1-1) at 1A Bowie/San Simon (0-3, 0-2)
Tough year for the Cougars continues.
Saturday, Sept. 15
3A Sahuarita (2-1) at 3A Holbrook (1-1)
The Mustangs are one late drive away from perfection.
4A Douglas (4-0) BYE
4A Catalina Foothills (1-3) BYE
---