Paradise Valley badminton sweeps Cortez 9-0
September 13, 2018 by Vaughan Jones, Arizona State University
---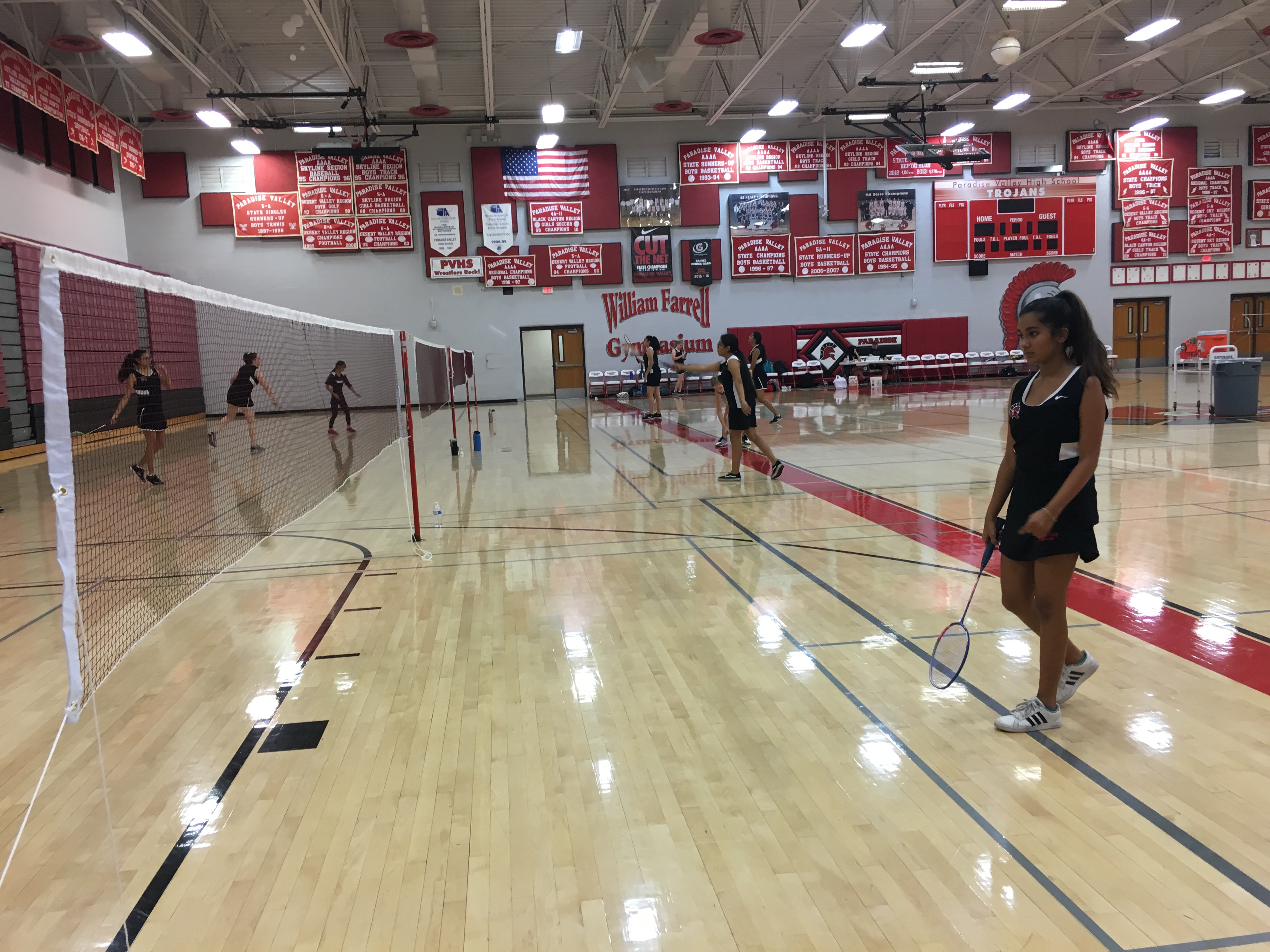 Paradise Valley Trojans badminton defeated the Cortez Colts in a 9-0 sweep Thursday afternoon, raising its record to 3-3. Cortez's record falls to 1-5.
Paradise Valley is now second in Division II Northwest, while Cortez is tied for fifth in Division II Glendale Union. Cortez has been swept in four of their first six games.
Paradise Valley's Emma Rautio got the big win of the day. She injured her knee in the first game of a three-game set, but fought through the injury to win the final game.
"My mom always pushes me to be the best I can, so I think of her when I play. She was varsity '1' and she won like all of her games," Rautio said.
Kaitlyn Fuge was another bright spot for the Trojans, sweeping a singles set and a doubles set. She kept her opponents under five points in all four games.
"Placement is really important, that's something I've been trying to work on," Fuge said. "If you can tire out your opponent, that's really good for you."
Doubles play was a strong suit for Paradise Valley, as all three sets were 2-0 sweeps. Every game was decided by a double digit margin, as PV's teams took advantage of a lack of communication from Cortez.
Paradise Valley coach Cristal Murray had praise for Fuge, Rautio and the rest of the Trojans after the victory.
"Today I saw my girls move their feet, they hustled, their footwork was good," Murray said. She still saw room for improvement, though, citing serving as a focal point for their upcoming practices.
"I saw a few serves that were hitting net, a few serves that were out. You can't win a point if you can't get a serve in," she said.
On the other side of the sweep, Colts coach Tom Rearick saw improvement in his team's play.
"I saw our players working on trying to keep it out of the middle, getting their players to move," Rearick said. "That's something we've had trouble with in the past."
Rearick, a 13-year coach at Cortez, noted that movement has been a consistent problem through the Colts' first six games.
"A lot of times we're standing around instead of moving, they're not moving as much as they should be," he said. "We've got some drills to run, a little bit of conditioning to do."
Paradise Valley's win takes them to second in their division. The division is led by Horizon High School.
"At the varsity tournament last week, Horizon was pretty good. I think we're playing them soon, so I'm gonna try and work my hardest for that," said Rautio. Paradise Valley faces off against Horizon on September 27.
Paradise Valley's next stop is Desert Edge High School, where they face off against the Scorpions. They currently hold a record of 0-4. Cortez's next game is at Centennial, which holds a record of 0-3.
---