Northwest Christian sweeps Fountain Hills to improve to 6-0 on the season
September 13, 2018 by Stephen Perez, Arizona State University
---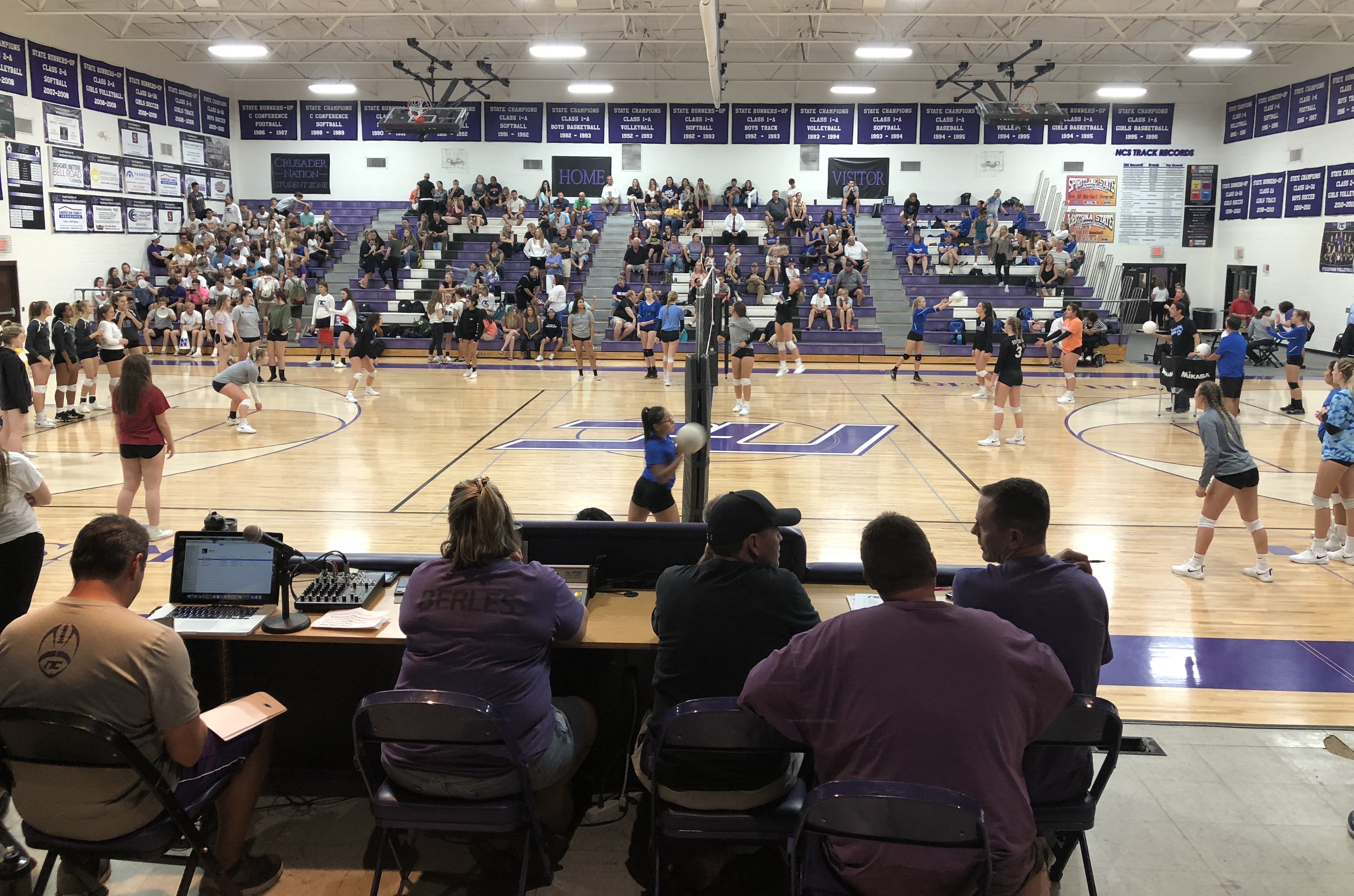 A hot start for Northwest Christian helped lead them to a 3-0 match sweep over the visiting Fountain Hill Falcons.
The Crusaders took three sets against Fountain Hills, 25-12, 25-13, 25-18 to improve to 6-0 on the season Thursday night at Northwest Christian High School.
They got off to quick starts in the first two sets and never looked back for the rest of the match.
Northwest Christian head coach Jenna Hope said a fast start is critical because it puts the pressure on the opposing team to play catch-up for the rest of the match.
"It is important because it gets in the head of the other team if you play a clean game and go out and attack, a lot of the times the other team pulls back trying to figure it out," she said. "We had a tough match last night and came out today and played a clean game and passed and got on the scoreboard fast and it changed the whole match."
Hope said their games against Fountain Hills are always tough and competitive games and that her players were motivated by previous losses to the Falcons to come out with their best play.
"We lost to Fountain Hills the last two years and my team just wanted it really bad," she said. "They do not want Fountain Hills to show them up anymore so they went out and got them."
She said team chemistry is important, and her team has bigger hitters but everyone on the team can get in done and they can pull it together when they need to.
"It is huge between girls and the thing about my team is that anybody can get it done," she said. "We have our bigger hitters but everybody else steps up behind them and they play well together. When they are down they still push because the chemistry is good between them."
Hope said even though they won, they still always have room to improve on important aspects of the game.
"The main thing we always work on is passing when you pass you can pretty much do anything," she said. "Every single match is better with passing and we had a clean game but not clean enough."
The Crusaders team leader in kills, sophomore Reagan Hope, had another big game, leading the team with 14 kills.
Molly Kipp also shined in the win leading the team with 30 assists and four aces.
Hope noted that their chemistry is crucial to the game of volleyball because one or two players cannot go out and do everything themselves.
"I think it is just playing with a good group of girls, even off the court we are best friends and working together all the time," she said. "It is the trust in the game because I can't do everything, the setter can't do everything, we all have to work together. This is such a team game and knowing that, we all have great chemistry and rely on one another."
Hope said the undefeated start to the season is great but anyone can win, and staying level-headed is important.
"I think starting off the season undefeated is pretty great but it is also important to get knocked down a little bit and we are all here to play and anyone can win at any time," Hope said. "So I think it is important to stay humble and play every game like we are the underdogs so we have to play hard against every team."
Peter McGloin, Fountain Hills head coach, was frustrated with the loss and said that Northwest Christian is a good team that they normally play well and there are just things they need to work on as a team.
"It was terrible. Northwest Christian is a good team that we always seem to play well," he said. "But there are things we need to change and improve upon this weekend."
The Crusaders and will play in the Tournament of Champions and the Falcons will be in the Wolves Classic Invitational, both being held this weekend.
---