Perseverance and positivity: The story of Scottsdale Prep's coach
September 18, 2018 by Koki Riley, Arizona State University
---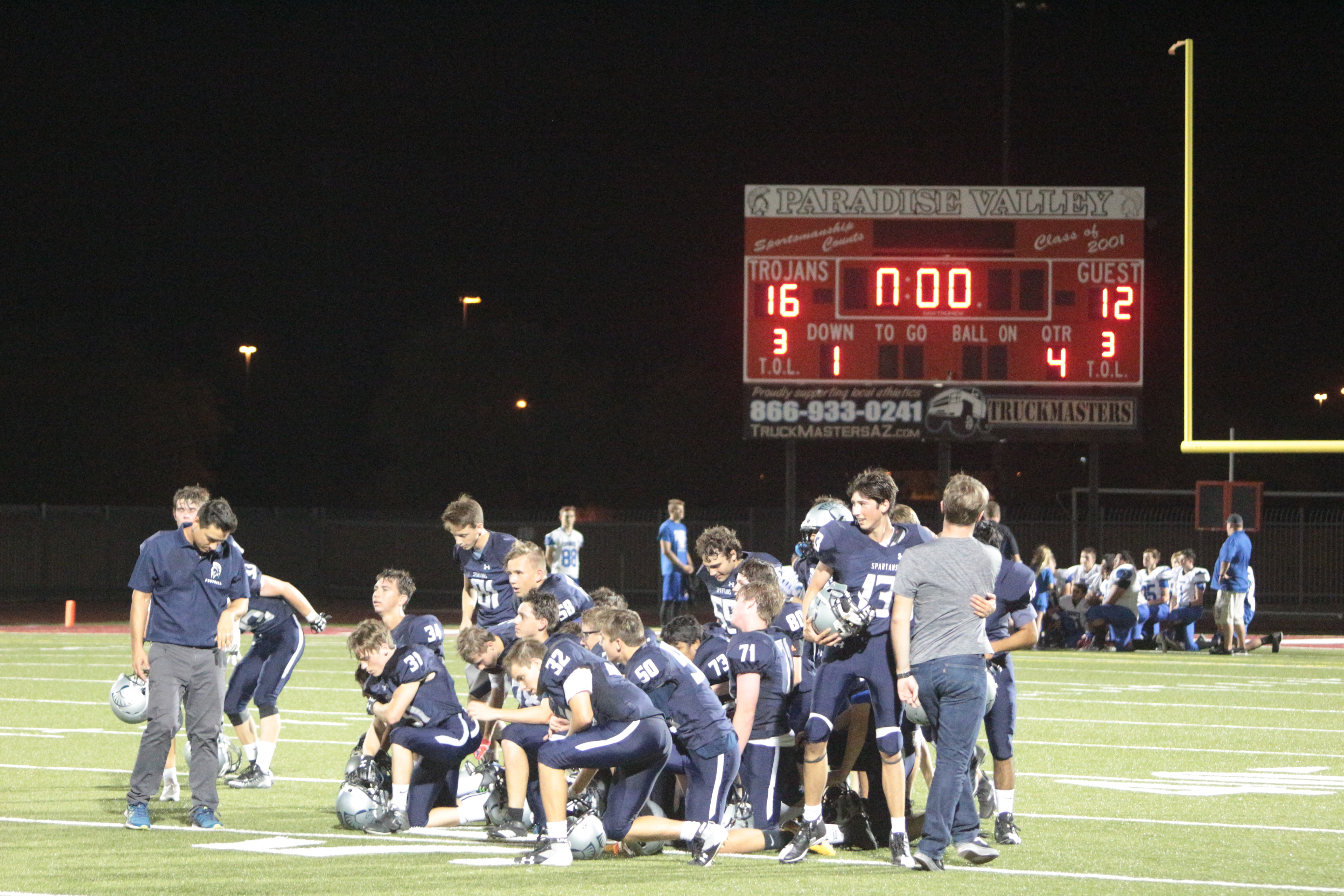 Scottsdale Prep's starting quarterback Oscar Frias doesn't see David Primavera as his coach.
"It's funny, (Primavera) is my favorite teacher at school, and I haven't even had him (as my teacher) yet," said Frias.
Frias, who is only a sophomore, will have to wait until next September until he can attend Mr. Primavera's physics class for juniors. For now, Frias will have to settle with the title "coach" in front of his favorite teacher's last name.
Called "Premo" by his players, Primavera has inspired and motivated the Spartans to one of the most unlikely starts to a season in recent Arizona high school history.
Primavera, an 11th grade physics teacher, head football and baseball coach at Scottsdale Prep, has pulled off what many say is impossible, starting the season 3-0 following an 0-10 campaign.
Primavera took the head job after leading the middle school team to the Great Hearts Middle School League Championship game two years ago.
Following that success, Primavera was promoted to become the head coach but struggled in his first season with a small roster and a rotating cast of quarterbacks.
"I think we had four starting quarterbacks at the one time," Primavera said.
Year two has been the exact opposite.
"We have really, really limited our mistakes in most of our games, especially in the one against ASU Prep," Primavera said. "That's what we need to continue to do."
A Nebraska native, Primavera played baseball and football at Pius X High School in Lincoln but he blossomed in baseball more than football.
Primavera became a star on the diamond but he was unable to reach his full potential due to a right shoulder injury his junior year.
Following his senior season, Primavera toyed around with the idea of pursuing college baseball with a Division I walk-on offer from South Dakota State but decided against it.
"I kind of knew my limitations based on my arm," Primavera said. "I just could not make the throw across the infield.
"I could hit at a (Division 1) level, I just could not play the field at a (Division I) level."
After his high school career came to a close, Primavera went to Thomas Aquinas College in Southern California and majored in philosophy and theology. Primavera then got his Master's degree in teaching at the University of Nebraska.
Before settling in Phoenix with his family, Primavera taught and coached the golf team at Mount Michael Benedicte High School in Nebraska.
"I was going to be the assistant baseball coach but the head job for the golf team opened up so I ended up taking that instead," Primavera said. "My brother is a PGA club pro."
With a diverse background in sports and a strong understanding in students through teaching, Primavera understands the feelings and needs of his players.
"(Coach Primavera) won't scream at you if you do something wrong," Frias said. "He kind of pulls me over and (tells me), 'Hey, you are a good quarterback, it's ok, you are going to do good. Now what just happened, forget about it.'
"He just calms you down and he knows how to bring a player down when he is stressed out."
Scottsdale Prep's turnaround did not happen overnight. But Primavera's belief in his players and perseverance through the toughest of times was the key in the Spartans newfound success.
"Our program was not the best a couple years ago," Scottsdale Prep wide receiver Finley Hobbs said. "With baseball and football, he just puts so much effort into (coaching)."
"He's been through a lot," Frias said. "And I respect him for that."
---