Pinnacle overcomes halftime deficit, defeats Valley Vista
September 21, 2018 by Andres Acuna, Arizona State University
---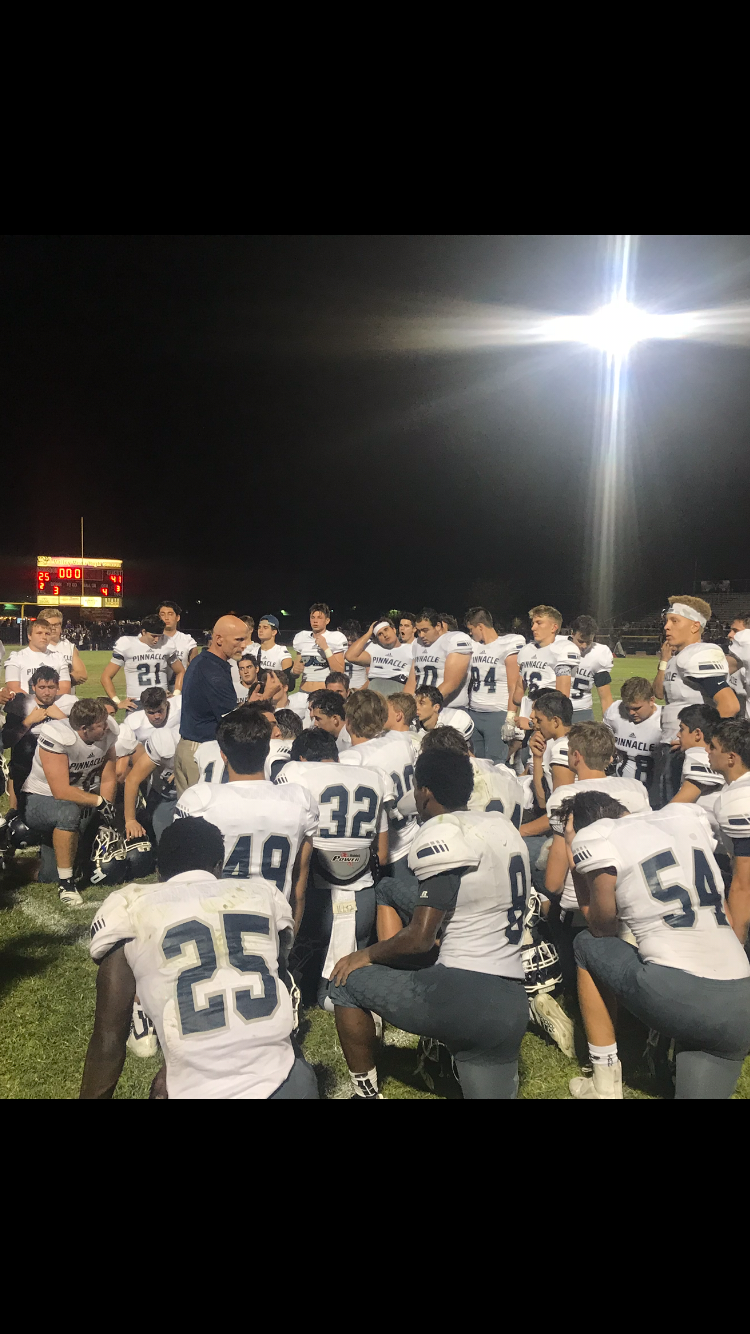 The Pinnacle Pioneers prevailed 41-25 after a hard-fought battle against the Valley Vista Monsoon on Friday night. Spencer Rattler and Kaleb Covington led the way in the second-half to overcome a 19-14 halftime deficit.
The game began with Pinnacle marching down the field on a 10-play drive, capped by a 24-yard run by Quinton Powell.
After a few ineffective possessions by both teams, the Valley Vista defense scored on a head-scratching play. Spencer Rattler, the starting quarterback for Pinnacle, tried to avoid a sack by pitching it to his running back. The ball got loose, Trenton Foster, a junior linebacker from Valley Vista, ended up with it and ran it back for a 40-yard touchdown.
The next possession for Pinnacle was a nine-play drive that ended in a 16-yard pass from Rattler to Kaleb Covington, thrown by Rattler.
Valley Vista scored a touchdown on the next possession, but had the extra-point attempt blocked by Pinnacle, leaving Pinnacle with a 14-13 lead. After a penalty on a fourth-and-1, the Pioneers decided to go for a fake-punt pass. Backup quarterback JD Johnson, who is the punter for Pinnacle, attempted to throw the ball to a receiver, but was intercepted by Haudarie Andrews, who had two interceptions on the night.
Valley Vista used the momentum from the turnover on their next offensive drive. On the third play of the drive, Valley Vista quarterback Antonio Gomez found Liam Kelleher for a 35-yard touchdown pass to put Valley Vista up 19-14. The two-point conversion was unsuccessful.
In the second-half, Pinnacle's defense was able to stop Valley Vista's running-back tandem of Henry Brown and Aiden Cunningham, who had been running all over the Pioneers in the first half.
Rattler and Covington also took over when they were on the field, and the Monsoon had no answer for either player. Covington seemed to be able to gain more than five yards every time he touched the ball.
"Trying to get in open space and catch the ball was really working for me, so I was really happy with that," Covington said after the win.
The Pioneers offense scored four unanswered touchdowns in the second half and never looked back.
There were too many mistakes made by Valley Vista to try and catch up to the fast-paced Pinnacle offense in the second-half. Penalties and turnovers hurt both teams, but Valley Vista turned the ball over five times after halftime.
"The one thing we talked about was not turning the ball over," said Valley Vista head coach Josh Sekoch.
The extra chances that Pinnacle were given allowed the Pioneers to become more aggressive on offense.
Pinnacle will face O'Connor on Friday night at Pinnacle, while Valley Vista will play at La Joya Community.
---