Football: Mountain Pointe deals Highland first loss
September 28, 2018 by Les Willsey, AZPreps365
---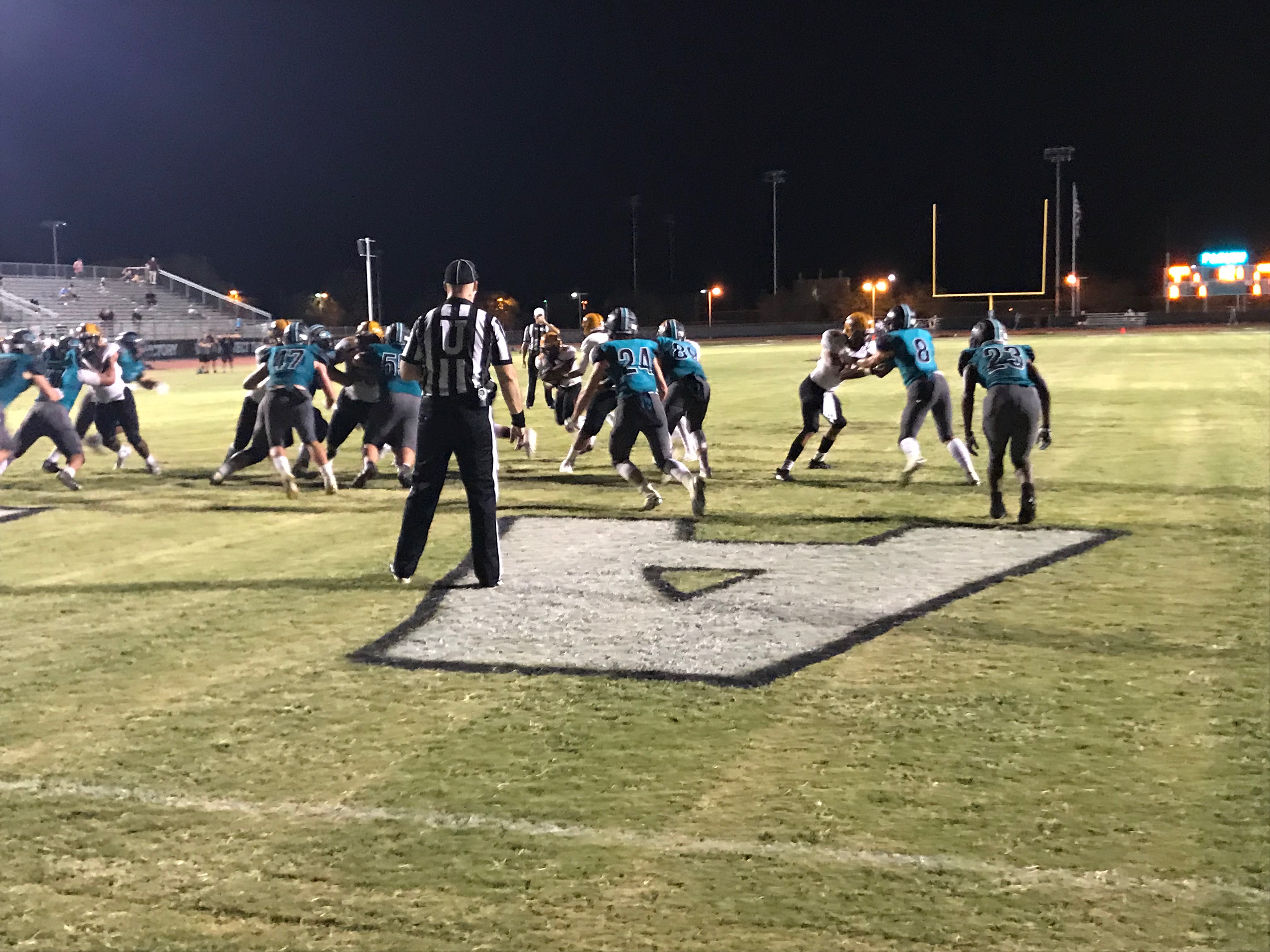 Mountain Pointe coach Rich Wellbrock has been patient with his team as they grow together in year one of his tenure. Wellbrock has said severall times he believes Mountain Pointe will be a different team come October.
October arrives in two days and Wellbrock may be on to something. Mountain Pointe was impressive all night on offense with quarterback Nick Wallerstedt piloting five 80-yard scoring drives and accounting for five touchdowns as the Pride knocked Highland from the unbeaten ranks with a 48-27 victory at Highland.
Mountain Pointe, No. 12 this week in the 6A power rankings, evened its record at 3-3 and bounced back impressively from a tough 29-28 loss to Queen Creek a week ago. Highland (6-1), under second-year coach Brock Farrel, was No. 1 in the power-rankings this week. Highland is 14-5 with Farrel at the helm and three of the five losses are to Mountain Pointe.
Wallerstedt, a 6-foot-3, 185-pound senior, completed TD passes of 5, 10, 17 and 30 yards to four different receivers. He added a fifth TD on a 10-yard run with 3:54 left in the third quarter . That TD served to a potential huge rally by Highland in the thrid period that saw the Hawks shave a 27-7 halftime lead to 27-21.
"We were emotionally invested this week," Wellbrock said. "We played with more of a sense of urgency. Nick was special tonight. He did a little bit of everything."
Wallerstedt rushed for 120 yards on 14 carries and completed 15 of 19 passes for 190 yards. In the first period he connected on 7 of 8 passes in a 20-point quarter. In the fourth period he was 5 for 5 as the Pride tacked on two scores to cut Highland's comeback bid short.
Mountain Pointe got its offense rolling early mixing the run and pass in the first quarter that saw the Pride bolt to a 14-0 lead. Wallerstedt tossed the first of his four TD passes for the first score to Eli Sanders. The pride stunned Highland for a the second TD 42 seconds after the first. A fumble set Mountain Pointe up at Highland's 36 and three plays later senior running back Jakim McKinney tallied from 8 yards out.
Mountain Pointe's rushing attack was more than just Wallerstedt. The Pride netted a tad more than 300 yards for the game. McKinney checked in with 126 yards on 34 carries and Sanders added 67 yards on 17 rushes.
Highland pulled within 14-7 as its offense cranked out a scoring drive on its second possession. Dayton Huffman did the honors with a 13-yard run. That was all for Highland's offense in the first half as they went to intermission down by 20.
As dominant as Mountain Pointe was in the first half, running 45 plays to 16 for Highland and having the ball for 18 of 24 minutes. its 27-7 lead nearly vanished. The Hawks drove 69 yards to begin the second half with quarterback Kaleb Herbert completing five passes for 58 yards, including the score to tight end Kyle Hester.
Seven seconds later an untouched McKinney fumbled and the ball was snatched out of the air and returned 20 yards for a TD by Highland defensive eend Cooper Holman. The large Pirde lead was a single TD now midway through the third period.
Wallerstedt followed up and marched Mountain Pointe 80 yards in four minutes for its only score of the third period. Wallerstedt rushed for 48 yards on the drive.
Kohner Culliimore had several long runs, including a 64-yard jaunt to paydirt that briefly closed the gap to a TD again as the third period ended. Cullimore carried eight times for 149 yards.
---