Pinnacle's Rattler shines in homecoming game
September 28, 2018 by Andres Acuna, Arizona State University
---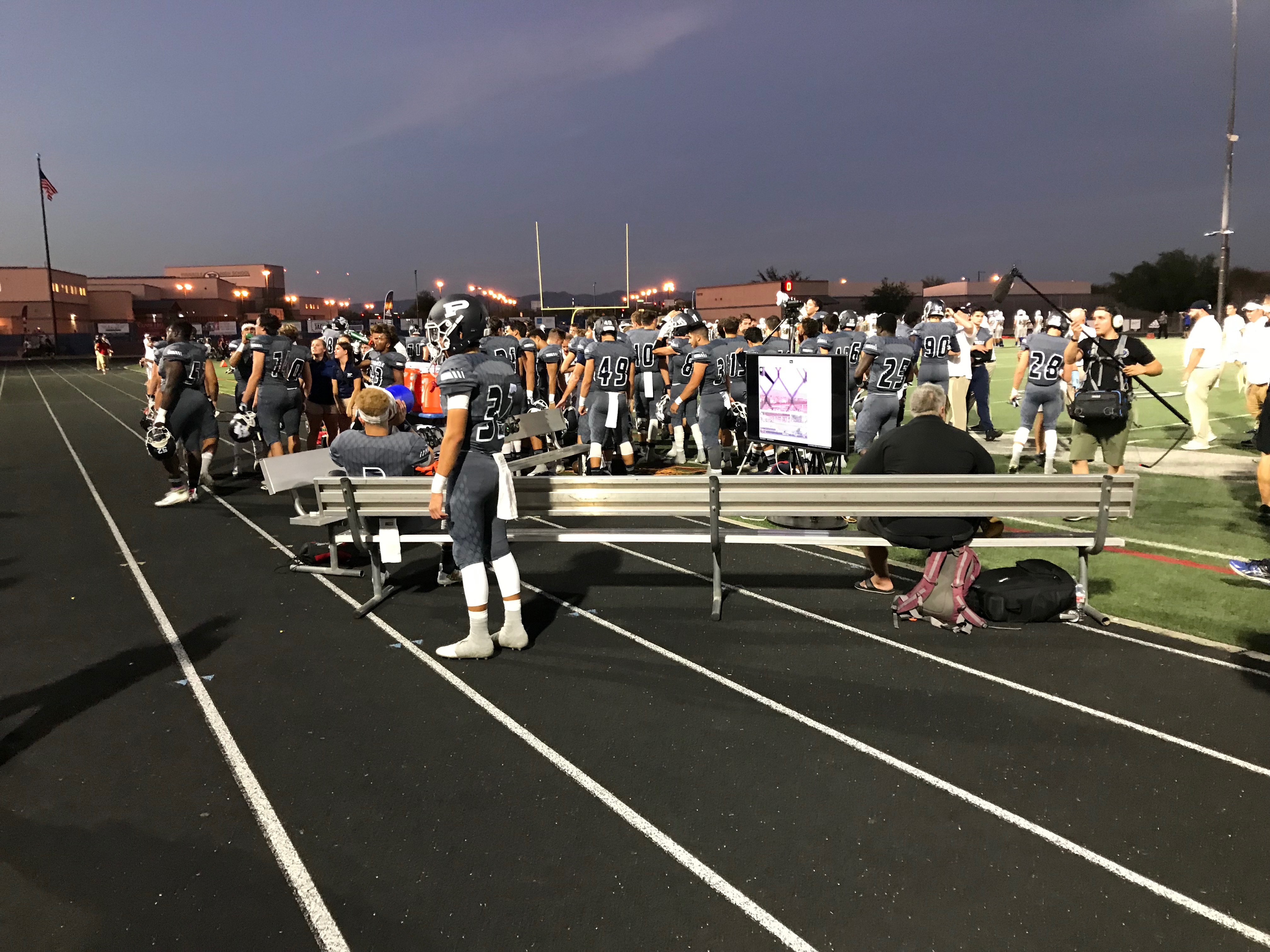 Spencer Rattler, a University of Oklahoma commit, played in what arguably was his most meaningful game in his high school career Friday night. Rattler became the all-time leader in passing yards in the state of Arizona on Pinnacle's first offensive drive of the game of a 52-23 win over Sandra Day O'Connor.
"I was focused on the next play. We have to score. And then I kind of got a little emotional, like dang, this really happened. But it was cool," Rattler said.
Pinnacle opened up the scoring Friday night on a four-play drive led by Rattler, who on the first play of that drive broke the record for career passing yards. The theme of the night was Rattler scoring, and he scored five times.
After a field oal by O'Cgonner on the following drive, Rattler led the Pinnacle offense down the field on a 10-play drive, capping it off with Rattler rushing up the middle for a one-yard touchdown with 2:35 to play in the first quarter.
After almost a quarter full of great defense played by both teams, Pinnacle scored again on a six-play drive. Kenji Roland rushed the ball into the end zone from one-yard out to put the Pioneers up 21-3 with 5:05 left in the first half.
The next offensive possession was the best of the game by O'Connor, with quarterback Ethan Moller finishing a four-play drive with a 62-yard touchdown pass to Damian Ortiz.
Pinnacl led 21-9 at halftime.
After the homecoming festivities ended, Pinnacle erupted on both sides of the ball, completely shutting out any hope O'Connor had of getting back into the game.
On the opening drive of the second-half, Rattler led another 10-play drive resulting in a touchdown, making the score 28-9 with 9:17 left in the third quarter.
The Pinnacle defense was outstanding in the second half. On O'Connor's opening drive in the second half, Kyle Bryant, a defensive back for Pinnacle, recovered a fumble and ran it back 56 yards for a touchdown.
On O'Connor's next offensive possession, the Pinnacle defense held them to a three-and-out, and forced the Eagles to punt.
Rattler took command again and led another four-play scoring drive, capping it off with a 11-yard touchdown throw to Roland, who was Pinnacle's leading rusher.
"I saw Kenji get better and better as the game went on. He got more confident and was running harder," Pinnacle head coach Dana Zupke said.
Roland, who is stepping in for Matt Goodlow who tore his ACL earlier this year, rushed 16 times for 104 yards and a touchdown.
"Somebody had to step up and make the plays," Roland said.
After a well put-together scoring drive by O'Connor's offense and two pass-interference penalties, the score was 42-16 with 3:30 left in the third quarter. On the next drive, to earn his fifth touchdown of the night, Rattler caught a touchdown pass from wide receiver Marcus Libman.
Rattler finished the night 24-of-29 passing for 290 yards and five combined touchdowns. This night was special to him. He broke the Arizona record for all-time passing yards. He won his senior-year homecoming game. And he did both of those things on his 18th birthday.
Pinnacle will look to keep the momentum rolling as they take on Mountain Ridge in Glendale next Friday.
O'Connor will look to ounce back next Friday as they take on Chaparral at home.
---