Learning experience for Mesa in badminton loss to Mountain View
October 4, 2018 by Quinn Jamieson, Arizona State University
---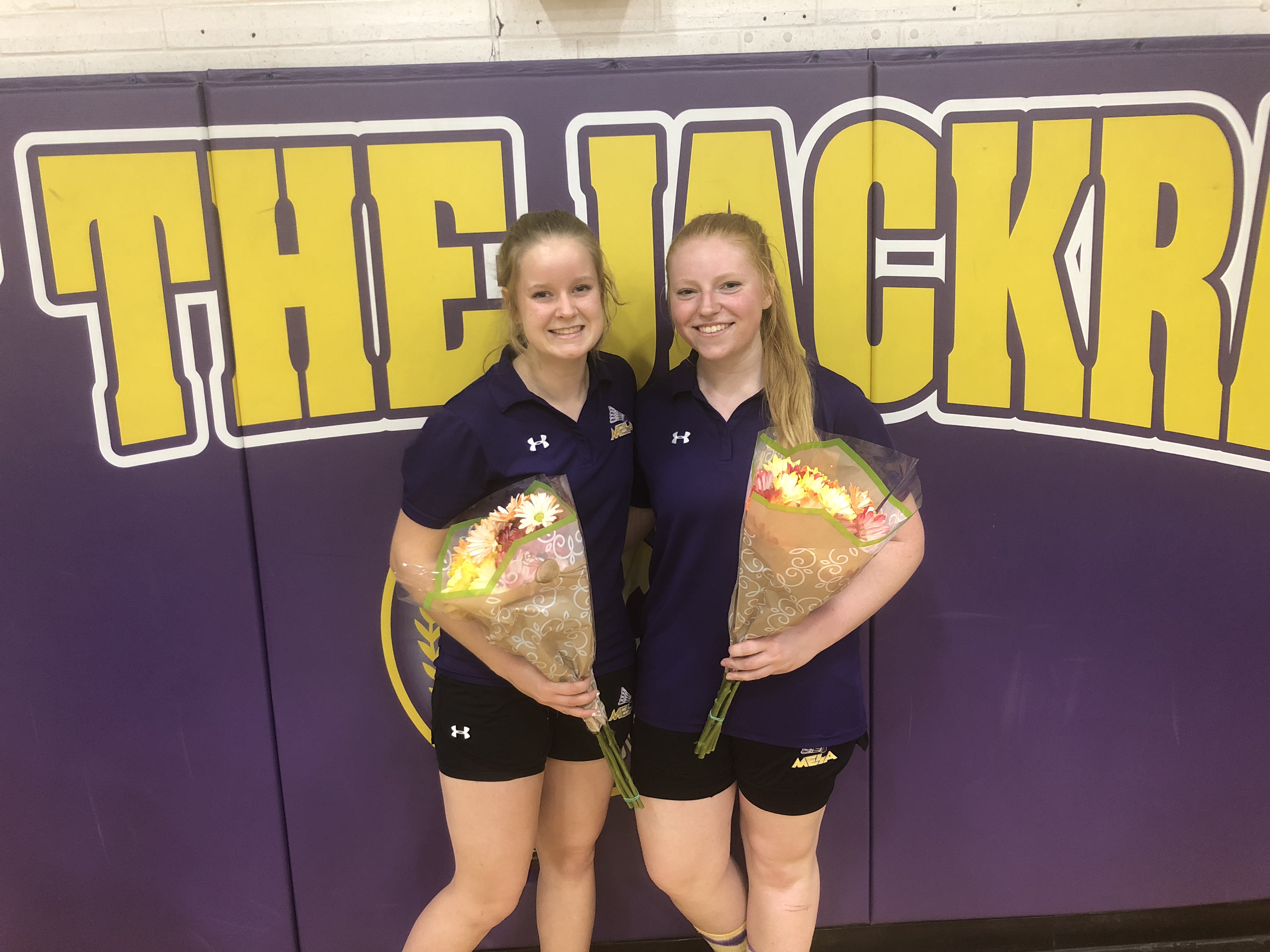 Senior Night for Mesa High School's badminton team didn't go as planned, but the Jackrabbits have much to build on, with postseason play right around the corner.
The scoresheet read a lopsided 8-1 victory in favor of Mountain View (10-3) over Mesa (8-5) in the Division 1 East sectional clash on Wednesday.
The sportsmanship between the two teams was impeccable, but the rivalry between the schools that are a mere five miles apart shone through.
The match was of added significance because it was the penultimate match of the regular season for both playoff aspiring squads. The Jackrabbits came into the evening ranked 13th in the state, while the Toros came in ranked 9th. Both teams want to remain in the top 16 in order to secure a playoff berth.
Mesa head coach Maryann Stegall has been coaching a variety of sports at Mesa for the past 18 years, including soccer, tennis, softball and badminton. She highlighted the importance of the match for her team, from a standings perspective, but credited the rivalry factor as being equally important.
"Even if we weren't ranked 13th in the state and in our second to last game, it's the rivalry, and that's important," Stegall said.
Mountain View head coach Trish Ellsworth reiterated a similar opinion.
"We take all our region matches against our other Mesa schools seriously because the rivalry is so fun," Ellsworth said. "It's always sweeter to beat a Mesa team."
A big part of the "fun" that came with the rivalry, was the familiarity between the competitors. Many of the girls have known each other for years and been competing with or against one another since middle school.
The lone victory of the night for the Jackrabbits came from junior Aspen Sass. The sixth-ranked Mesa player defeated Pyper Schmid, 11-5 and 11-8.
Sass, a first-year varsity player, used a strategic approach in her victory. Early in the game, she noticed her opponent struggled with shorter hits.
"It's about recognizing what your opponent is weaker at and adjusting to it," Sass said. "I used that to my advantage. I did a lot of drops on her, and kept my serve short, and it just worked out for me."
Sass was pleased with her performance, especially because it came against a rival school like Mountain View.
"It felt really good, especially since the last couple years I played against them it hasn't always turned out the best," Sass said. "It feels really good to finally have a chance to beat them."
Jade Hanson and Maddie Heaton were the only two seniors for the Jackrabbits and were honored prior to the start of game play.
Stegall, likened the pair to fawns when they first entered the program and said that they've grown and matured a lot since then, especially in their style of play.
Neither senior was able to come up victorious in their singles matches or when paired together, but the duo who make up the top-ranked Mesa doubles team felt there was a lot to build on from the loss.
"Every time you lose, the next game you come back harder," Hanson said. "It helps you see what you're doing wrong and helps you become better."
The senior pair is already guaranteed a spot in the state doubles tournament but they want nothing more than for their full team to earn a berth in their final high school season.
One reason Mesa has been successful this season is a coaching strategy that Stegall recently implemented. She videotapes all of the matches so her players can go back and watch them later
Hanson found that practice critical towards her success.
"It helps to watch yourself because you're able to see what you're doing wrong and correct it," Hanson said.
Their final home game brought with it a little sadness for the senior duo. Heaton has been on the team four years, and Hanson three. They may not have gotten the result that they wanted on Wednesday, but the duo has loved their Mesa High badminton experience.
"It's sad because badminton is our family," Heaton said.
Hanson grew to appreciate the sport that many consider a "backyard game."
"It's a sport that a lot of people don't understand and don't think of as much a trial," Hanson said. "It's a super intense sport."
Both ladies credited Stegall as a big reason Mesa badminton is special.
"She never gives up on us. She never says anything negative and that puts us in the right mindset," Heaton said. "A good coach makes a great team and because of her we all grew closer together."
Stegall was disappointed that her team was unable to come up victorious in the crucial match, but has high hopes for the young team's future.
"The girls have improved a lot this year," Stegall said. "They're eager to get better"
The Jackrabbits return four players next season and will have two open spots on varsity. She anticipates a highly competitive battle for those spots, which is a testament to the depth Mesa has.
"There are about six girls fighting for it that are all very capable," Stegall said.
The future may be bright for the Jackrabbits, but Stegall and her team are focused on closing out this season strong.
The Jackrabbits will conclude their regular season today on the road against another East Valley Conference foe, the Skyline Coyotes (7-6). Mesa will then turn its attention to the city badminton tournament on Oct. 16 before postseason play begins Oct. 19.
Full Results:
Singles #1
Tatum Monk, MV def Lucy Timothy, Mesa:11-5, 11-5
Singles #2
Kailee Grey, MV def Madeline Heaton, Mesa: 11-4, 11-0
Singles #3
Leah Denman, MV def Jade Hanson, Mesa: 11-5, 11-3
Singles #4
Ellie Clarkson, MV def Avery Jones, Mesa: 11-5, 11-9
Singles #5
Morgan Denman, MV def Sabra Larson, Mesa: 4-11, 11-7, 11-3
Singles #6
Aspen Sass, Mesa def Pyper Schmid, MV: 11-5, 11-8
Doubles #1
Grey and Denman, MV def Heaton and Hanson, Mesa 15-10, 15-5
Doubles #2
Monk and Clarkson, MV def Timothy and Jones, Mesa 15-13, 13-15, 15-7
Doubles #3
Denman and Schmid, MV def Sass and Larson 15-9, 15-0
Varsity Score: Mountain View 8, Mesa 1
---