Week 9 Football Walk Through for Oct. 11-12
October 9, 2018 by Les Willsey, AZPreps365
---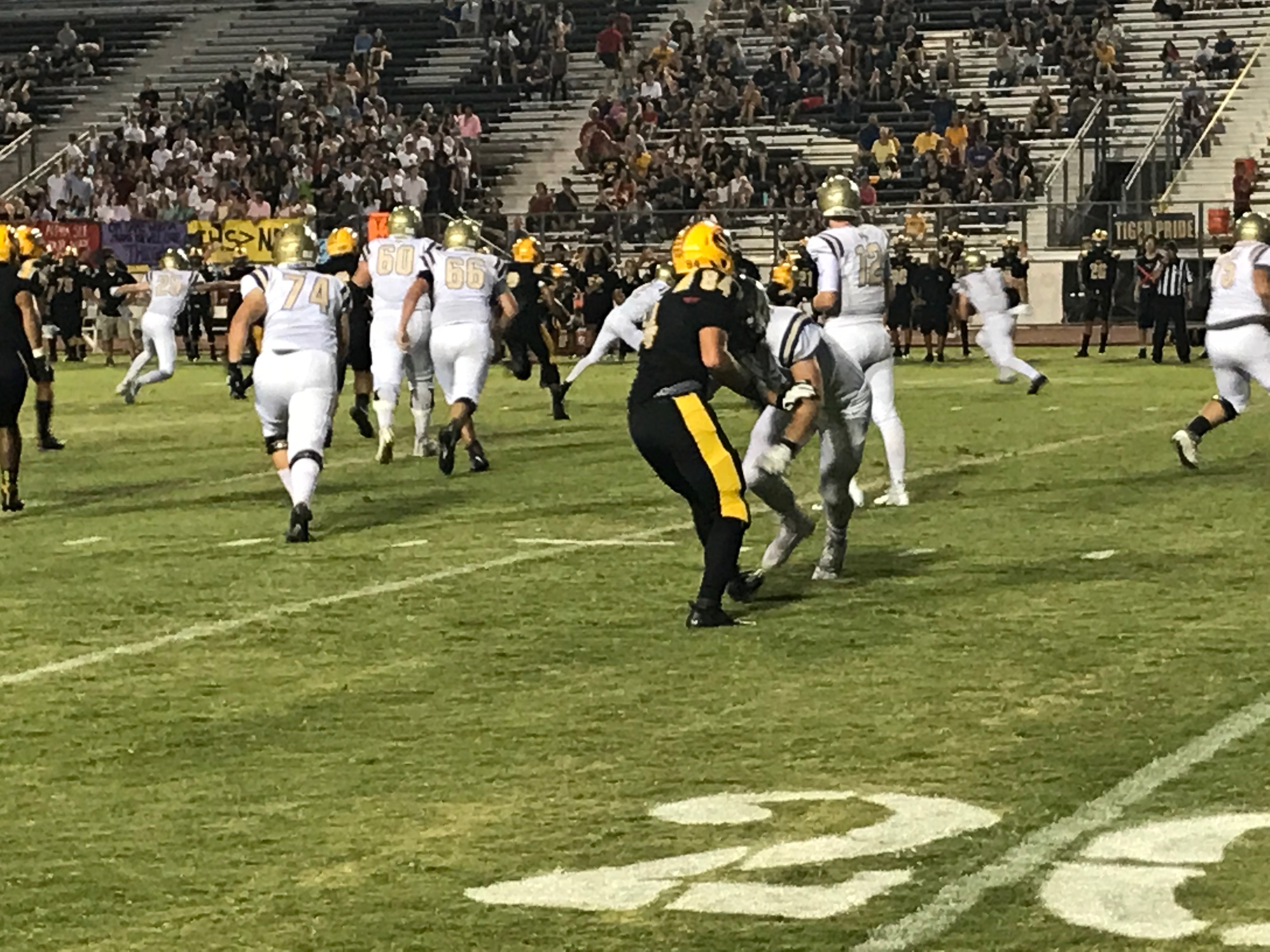 6A
Basha (6-1) at Chandler (6-1)
Mountain Pointe (3-4) at Chaparral (5-2)
Boulder Creek (3-4) at Desert Vista (6-1)
Brophy Prep (6-2) at Perry (5-2)
Liberty (7-0) at Pinnacle (6-1)
A large chunk of schools are off this week in conjunction with fall breaks/schools that began the season Aug. 17. Games that will determine the lead in the Desert Valley and Premier regions stand out. Basha takes a shot at Chandler in the Premier Region, but will need a Herculean effort to pull off a win. The Wolves are building to a regular-season crescendo while Basha has turned in a remarkable year under new coach Chris McDonald. The Bears beat Hamilton last week for the first time in school history. They have one win over Chandler (2011), but have lost the last nine meetings. Pinnacle continues to thrive as QB Spencer Rattler tries to lead the Pioneers past the last unbeaten team in the conference - Liberty. Liberty coach Mark Smith has guided the Lions in their big-school re-debut with seven straight wins, including three tight ones. The favorites Chandler and Pinnacle should prevail but an opportunity for the foes to get a grasp on where they stand against arguably the two best teams in the conference when the playoffs arrive in three weeks.
5A
Horizon (3-5) at Cactus Shadows (3-4)
Notre Dame Prep (8-0) at North Canyon (3-5)
McClintock (3-4) at Paradise Valley (5-2)
All Gilbert and Higley district schools are idle this week. Williams Field leads the San Tan Region with Casteel a strong second at this stage. Notre Dame Prep leads the Northeast Valley Region with two games to play. The Saints are idle next week, but a win this week and a loss this week or next by Paradise Valley would cement the region title.
4A
Cortez (0-7) at Apache Junction (4-3)
Glendale (7-0) at Combs (3-4)
Marcos de Niza (1-6) at Poston Butte (2-5)
Flagstaff (3-4) at Seton Catholic (6-1)
Thunderbird (3-4) at Tempe (5-2)
Big week for Tempe High, which needs to stay in the chase for the Skyline Region title as it appears that's the Buffs lone avenue to the playoffs. A win this week over Thunderbrid, not a given, sets up a region showdown next week with Greenway. Same goes for Apache Junction in the Black Canyon Region. The Prospectors appear headed for a region-title clash Oct. 19 with Glendale - unbeaten overall and in the region. A Glendale win over Combs would set up that meeting.
3A
Fountain Hills (3-4) at Arizona College Prep (1-6)
San Tan Foothills (3-4) at Florence (1-6)
Coronado (1-6) at Gilbert Christian (1-6)
Paradise Honors (3-4) at Valley Christian (4-3)
American Leadership-Gilbert North (4-4) at Yuma Catholic (5-2)
Valley Christian cleared the way for a guaranteed playoff berth knocking off Odyssey Institute last week. That paired with its earlier road win at Yuma Catholic makes the Metro West Region VC's to lose. Should Fountain Hills win this week and next (Gilbert Christian) the Falcons will emerge as Central Region champs due to American Leadership Gilbert North's ineligible status for the playoffs this season.
2A
Scottsdale Prep (4-2) at Antelope (5-2)
Tempe Prep (2-6) at San Carlos (1-6)
Santa Cruz (2-5) at Scottsdale Christian (5-2)
1A
Arete Prep (5-2) at Fort Thomas (6-1) - Oct. 11
Arete Prep seeks to extend momentum to postseason to four wins in a row if it can defeat South Region champ Fort Thomas on the road Thursday. Fort Thomas lost its first game last week in the completion of a game with Salome while Arete Prep topped Phoenix Day School for the Deaf 83-26.
---