Volleyball: Paradise Valley rallies over North Canyon
October 9, 2018 by Vaughan Jones, Arizona State University
---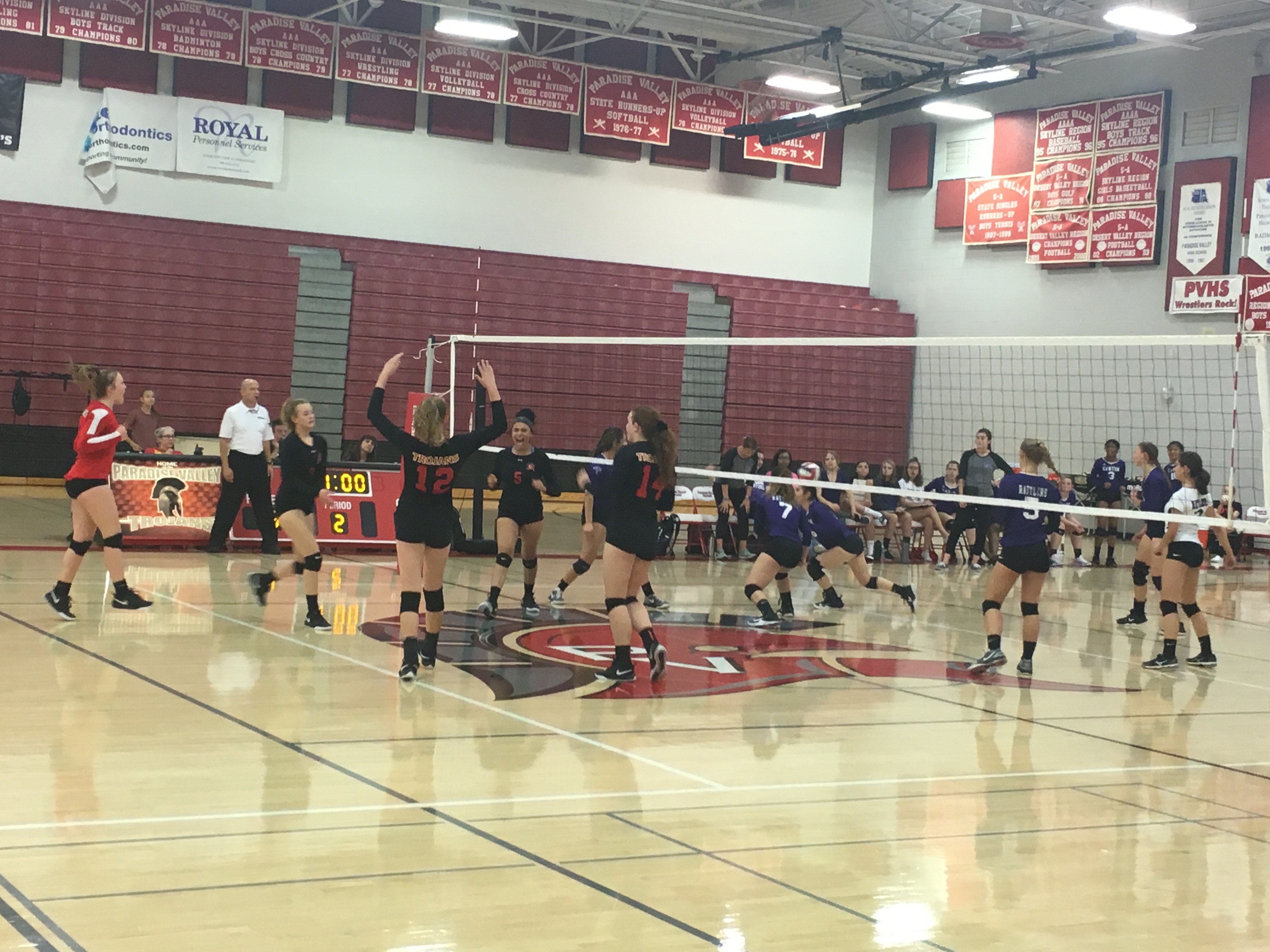 The Paradise Valley Trojans defeated the North Canyon Rattlers in four sets on Tuesday. All four sets were headlined by Paradise Valley's ability to play from behind, especially a comeback from being down 17-9 to win the third set.
Two of the four sets were decided by a margin of two points or fewer, something PV has not experienced this season. Trojans coach Leah Nelson commented on her team's comeback.
"To be very honest with you, this is the first time we've had this phenomenon of them coming back from a deficit," Nelson said. "They're a very young team, there's mostly sophomores on the roster. They're not used to the experience of coming back, but they took it one point at a time."
Nelson claimed that PV's ability to work as a team was the main reason behind the comeback victories.
"We work sometimes too much as individuals and not as a team. I try to work on it with them in practice, but tonight that got fixed here in the game, based on the fact that they just really wanted to beat North Canyon. They just had that fight in them and it fixed itself," Nelson said.
The early margins that PV faced were due to North Canyon's ability to score out of the gate. The Rattlers scored first on three of the four sets, and reached double digit scoring first all four times.
"We did a great job of making runs, those five-point runs, the only problem is that the other team did a great job of doing that as well," said Rattlers coach Kinsey Pease. "We'd have the upper hand, then they'd have the upper hand, and they just got us in the end."
North Canyon's ability to score early was bolstered by the energy with whch the team played. The Rattlers showed defensive strength by saving errant hits from out of bounds, blocking kills at the net as well as close to the floor, and preventing unforced errors by communication.
"We're definitely more of a defensive team than an offensive team," said Rattlers starter Emma Kroon. Pease had praise for her team on the defensive side of the ball as well.
"I have a couple amazing players that just don't give up. I think defense is totally mental and I just have a couple girls that are just there defensively," Pease said. "I don't think that comes from coaching, I think that's just an inner blessing that they have that they just get it and go for everything."
Both teams excelled on the defensive side of the ball, but both teams also struggled to get the ball in play. At least six points were given up on errant serves in each of the four sets, and both coaches mentioned the need to work on serving in practice.
Paradise Valley had standout individual performances from freshman Emma Parmley, who is currently leading the team in kills, as well as sophomore Grace Gin, who scored four straight points to finish off the fourth and final set.
Paradise Valley moves to 5-8 overall with the win, snapping a two-game losing streak. PV's next game is against region opponent Cactus Shadows next Tuesday.
North Canyon's woes continue, as they've dropped seven of their last eight games. The Rattlers face off against the 11-1 Horizon Huskies at North Canyon on Thursday.
---