Volleyball: Horizon rolls to another region sweep
October 10, 2018 by Les Willsey, AZPreps365
---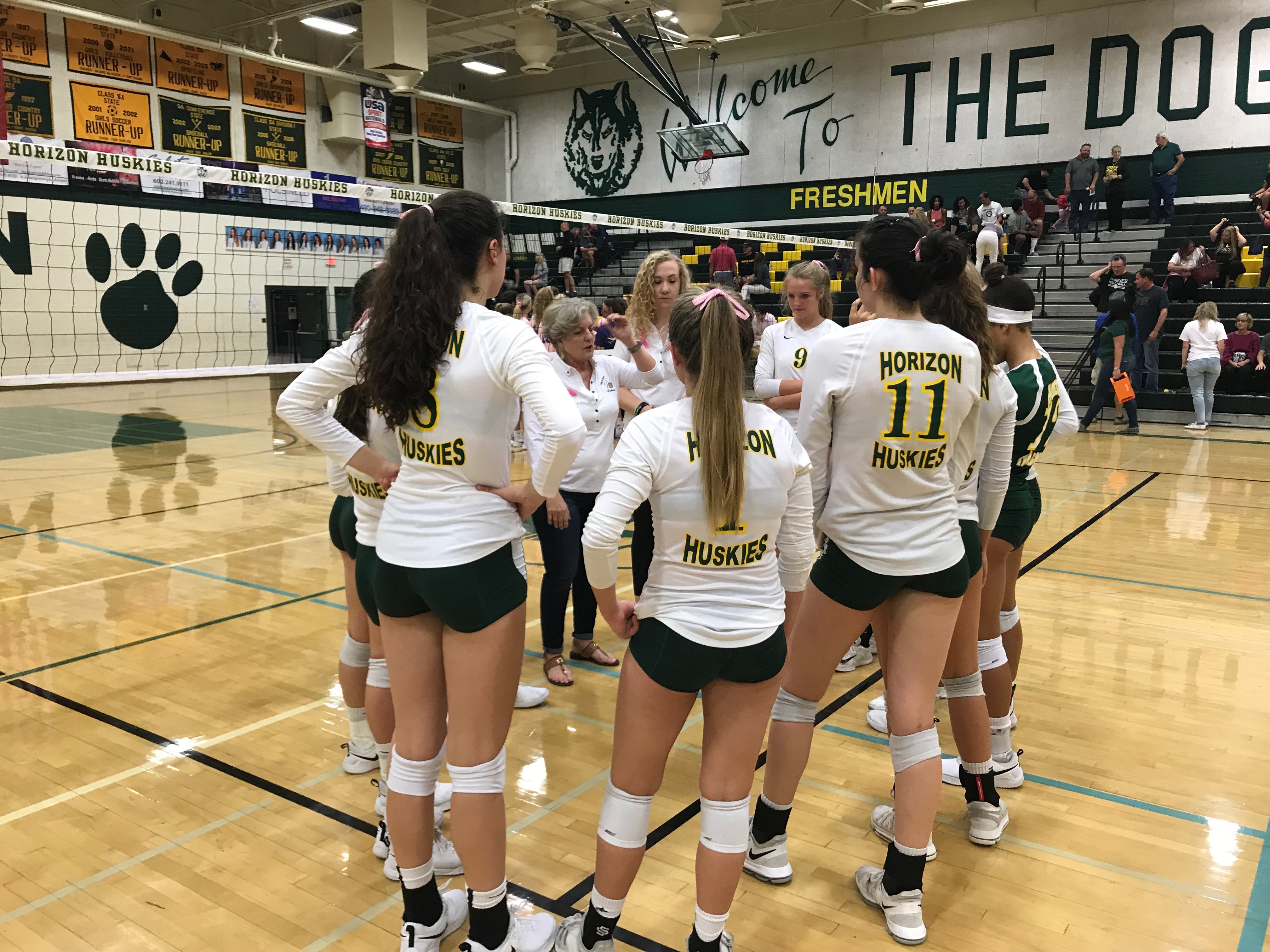 Consistencey is the name of the game this season for Horizon's girls volleyball team.
Eight region matches. Eight sweeps. A 28-5 record. No losing streaks. And currently riding a 12-match winning streak. It's made the season quite enjoyable for coach Valorie McKenzie, who registered her 900th career win in the middle of this campaign to add spice to the year.
On Wednesday the consistency was present again in a 25-19, 25-14, 25-14 dispatching of Notre Dame Prep in a 5A match at Horizon. Horizon entered play No. 4 in the 5A power-rankings and ran its power-ranking record to 12-1 and its Northeast Region leading mark to 8-0. Notre Dame Prep, 11th in the power rankings, is 18-14 overall, 9-6 in power-ranking matches and 6-4 in region. Horizon trails Sunnyslope, Millennium and Campo Verde in the power-rankings. The first two have yet to lose a power-ranking match.
"That's been the strength of this team all season, we've been very consistent," McKenzie said. "These girls work hard and work well together. We're consistent with ball control and its been the same with our passing. We're solid in the middle and can make it difficult on teams with our setter (senior Claire Smith)."
No argument from Notre Dame Prep coach Amanda Burbridge, who has seen the Saints drop a pair of sweeps at the hands of Horizon after Wednesday's defeat.
"They are very balanced offensively," Burbridge said. "They are good at staying in system, and ball control allows that."
No Horizon player registered double digits in kills in this match. Seven players contributed between three and eight kills. Junior outside Jozlyn Byers led with eight. Junior middle Ashleigh Barto had six kills and defended well with four block assists and two solos. Rounding out the attackers were senior middle Alyssa Unell and senior outside Isabelle Nelke (five kills each), sophomore right side Olivia Elmore (four) and Smith and junior Kayla Ray three apiece.
Horizon served up 11 aces and defensively Kaden Young had 13 of the Huskies' 36 digs. Smith handed out 27 assists with the attacks from the middle the most effective.
Notre Dame trailed pretty much the entire match and the best it could do in terms of a run were a couple 3-0 runs in two of the sets. The Saints were within 22-19 in the opening set, but Horizon made sure it finished the set with kills from Nelke and Barto and an attack error for set point.
Notre Dame's leader in kills this season topped the Saints again - junior outside Jessica Terlizzi. Terlizzi finished with 12 kills and freshman outside Sophia Ross had five.
---