AIA adds JOLYN as official partner for swimming & diving and beach volleyball
October 11, 2018 by Seth Polansky, AZPreps365
---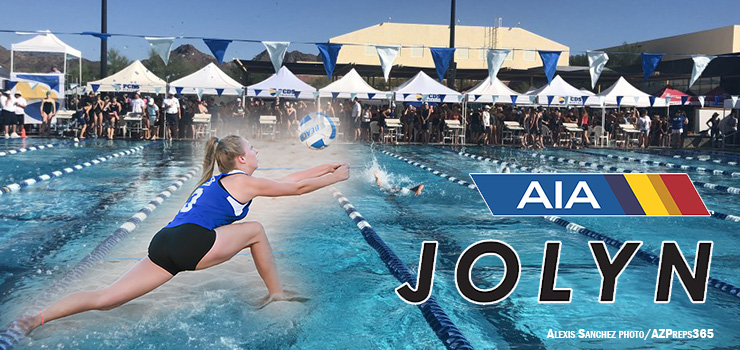 The Arizona Interscholastic Association (AIA) is pleased to announce a long-term partnership with JOLYN that will benefit the swimming & diving and beach volleyball championships.
With a five-year deal in place, JOLYN becomes the "Official Swimming/Diving Swimwear and Official Beach Volleyball Sportswear" provider of the AIA. The company will also be the presenting sponsor of these championships.
"To have a partner that wants to be involved with the AIA experience for a while is an asset to this association," said Executive Director David Hines. "And with this agreement, JOLYN will also be able to offer a service to a pair of championships that have a growing, loyal following."
Now fans and competitors at the swimming & diving finals will be able to purchase JOLYN products including fashion swimwear, competition swimwear, tech suits, goggles and other swim-related items, with additional merchandise opportunities at the beach volleyball finals in May.
"Partnering with the AIA allows JOLYN to inspire more young female athletes across the country. Our brand mantra is For Women Who Inspire Us and JOLYN is thrilled to join Arizona in helping nurture the next generation of inspirational young women. Through sports and athletics, girls gain self-confidence, mental and physical strength and most importantly, lifelong friendships. JOLYN is proud to be presenting both the AIA Swimming & Diving State Championships and Beach Volleyball State Championships, supporting AIA student-athletes."
About Arizona Interscholastic Association
The AIA is a voluntary association of public and private Arizona high schools. Since 1913, the organization has created and sustained interscholastic activities that encourage maximum student participation by providing AIA member schools with an even playing field to ensure fair and equitable competition. The AIA believes that providing interscholastic activities for Arizona high school students creates personal development opportunities with a balanced focus on academics and extracurricular activities.
Through its Arizona member schools, the AIA reaches more than 100,000 participants in high school activity programs. The organization hosts 5,000 championship contests and maintains officiating for more than 45,000 regular season games. For more information, visit www.aiaonline.org and www.azpreps365.com.
---