Volleyball: Campo Verde cinches 5A San Tan Region title
October 16, 2018 by Les Willsey, AZPreps365
---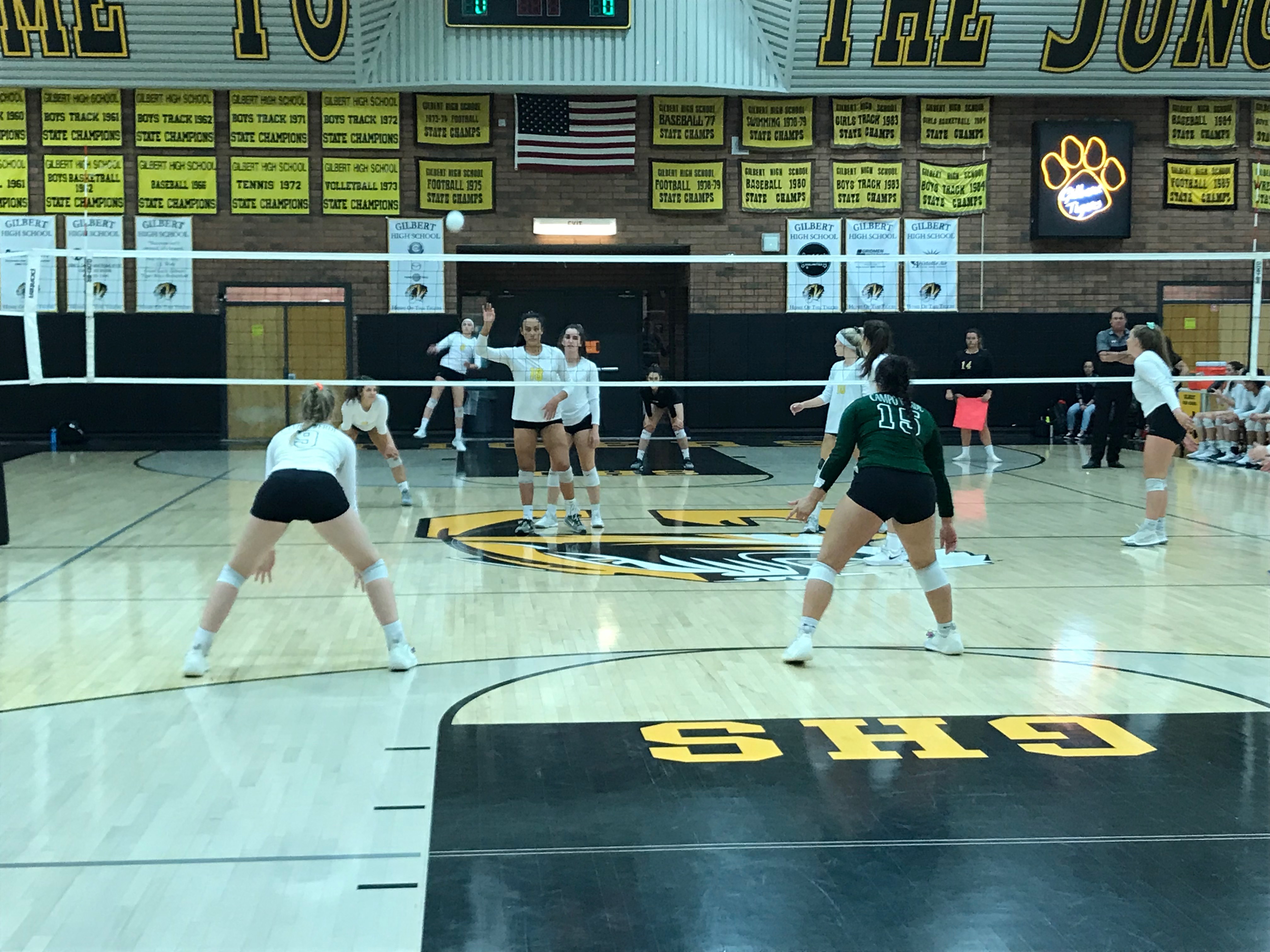 If there was a preseason favorite in the 5A San Tan Region in girls volleyball this season that team was Campo Verde.
Mission accomplished for the No. 4-ranked Coyotes on Tuesday night as they took down No. 13 Gilbert in four sets, 25-17, 25-12, 22-25, 25-14 at The Jungle.
Campo Verde (20-16 overall, 11-2 power-ranking matches, 7-0 region) remained perfect in region play with three matches left. The Coyotes' sweep of Gilbert in the two region matches is enough at this stage for the region race to be closed. Gilbert is now 16-20 overall, 9-6 power-ranking matches and 5-3 in region.
Gilbert coach Joe Hesse was hoping for a better result, buoyed by the fact the Tigers took Campo Verde to five sets on the road last month.
"We were looking forward to this, but overall the result was not good," Hesse said. "They were better serving, passing and they have the best player in the region (Caitlin Dugan). ..
"We caught a little fire in the third set, played with the lead and we play well when that's the case."
The other three sets, however, were different. With a starting lineup that features four seniors and three juniors, Campo was strong in each set it won. The Coyotes opened up a nine-point lead in the first set (16-7), eight-point lead (11-3 )and seven (15-8) in the fourth.
Campo Verde played well in all phases save being "too comfortable" much of the third set, according to coach Tayler Bader.
"We've improved defensively quite a bit," Bader said. "We're figuring out how much space to give each other. I thought when the season began we had a chance (win region). We knew Gilbert would be tough. We've played pretty well all year. There's still a ways to go."
Libero Hattie Patton led Campo's defensive effort with 21 digs that helped secure consistent ball control throughout the match. Taylor Van Winkle added 17 digs and Dugan 13 digs. Offensively Dugan paced with 19 kills, Van Winkle 11 kills and Cassidy Lamb five kills. The Coyotes served 17 aces led by six from Van Winkle and three each from Allison Hage and Alyssa McDowell.
Gilbert 's attack was led by senior Katana Montford with 15 kills and freshman Naia Stewart who added 10 kills.
---