Football Quarterfinals (6A-2A) Walk Through for Nov. 9
November 8, 2018 by Les Willsey, AZPreps365
---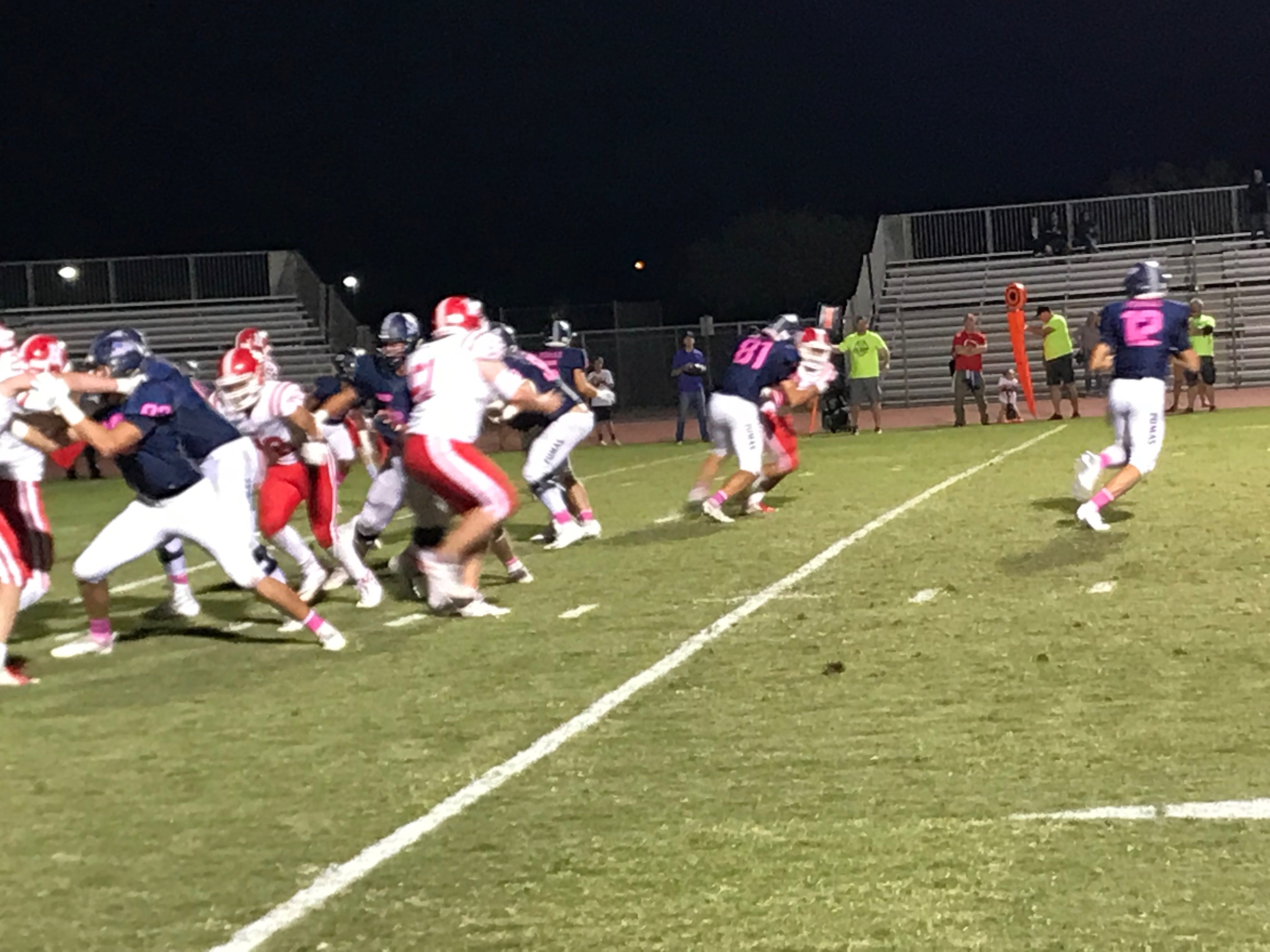 6A
#8 Mountain Pointe (7-4) at #1 Chandler (10-1)
#5 Highland (10-1) at #4 Liberty (10-1)
#6 Perry (9-2) at #3 Desert Vista (10-1)
#10 Red Mountain (9-2) at #7 Pinnacle (10-1)
No rematches from the regular season among these games. Anticipating three close games Highland-Liberty, Perry-Desert Vista and Red Mountain-Pinnacle. Perry QB Chubba Purdy accounted for 312 yards and four TDs in win over Basha last week. Desert Vista running back Colby Humphrey was big man on campus for the Thunder last week with 176 yards rushing and four TDs in win over Chaparral. Liberty QB Brock Mast (177 yards passing, 3 TDs) and RB Jett Kinsch (111 yards rushing, 2 TDs) powered the Lions past Westview. On any given night Kohner Cullimore or Daniel Wood can produce a breakout game for Highland on the ground. Mountain Pointe's ground game must be successful and consume plenty of clock to hang with Chandler. The Wolves hung 64 points on Boulder Creek last week in winning their 10th game in a row.
5A
#8 Cienega (9-2) at #1 Centennial (11-0)
#5 Higley (8-3) at #4 Casteel (9-2)
#6 Millennium (9-2) at #3 Notre Dame Prep (11-0)
#7 Sunrise Mountain (8-3) at #2 Williams Field (10-1)
A trio of rematches likely will go the way they did the first time -- ultra-methodical Centennial over Cienega, Casteel too much in a shootout over Higley and Williams Field over Sunrise Mountain in the tougher of the three. Millennium waltzed through its region easily and split four games against 5A playoff teams - the two the Tigers won (Maricopa and Ironwood Ridge) were narrow wins and those teams were eliminated in the first round. Notre Dame's season-low-point total is 34 so offense figures to carry it vs. Millennium.
4A
#9 Mingus (9-2) at #1 Salpointe (11-0)
#13 Seton Catholic (8-3) at #5 Sahuaro (9-2)
#6 Greenway (10-1) at #3 Desert Edge (8-3)
#7 Cactus (8-3) at #2 Saguaro (10-1)
No rematches here. Salpointe and Saguaro should have no trouble advancing to the semifinals. Seton-Sahuaro could be interesting depending on which Seton team shows up. Greenway's only loss in week 3 was to Bradshaw Mountain (42-20) - the only team on its schedule that made the 4A playoffs and was eliminated last week. Facing Desert Edge is Greenway's toughest test. Desert Edge has played a better schedule with its lone 4A losses to #1 Salpointe and #2 Saguaro. The Scorpions played both teams as well as anyone has.
3A
#9 Benjamin Franklin (7-4) at #1 Northwest Christian (10-1)
#5 Valley Christian (8-3) at #4 Page (10-1)
#6 Sabino (9-2) at #3 Snowflake (9-1)
#10 Safford (7-4) at #2 Yuma Catholic (9-2)
Good matchups all around in the most wide open of the conference playoffs with two rematches. Benjamin Franklin has improved health from earlier in the season and won't be taken lightly by NWC, not after edging Ben Franklin 21-13 in early September. The other rematch is on the same turf as Valley Christian makes the lengthy trek to Page. Some big plays and an early 16-0 deficit plagued VC in its 22-15 loss in early September to the Dust Devils. Page's only loss was a thumping to Snowflake early. Safford pits its running game against the prolific passing attack of Yuma Catholic (over 4,000 yards through the air). Sabino is the hottest team in 3A with nine straight wins. Snowflake's only loss is to Benjamin Franklin.
2A
#9 Benson (7-4) at #1 Thatcher (11-0)
#5 Phoenix Christian (9-2) at #4 Morenci (9-2)
#6 Arizona Lutheran (9-2) at #3 Round Valley (9-2)
#7 St. Johns (8-3) at #2 Trivium Prep (10-0)
The one rematch is Benson-Thatcher and top-ranked Eagles prevailed with ease and should repeat that performance. Phoenix Christian is rolling behind running back Malik Taylor, who passed the 2,000-yard rushing mark for the year last week. Taylor has 16 TDs in the last three weeks. Morenci has won nine of its last 10 games with the only loss to Round Valley. Round Valley's only Arizona loss is to Thatcher while Arizona Lutheran has been up and down the second half of the season after opening 6-0. Trivium Prep has made a nice run moving up from eight-man football to 2A this year, but the competition is ramping up from here on out. St. Johns three losses - while decisive - have come against three of the top four seeds Thatcher, Round Valley and Morenci.
1A championship
#5 Hayden (8-3) at #2 Superior (10-0)
These teams were the 1-2 finishers in the East Region. Their regular-season meeting was all Superior, 46-6. Superior is on a mission to win the title that eluded the Panthers last year in a loss to Williams. Superior is a four-time runner-up -- three in 2A and last year in 1A. The Panthers have not won an AIA-sactioned football title in their history. Hayden won a 2A title in 1972 and was runner-up in its only other championship appearance in 1988.
---