6A volleyball: Xavier Prep goes back-to-back, sweeps Corona del Sol
November 7, 2018 by Les Willsey, AZPreps365
---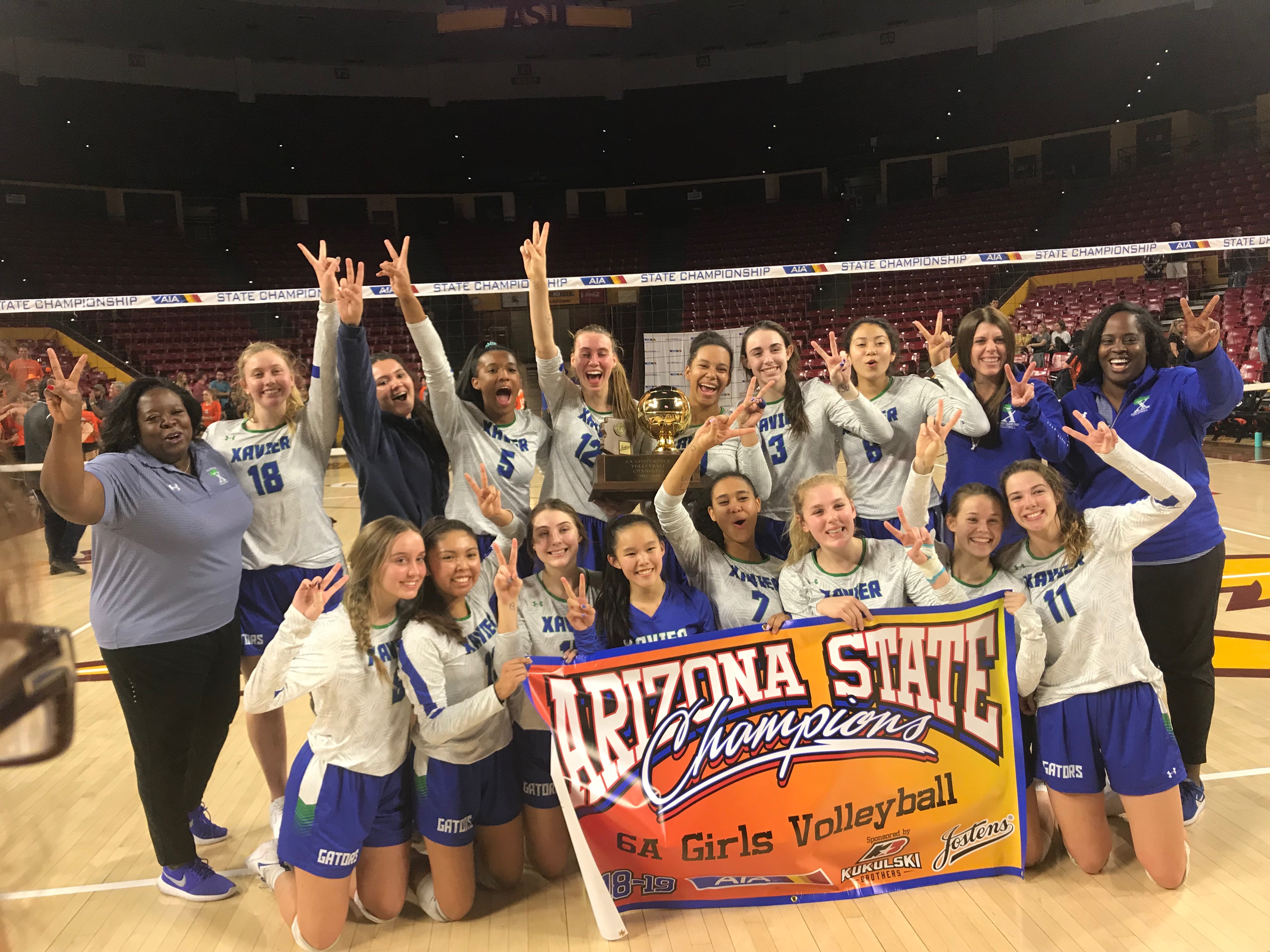 What ever ailed Xavier Prep in October vanished once postseason arrived in November.
The #2 Gators got better and better as they advanced through the state tournament and ended on the highest of notes with sweeps in the semis and finals to nab back to-back 6A titles.
As Xavier did last year, it defeated #4 Corona del Sol, 25-22, 25-20 and 25-18 on Wednesday night at Wells Fargo Arena.
Xavier (33-9) has now won 13 titles in 17 championship appearances. Corona del Sol (29-14) settled for runner-up honors again, but has three trophies in the last three seasons with its most recent title in 2016.
Four senior starters played their final game for Xavier led by setter Shannon Shields, libero Ashley Yeung and hitters Jennelle Yarwood and Hayley Nash. Shields has been on the floor the most (four years) and Yeung a large role for three seasons.
The player that stood out most as far as the attack was concerned on this night was junior outside hitter Briana McKnight.
McKnight, who led Xavier in kills this season, came close to equaling her kill total for the previous three tournament matches (27) in the final. McKnight notched 20 kills, a season high for a team that normally spreads he wealth with Shields doing the feeding.
"Bri saved her best for last," Xavier coach Lamar Bryant said. "She was disciplined and must have hit about .600. We had a great match serving and played the best match of the playoffs."
McNight fell a little short of Bryant's estimate in hitting, but .543 is a number a coach will take anytime. McKnight was effective everywhere and made a huge presence with a bunch of some back-row kills.
Shields zeroed in on McNight more in the final set helping her to 10 kills in the set. McKnight scored Xavier's final four points of the match on kills and added 13 digs. Shields closed her career with 40 assists and 12 digs. Yeung led Xavier in digs in the match with 17.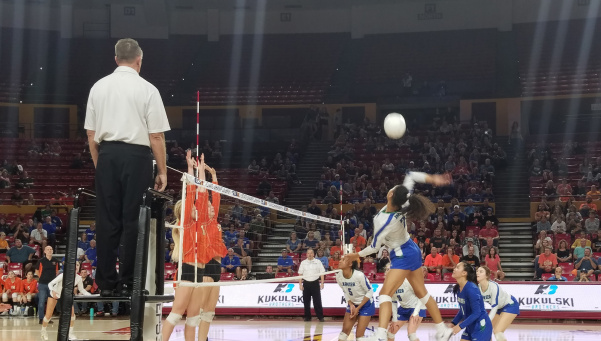 Xavier Prep's Briana McKnight prepares for one of her 20 kills vs. Corona. (Azpreps365 photo)
"Once we got past the second game we didn't want to let up," Shields said. "It was a little bumpy for us at the end (regular season). But we stayed confident."
Fellow junior middle Jasmine Knight was effective on the attack in her own right for Xavier. She registered 12 kills and hit .667. Yarwood added seven kills. Xavier hit. 333 as a team.
Bryant added playing back-to-back big-time tournaments in September took a toll on her team and it took most of October for them to get back to some semblance of health.
"We played better as the tournament went on. The last two matches we rose to the occasion."
Corona made a case for having more momentun heading to the final than Xavier. The Aztecs rallied from an 0-2 deficit to #1 Perry in the semis on Monday to advance.
Errors at crucial times in the first two sets proved costly for Corona.
"We had too many misserves," Corona del Sol coach Ben Maxfield said, "We live and die by the serve. A lot of those happened when we could least have them."
Two successive aces by Nicole Newlin in the first set pulled Corona even at 21. Her next serve was out of bounds. Two hitting errors and bad passing helped Xavier finish the set.
With the second set even at 19, Xavier finished with a 6-1 run. Three of the Gators' points came via Corona errors.
In the third set the service errors for Corona were more glaring. to go with McKnight's sizzling attacks. Four overall service errors in the set -- three when the set was close - hurt the Aztecs' ability to mount any significant runs. Corona had nine service errors to just three by Xavier for the evening.
Corona's hitting wasn't as good as it was in the semis win over Perry. Senior Mary Shroll led with 12 kills, juniors Madi Noble and Newlin picked up eight and seven kills, respectively. Ashley Hayden had 19 assists and Becca Morse 17 digs to lead Corona in those categories.
Click the link below for a complete box score from the match:
http://www.aiaonline.org/files/16515/2018-6a-volleyball-championship-box-score.pdf
---