6A-5A Football: Chandler, Centennial eye 3-peat and repeat
November 30, 2018 by Les Willsey, AZPreps365
---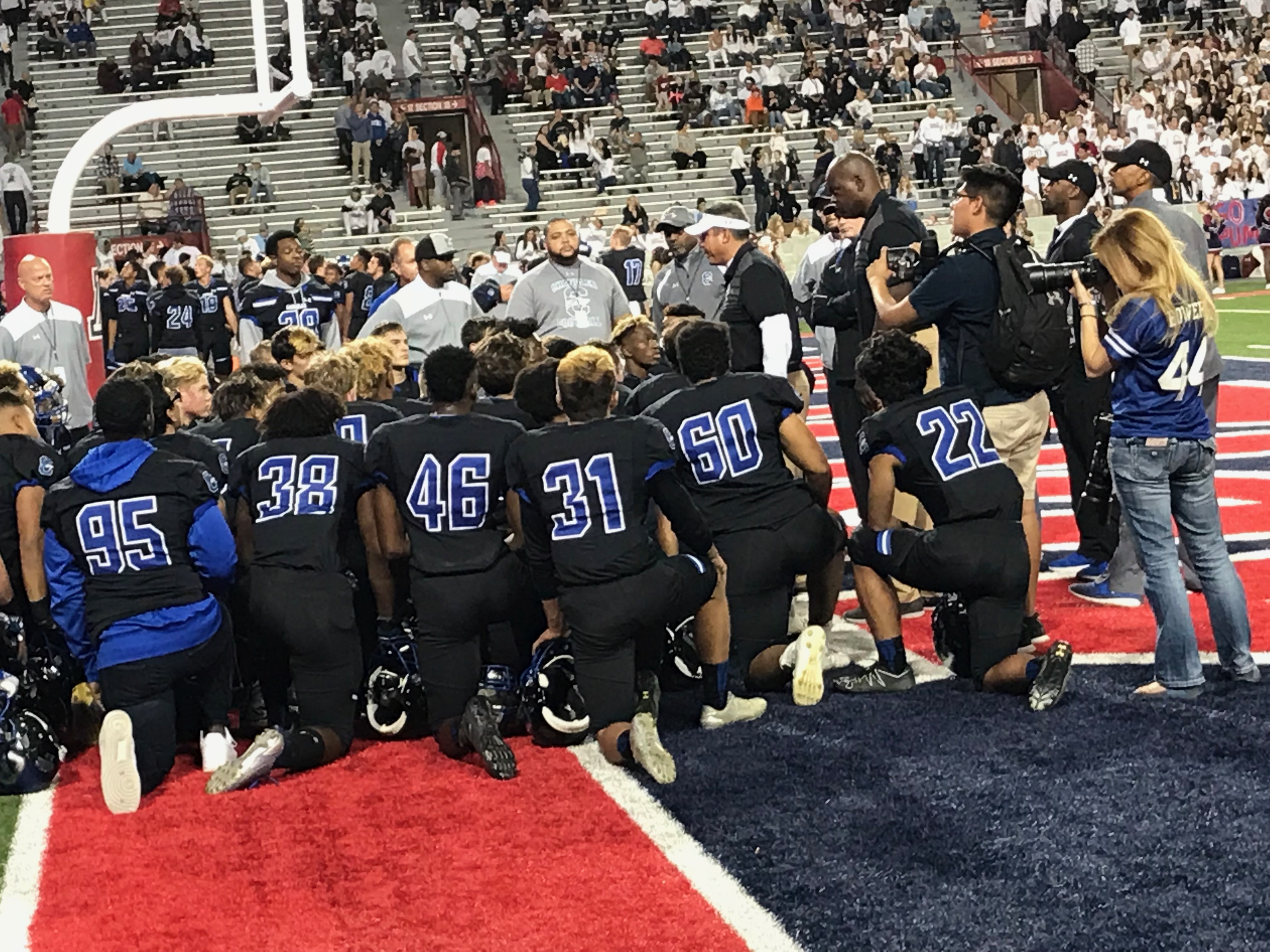 It's not often of late Chandler High has needed a football reset. That sort of happened two weeks ago after the Wolves escaped upset-minded Highland in the 6A semifinals. The top-seeded Wolves face sister school and Premier Region rival #6 Perry in a rematch of last year's 2017 title game. The game kicks off Saturday afternoon as the second game of a title doubleheader at Sun Devil Stadium. Kickoff is set for 4:30 p.m. The first game Saturday is the 5A title game rematch pitting top-seed Centennial (13-0) and #3 Notre Dame Prep (13-0) at 12:30.
Chandler (12-1) has domination behind it. In the eight previous meetings with Perry (11-2) the Wolves are 8-0. Last year's title game - won 49-42 - was as close as Perry has come to beating the Wolves.
The Wolves have rolled to 12 consecutive wins after losing its season opener. All the wins were no-doubters. Getting the wake-up call from Highland and surviving to tell about it, was timely from Wolves' coach Shaun Aguano's point of view.
"We needed that punch in the mouth," Aguano said. "It shows we're not invincible."
Perry on the other hand might have liked to play the title game a week after its semifinal triumph over No. 2 Pinnacle. The Pumas may have lost some momentum, but have many reasons to not let the extra time off harm them.
Like beating Chandler for the first time ever. Or avenging last year's championship loss. Or reversing the outcome of the game the teams played two months ago.
Chandler performed more like it did the previous seven times earlier this year in facing Perry, topping the Pumas, 45-34. The game wasn't that close. At one point Chandler ran off 27 unanswered points to lead 30-7 in the third period.
"We have a good group of seniors," Perry coach Preston Jones said. "They are not intimidated. They've been around and know what it's like playing Chandler. It used to seem like we were down 14-0 when we got off the bus. There's the belief now we can play with them."
Jones said the Pumas can't afford to have the slow start offensively they had in the loss two months ago.
"It seemed like every time I looked it was first-and-20 or third-and-15," Jones said. "It took us way too long to get going. We also have to do a better job defending the run." (Chandler rushed for 343 yards and totaled 699 for the game).
Players to watch:
Chandler -- Quarterback Jacob Conover, who is looking to preside over his third title as the starter behind center, has thrown for 3,109 yards and 37 TDs. For his career those numbers are 9,901 yards, 101 TDs. Running back DeCarlos Brooks has been the go-to back this year after sharing the role with Drake Anderson last year and playing in the secondary as a sophomore. Brooks has done just fine, rushing for 1,893 yards and 28 TDs. It's the second year in a row Brooks has eclipsed the 1,000-yard mark. Braydon Liebrock leads the receiving corps with 59 receptions for 680 yards and 10 TDs. Defensively the Wolves are led by all-region first-teamers Tate Romney (DB), Javan Ah Quin (LB) and Max Sandlin (DL).
Perry -- Chubba Purdy wasted little time filling the spot brother Brock vacated. Chubba passed for 3,263 yards and 35 TDs and rushed for 1,014 yards and 21 TDs. Running back Jalen Young has chipped in with a 1,000-yard campaign (1,253 and 9 TDs). Dependable and prolific senior Colby Dickie surpassed the 1,000-yard receiving mark for the season for the third year in a row in the semis. Dickie has 72 receptions for 1,034 yards and 16 TDs. Career numbers are 3,422 yards, 200 receptions and 37 TDs. Leading the Pumas defense are all first-team selections Travis Calloway (DB), Braxton Smith (LB) and Travis Beckman (DL).
5A TITLE GAME
Centennial eyes its second repeat of the decade, playing in its seventh title game of nine this decade and its 11th overall. The Coyotes are trying to complete their third perfect season in school history and the seventh championship in school history all under head coach Richard Taylor. The Coyotes have made a case for being the best team in the state regardless of conference with its overall play - solid offense and overwhelming, stingy defense.
Notre Dame Prep has defeated all comers as well this season venturing to rectify its loss (42-21) in last year's final to Centennial. The Saints have two state titles to their credit -- back-to-back in 2007 and 2008 in 4A-II. Notre Dame Prep is 26-1 in two seasons thus far under coach George Prelock.
Centennial has given up just 78 points this season -- a paltry 6 per game with five shutouts. That catches any and every opponents' attention. It's a unit priding itself on preparation, led by defensive coordinator Andrew Taylor.
"I think it comes down to preparation, the kids liking each other and getting along," Richard Taylor said. "They don't want to let each other down."
The offense is capable and perhaps underrated, averaging 43 points a game. The Coyotes wear opponents down with a running-back-by-committee approach led by Tawee Walker's 858 yards and 17 TDs. At least four other backs will garner a handful of carries backing Walker. Centennial can throw if need be. Junior quarterback Jonathan Morris has passed for 2,097 yards, 19 TDs and thrown only four interceptions. Morris got his feet wet last season as a backup and tossed a TD pass for Centennial's final score in the title game.
Notre Dame Prep features a high-powered attack that's put up better than 6,000 yards of balanced offense. The unit is led by senior Jake Smith, who has amassed 1,811 yards from scrimmage (1,070 receiving and 741 rushing) and 37 TDs. Smith also is the
Saints' primary kick and punt returner. The Saints top rusher is junior Dominick Mastro (1,553 yards, 13 TDs). Senior quarterback Jake Farrell has stepped in as starter this year and thrown for 3,230 yards and 41 TDs. Farrell has two more targets he likes to locate -- Zach Gray (646 yards, 8 TDs) and Luke Roberts (671 yards, 6 TDs).
Notre Dame's defense has played well, perhaps its best in its three playoff triumphs. It limited Gilbert to eight points for the first three quarters, blanked Millennium and held Williams Field to 14 points and used a late goal-line stand to preserve a 21-14 win in the semis.
---