The Mother of Volleyball: How Heather Orr's leadership cultivates the expectation for success
November 29, 2018 by Trevor Booth, Arizona State University
---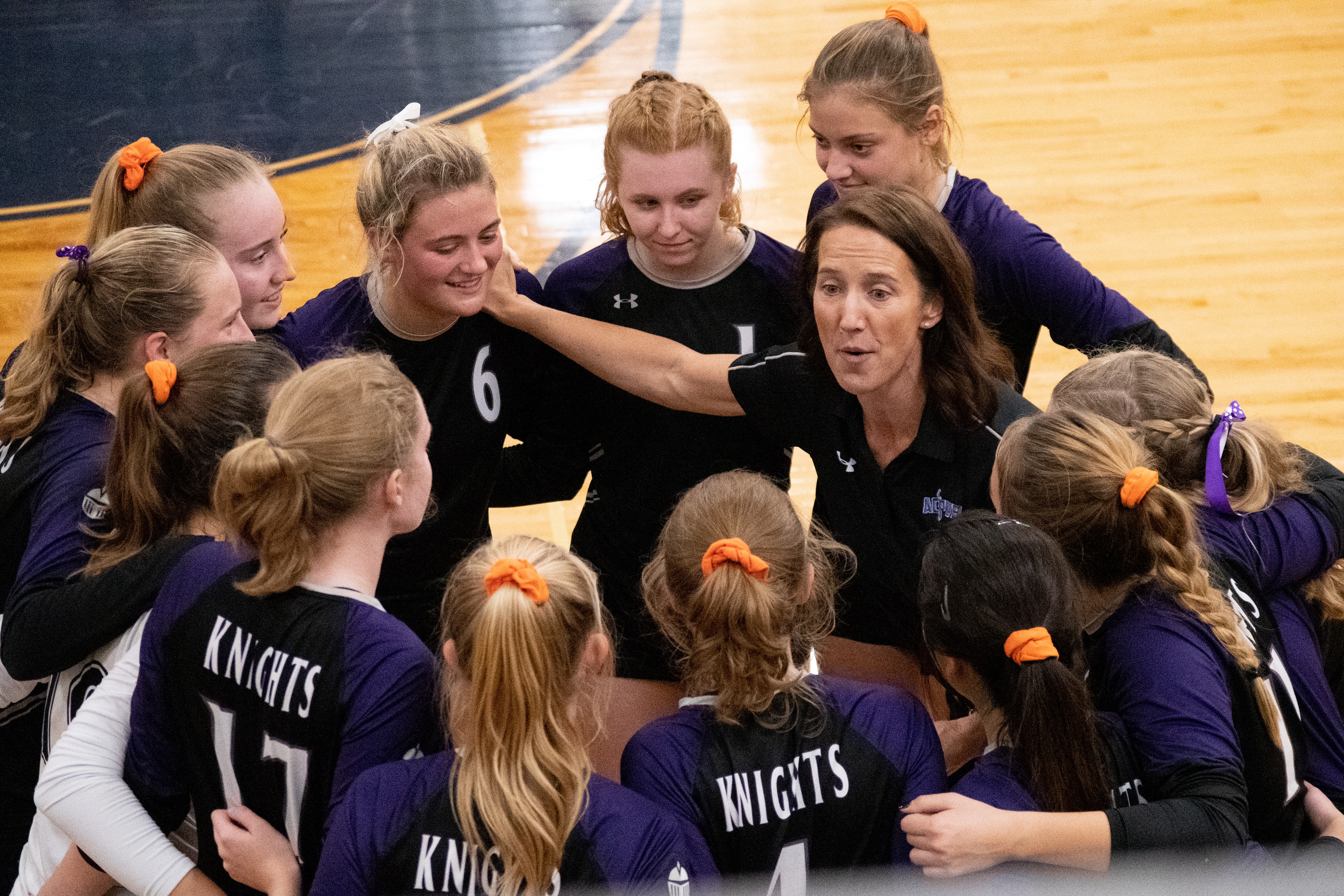 Fifteen days have passed since volleyball season ended. Sitting at home on an idle Sunday, Arizona College Prep coach Heather Orr takes a trip down memory lane.
She makes her way from the living room to the kitchen, passing a wall adorned with photographs of her daughter, Kennedy, and son, Luke. Of all the athletes she's coached, she maintains they are her proudest.
Beyond the wall, Orr finds what she's looking for – a photo album gifted to her at the team's final banquet. As she turns each page, the memories elicit joy.
"Look at that!" she says, smiling at an image of six players jumping after winning a match. "They're awesome," she says of another, tearing up at the sight of her team connecting arms during a timeout.
By the time Orr reaches the final page, her husband, Ed, joins in on reminiscing. The couple stands together as they view the book's last delight – a shot of the team after its run to the 3A State Championship match.
"You did that," Ed Orr whispers to his wife.
What Heather Orr has accomplished at ACP is undeniable. In two seasons, the Knights have compiled a 33-4 record, won back-to-back region titles and advanced to the second state championship match in the school's seven-year history.
While the triumph may seem swift, the journey has been extensive. Once deemed 'The Mother of Volleyball' by her high school coach, Chris Eiserman, Heather's path began like most coaches – as a player.
Formerly known by her maiden name, McCormack, Heather grew up in Chicago, Illinois. She attended Lake Forest High School, playing school and club volleyball as a setter before receiving a scholarship to the University of Arizona.
There, she became one of the program's best players. She left as the all-time leader in assists in a match (78), single season (1,478) and career (3,517).
But when thinking of Heather, peers won't point to her success on the court.
"I think one of the things that really impressed me with her is that she understands how to make everyone feel valued on the court," Eiserman said. "She created a wonderful atmosphere among the girls, and everybody adored playing with her."
"Heather, she was one of the returning seniors [for me] and had a really good calming demeanor about her," Arizona coach Dave Rubio said. "I liked Heather a lot."

While Heather initially wasn't set on coaching, former Arizona teammate Charita Stubbs knew she had the right tools.
"She's always had a sweet heart," Stubbs said. "She has a compassion for people and she knew the game. It doesn't surprise me she's good at it."
Heather enjoys coaching and "loves" the fit at ACP. But her story never would've happened without adversity.
Putting sports in perspective
The year is 1988. Eiserman is driving a white Ford station wagon down Illinois' West State Route 22, making the hour-and-a-half trip from Lake Forest to Aurora.
In the passenger seat lies the purpose for her venture – an 18-year-old Heather. Soon, Eiserman's best player will try out for the area's most prestigious club, Sports Performance, led by prominent youth coach Rick Butler.
As Eiserman parks the car and wishes her pupil good fortune, she prays the drive is worth it.
"We couldn't challenge her that much with the quality of volleyball we were playing at the time," she said. "She wanted to be the best player that she could be."
By the time Heather left the gym, Eiserman's wishes were granted. Her star athlete qualified for the 18 1's team, the highest of her age group.
Heather knew what the achievement meant.

"That's what's going to get you to college," she said.
And it did. Butler directed contact between Heather and Arizona coach Rosie Wegrich. After one season of club, Heather committed to play for the Wildcats.
The path, however, was far from mellow.
"It was like a militant club," Heather said. "That's why I think my image of club is so negative, because that was an awful experience."
Back at Lake Forest, Eiserman noticed the effects.
"The coach who ran it - he was over the top," she said. "He didn't want girls to go to prom."
Without Butler, Heather admitted she would've never played at Arizona. But by season's end, she knew one thing.
She wanted to be more like Eiserman.
"She was so optimistic, so energetic," Heather said. "She was like a mother to us."
After graduating from Lake Forest, Heather spent three seasons playing for Wegrich before Rubio took the reins.
Looking toward the future, Rubio benched Heather in favor of freshman Laura Bartsch. The decision didn't sit well, especially with teammates.
"Dave was a butthole," Stubbs said. "I do remember Heather's senior year, it was rough because she didn't get to play nearly as much as she wanted to for whatever reason."
Heather, however, remained composed.
"She never stopped trying," Stubbs said. "She never didn't compete, and I appreciate that in her."
"She was really a class act," Rubio added. "I'm sure she wasn't happy with her role just it being her last year, but she was always the consummate team player."
In retrospect, Rubio admitted he would have done things differently.
"I didn't really understand the dynamics that went with that," he said. "If I had to do it all over again and knowing what I know now, I think the team would've had more success had I gone with Heather."
While the experience was difficult, Heather never stopped learning. Her teams still attend Rubio's summer camp, and she's the first to ask questions at his coaching clinics.
Even if there is still some friendly animosity about her playing time.
"I still tease him about it today," Heather said.
Finding the right fit
Twenty-three years after setting her last ball at Arizona, Heather sits in Principal Robert Bickes' corner cubicle at ACP, interviewing to become the school's first boys' volleyball coach.
The meeting wasn't long. The two shared a vision, and the job was secured.
"You could tell that she loved the sport," Bickes said. "You could tell that she wanted the kids to be successful."
At the time, she split duties coaching the boys' team at the high school and her girls' team at ACP's junior high campus.
In her third season coaching the boys, Heather's daughter, Kennedy, was a freshman. After leading Kennedy's class to two middle school championships, Heather could only watch as the girls' program was guided by another.
However, the separation wasn't long-lived. The following season, the girls' varsity coach stepped down, making Heather the obvious candidate.
It didn't take long to decide – she told Kennedy she was taking the job.
"I just love playing for [her] because [she] make[s] it fun and [she] also is competitive," Kennedy said.
Heather's decision also reunited her with several middle school players, including setter Julia Golichowski and middle blocker Krista Rowan.
Once 5 feet tall, Heather took a chance on Golichowski in middle school. Now 5 feet 10 inches and more experienced, Golichowski was ready for the reunion.
"I was so excited," she said. "I had just missed having such a strong role model and leading figure."
While Golichowski was coached before, Heather brought something different.
"Even the way that she carried herself around us seemed different than coaches that I had in the past," Golichowski said. "She had such a poise about her that made you want to work to impress her."
Having her team back, Heather emphasized the values from her previous tenure. Only the expectations were deeper.
Instead of trying, it was executing. Instead of bonding, it was sharing. And instead of winning, it was about triumph.
And it all came back to one principle – John Wooden and the "pyramid of success."
"How can you argue friendship, loyalty, poise, skill and competitive greatness?" Heather said. "You can't argue that. They're inherently pure and good."
Her girls bought in. When thinking of "motivation gifts" for her teammates this season, Rowan had the perfect idea.
"I made little pyramids of success for everyone," Rowan said. "And then I assigned a word on the pyramid to each player. I wanted to do something like that because it gave each player a specific word and characteristic to step into.
"Each word makes the pyramid, so each player is a piece of the pyramid. Just making sure that you're doing your best and doing everything you can to fulfill your word keeps the pyramid intact and stable."
The school took notice. Myron Blueford was hired two years ago to become ACP's first football coach. He met Heather, and he gravitated toward her program.
"I'm not a coach that harps on winning," Blueford said. "I really harp on developing players and winning being a byproduct of that.
"Coach Orr is in the same thing. She builds it from a character piece and really invests in the athletes themselves."
Without the school's setting and group of girls, Heather maintains it wouldn't have worked.
"I just prefer development," she said. "You just do multiple things, and then you incorporate the strong academics, and the small community and the fact that you can support each other. I love that."
Uniting a team and community
Heather's first varsity season didn't disappoint. The Knights posted a perfect 15-0 record in the regular season, advancing to the 2A State Tournament as the No. 8 seed.
However, their postseason run was short-lived. ACP was ousted in the opening round by Tempe Prep.
In 2018, the Knights returned eight players while making the jump to 3A. The difficult schedule contributed to two losses, but 15 quality wins ranked ACP fifth heading into the state tournament.
After defeating 12th-ranked Safford and 13th-ranked Valley Christian, the Knights faced their toughest challenge of the year – an unbeaten, first-ranked Snowflake team, for a chance to go to the state finals.
It didn't start well. ACP lost the first set 25-18 before trailing 23-15 in the second. Faculty and parents began to assume the worst.
But the girls were fine.
"Trust is what coach Orr really instilled in us," Rowan said. "We trusted that we could come through and beat them."

And they did. ACP rallied off 11 of 12 points, stunning Snowflake to tie the match.
From there, the Knights poured it on. They led almost wire-to-wire in the next two sets, downing the Lobos to advance to the championship round.
While ACP was outmatched by Northwest Christian in the title game, the impact was permanent. Gathered in the cheering section for the match were parents, faculty, students and alumni, all overjoyed at seeing their school, and their girls, succeed.
At the forefront of the supporters was the team's biggest fan – Ed.
"It gives me a lot of joy watching their competitiveness," he said. "It's amazing to watch them play and compete. I'm just proud and happy."
With his wife leading the way, he recognized her impact.
"She saw something special in them," he said. "They believe in each other. A team literally has to beat them because they won't quit."
Back in her kitchen, Heather closes her photo book with a smile. Although next season is nine months away, she returns to her family room warmed with delight.
As a player, coach and mentor, Heather has spent her whole life giving back. By the time her players graduate, she only asks one thing from them.
"I hope that these kids invite me to their wedding," she said. "That they go off and they are successful, but they remember what I taught them and I can be a witness to their greatness."
---