Valley Christian's lone senior ends one journey and looks to start her next
November 29, 2018 by Jake Fitzgerald, Arizona State University
---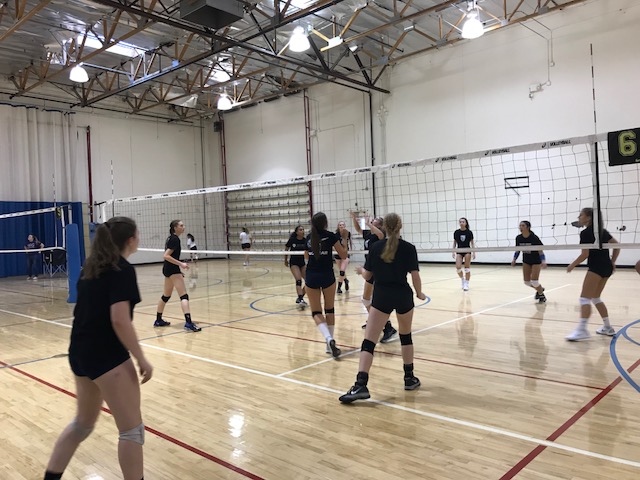 Makena Schaetzle's volleyball career at Valley Christian is over. But the lone senior on an up-and-coming team has left her mark.
The captain led by example during the season with her selflessness and humility.
"She truly wants the best for people which makes a good leader," coach Lindsey Ramsland said. "Makena is one of those rare individuals that no matter what is thrown at her she is always so positive, so joyful and so good. She is a really optimistic player. I think she had a huge effect on our younger players that helped us reach the playoffs."
Schaetzle, the 5'7 senior outside hitter, won an honorable mention for the all-region team in the 3A-Metro West division and totaled 58 kills and 24 aces.
Schaetzle led the Trojans to a 10-7 overall record and Valley Christian even made a playoff run.
The Trojans exceeded expectations but they ended up losing in round two to AZ College Prep in four sets.
Schaetzle used her leadership skills to pick up her teammates when they were down. She did not care about her statistics, she cared about her team.
"What she brings to this program is a positive radiant attitude with love for her teammates and a competitiveness to win,'' said Ramsland. "She wants to make sure that they win every single game by putting the team first."
Schaetzle used her high volleyball IQ to make the opponents struggle on offense.
She was the most consistent player on the team to keep the ball in play. She worked hard to prove that she can be the star.
"We like to work hard and play together to make sure that we win every game that we can by making the correct decision," Schaetzle said. "We have to play as a team, not as individuals. That is something that helped us improve down the stretch by communicating on key plays in the set."
Schaetzle mostly used her leadership skills to bring a joyful personality to a team that needed growth. She mostly focused on how the game is supposed to be fun.
"Makena is really awesome," assistant coach Mackenzie Granitz said. "One great thing about her is that she brings a ton of positive energy to encourage her teammates which is key to being a leader on a young team. She is one of those girls who can bring them up if they are down. She is also one of our underrated players who can become a big offensive piece to us when she is needed."
For Valley Christian, the theme this season has been the future. They are only projected to lose one player in Schaetzle. She will be missed.
"Makena is so happy all the time," Emma Calicchio said. "She is always encouraging us and being positive. It is never if, it is when we do this or when we do that. She is a great leader who always offers a great source of motivation. There is no doubt and she always believes in us no matter what. It is going to be tough losing a friend and a leader who always wanted the best for us."
Next year, the Trojans will not be the underdogs. They will be one of the favorites in the 3A-Metro West Region.
With players such as Cara Braun, Abigail Calicchio, Emma Calicchio, Emma Richardson, Breanna Brooks, Kenzie Carpenter and other projected to return the Trojans depth will help them make another state run.
"This team has a lot of potential for the future," Schaetzle said. "Most of the girls are playing club this season and they will improve when they come back. The chemistry will get better and I believe this team will work the hardest and they will win state."
But she is happy with the way her final season ended.
"I got to be a leader and felt like I did a good job doing that, Schaetzle said. "I made the best out of the opportunity."
Now, the lone senior looks to ride into her next chapter that could be her best yet.
But she is finding the transition difficult.
She now has to change her practice and game-day routine to focus on what now is the most important time of her life.
"I have been able to hang out with my family and friends," Schaetzle said. "I just got a job that I will be starting soon. I now use time of practice to get my school work done. I definitely miss the time with my teammates and coaches but I love seeing some of them at school every day."
---