A look back into Scottsdale Christian Academy's successful season
November 29, 2018 by Alberto Ramirez, Arizona State University
---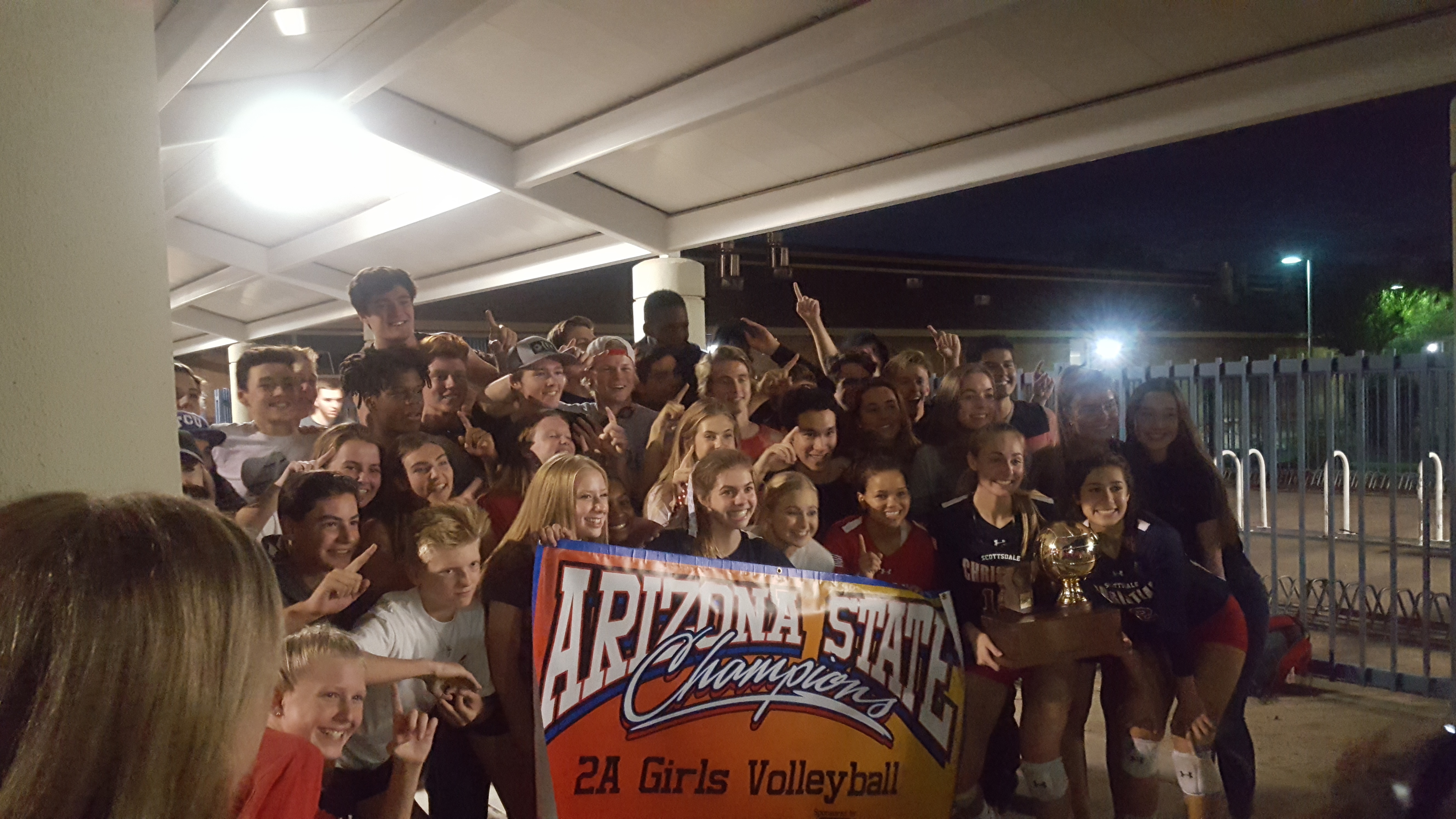 Rap music rattled the team's bus as Scottsdale Christian Academy celebrated its second straight 2A state girls volleyball title Nov. 3.
Coach Kim Ohlinger was estatic.
"I can't even put into words how I feel," Ohlinger said. "It's the kids that do it. I just come alongside them and support them. They're the energy on the court. They're the ones that fight and play every day in the gym."
These two consecutive state title wins legitimized Scottsdale Christian Academy as an elite powerhouse in Arizona.
The state title, however, didn't come easily. The Eagles knew they had a long road ahead before defending the state title.
Coming into this season, the Eagles were a completely different team than the one that had won the state title the year prior. There were only two returning seniors on the roster.
Those players were outside hitter Lauren Ohlinger and libero Emma Whitehead. The pair had been playing together on the varsity squad since they were sophmores and provided the veteran leadership that was needed to guide this young team.
"Emma and I have known each other since first grade so it was exciting to lead this team together as captains," Lauren said.
From a physical standpoint, the two are complete opposites. Lauren stands at about 6'3'' while Emma is 5' 3''. Regardless of the height disparity, their roles on the team complemented one another and were instrumental in the team's success.
Emma was solid in the back and provided the team with the stability that was required to carry out its attack. She led the Eagles in digs accumulating 293. Her ability to go after every ball regardless of how difficult it may have seemed to pull off was something to admire.
"You have to have a mentality on defense that even if it seems like you can't get it you still go for it, because you never know if you can get to it until you go " Emma said.
Her aggressiveness was displayed in a particular moment in the final match against Glendale Prep.
With the Eagles leading the first set 24-10 with only one more point needed to win the set, it seemed unnecessary for Emma to dive for a ball to keep the play alive, but she did anyway.
Her gamble paid off almost immediately as the Eagles went on to score a point on that play and win the first set 25-10 and eventually the match.
While Emma did her job on defense, Lauren was the primary weapon on offense. She posted a team high 413 kills. It was no surprise that she led the Eagles in kills in the final match against Glendale with 15.
Much like her mother, Lauren attributed her success to her teammates.
"It was a team effort," Lauren said. "Our passing and our defense was really good. Our setter Lexi did a great job and worked really hard."
Scottsdale Christian Academy continued what it had started in the 2017 season. It completely dominated the regular season with a perfect 15-0 record and wreaked havoc in the playoffs adding another four wins.
The Eagles were so dominant that they only lost one set throughout the entire season in their match against Northwest Christian on Oct. 18.
With the lack of competition a glaring problem early on in the season, it was important for the Eagles to seek out ways to get out of their comfort zone against tougher opposition.
One way they did that was by participating in the volleyball edition of the Nike Tournament of Champions.
The Nike Tournament is an elite competition that pits the best schools in the country against each other.
It was here where the Eagles got what they were looking for. They finished the tournament 10th overall in a field of 96 teams.
Wins against reigning 5A champion Sunnyslope and Utah's top school Lone Peak proved that Scottsdale Christian Academy was an elite team that could perform out of its normal level of competition.
"It was good for them to step up and play at this level and see what they could do," said Ohlinger.
This step up in competition would be a great motivator that pushed the Eagles further into the season with the knowledge that they were not unbeatable and shouldn't take any team lightly.
They used it as a catapult that led them to another state title.
With only Lauren and Emma as the only players not returning next year due to their impending graduation it wouldn't be farfetched to see Scottsdale Christian Academy win a state title for the third year in a row.
Ohlinger agrees.
"If you were to ask me right now I'd say that we can definitely do a three-peat."
---