Community comes together to support its colors
November 30, 2018 by Travis Whittaker, Arizona State University
---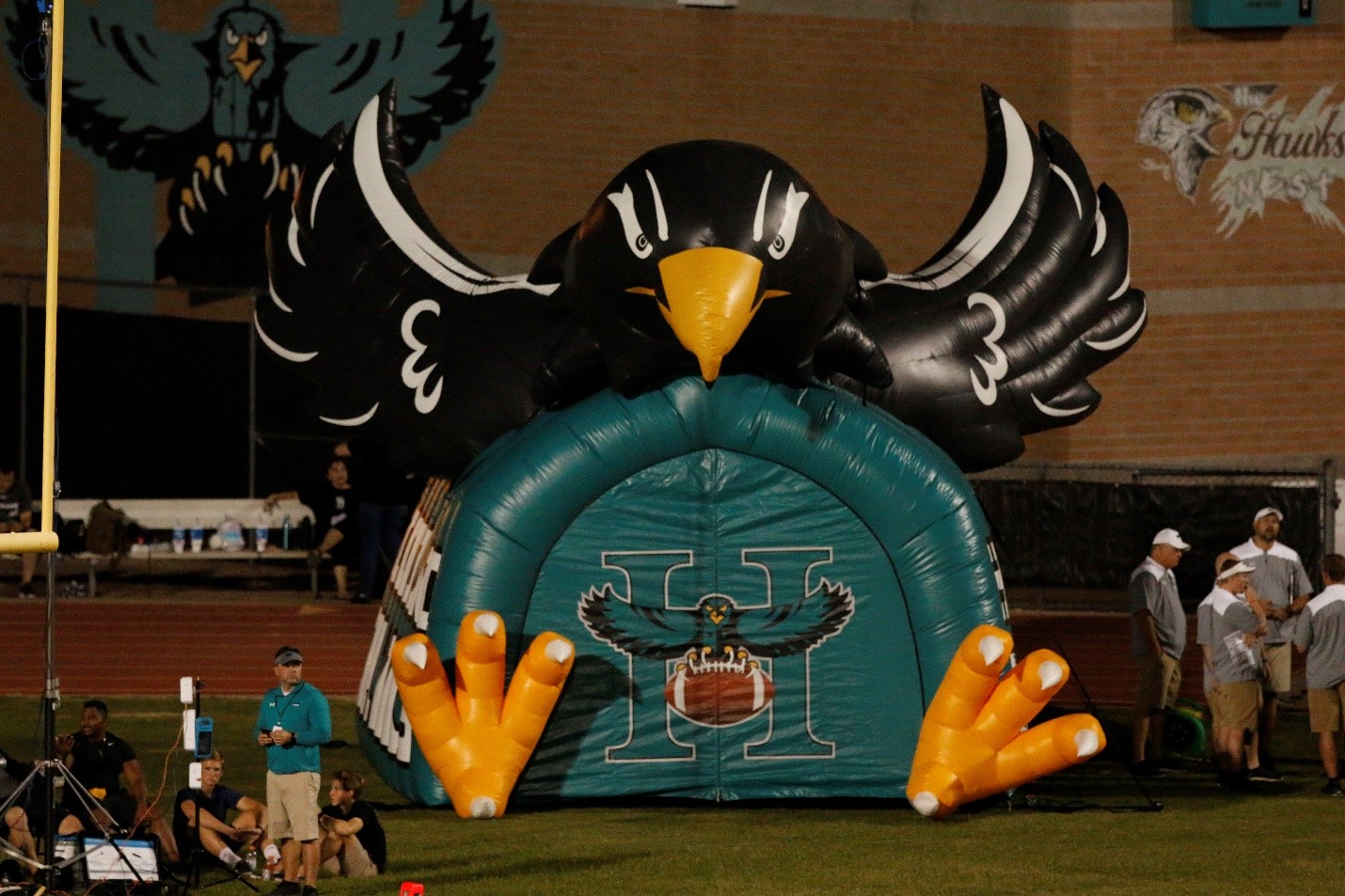 Every spring David Pickron, the Highland girls golf team booster club president, reaches out to all members of the program for support for the fall season. With a main fundraiser based around the Bilt Foundation, Pickron expects everyone to participate, including the current seniors.
The team does the fundraiser in the spring as tax season is around the corner and the Bilt Foundation can be used as a taxable donation.
"We are big on school tax credits," said Pickron.
Two-hundred dollars goes to a lower privileged school in the Phoenix area and $600 to the program. The program is only available to Arizona residents.
Funding for athletics is something that takes a group and community effort to achieve for student-athletes. The work a student puts back into the community shows itself on game day when they represent their colors.
"High school athletics is co-dependent on booster clubs at this point," said Athletic Director Rod Huston. "Wherever you go. There's not a district that can fund it at the level it runs at."
Highland falls under the umbrella of the Gilbert School District. For AIA sanctioned athletics, it participates in the 6A division and Division-I for the smaller sports.
With the support of the Highland community, many athletic programs raise enough money to get by. However, Huston is there as a backup.
"Every team on my campus will do fundraisers,'' said Huston. "They all look for a unique one. Something that they can do."
Some sell coupon cards, others utilize the Bilt Foundation and a raffle drawing for prizes or even host a barbecue or golf tournament.
The football program is looking at potentially making upgrades in the future to the locker rooms or getting a new hard-wired press box. Some sports like girls golf and volleyball utilize the money they fundraised to help pay for entries into the tournaments they participate in or for personal gear bags or clothing items.
According to girls golf coach Matt Jones, an average entry fee for a team tournament runs between $400 and $500.
The girls golf team participates in four to five tournaments a season.
When Huston has funding leftover, he upgrades the school's fields and gymnasiums.
"I take care of the basics," said Huston. "I'll take care of everybody's safety needs. I'll take of the basics they are the ones that take us up the next level."
The money that families pay for their student-athletes to participate in a sport goes to the district, not to the athletic department.
Students pay a $100 athletic fee. The district uses that funding to pay for coaches and transportation. The money Huston makes at the gate covers officials, AIA dues and equipment.
In a school's athletic program, football generates the most revenue but also is costly.
"I don't think people realize but it takes about $150,000 a year to run a [football] program," said Alicia Holman.
Holman serves as one of the two booster club presidents for the football program.
The team hosts a barbecue, a golf tournament and even sells the discount coupon cards.
Earlier this season, Highland raffled off $50 tickets and gave away a trip to Hawaii, a home theater system and $1,500 cash prize.
That money went to buy new uniforms and gear bags for this season.
"We get a ton of community support," said Huston. "We couldn't ask for better community support.
Former alumnus and current Tampa Bay Buccaneers backup quarterback Ryan Fitzpatrick is a key contributor
"He doesn't like for us to say anything," said Holman. "He is the most humble, amazing person you will meet in your life. Ryan whatever he's ever done, he's never wanted anybody to know. If we ever needed anything he's always there for anything that we have needed."
Fitzpatrick graduated from Highland in 2001.
Most of the money the school's athletic department makes is through admission to events like football and volleyball matches.
Attendance is critical thing as some sports don't sanction an admittance fee.
For a Highland football game, admission is $5 for adults and $3 for students. Students at Highland can also purchase an activity card for $35 that gets them into every athletic event held at the school.
Usually, Huston sells around 800 activity cards. This year though he is down to around 400.
"That's a huge chunk of money not coming to me," said Huston. "This year will be a lean year."
Another reason is because of the run the football team made this year.
Huston's willingness to get the necessary people to away games came at a steep price.
But that's not what costs Huston the most money.
"It goes year to year but if like I needed a new pole vault pit this year it's going to cost me 15 grand. If I need a new wrestling mat that's nine grand. Those things add up. If you start looking at that there's a ton of safety equipment for football, helmets and things like that have to get bought and reconditioned. That costs quite a bit of money."
Football and cheerleading teams were funded by student-athlete funds. The band and student bus, however, were another expense.
Huston purchased extra busses at $375 apiece, an $1875 expense.
Highland has approximately 1,200 student-athletes.
"Usually somewhere between 1,150 and 1,350 [student-athletes]," said Huston. "There's not a ton of dual sport kids. That is one of the things we have tried to encourage."
Both the boys and girls golf teams practice at Superstition Springs Golf Club.
"It's invaluable," said Pickron.
"They are a huge partner for us," said Jones.
Highland volleyball keeps it basic.
Girls volleyball coach Jordan Neal said they sell discount coupon cards.
"We do one big sale of discount coupon cards and that covers everything we do for the whole year," said Neal. "We sell that kinda at the beginning of our season early September late August."
They utilize the money to make upgrades to new uniforms and pay entry fees to three of the tournaments during the season.
Since he recently made the transition to Under Armor, Neal now must manage his budget even more.
"We get one new jersey every year," said Neal. "We pass one down every year. They kinda just trickle down each year. When we were in Nike's recently we had the whole program in Nike we just bought one color. Now with Under Armor we are buying home and away until we get everybody in a jersey. Varsity last year bought home and away. We will buy a new home and away and pass them down."
---