Centennial repeats as 5A champ
December 1, 2018 by Jose Garcia, AZPreps365
---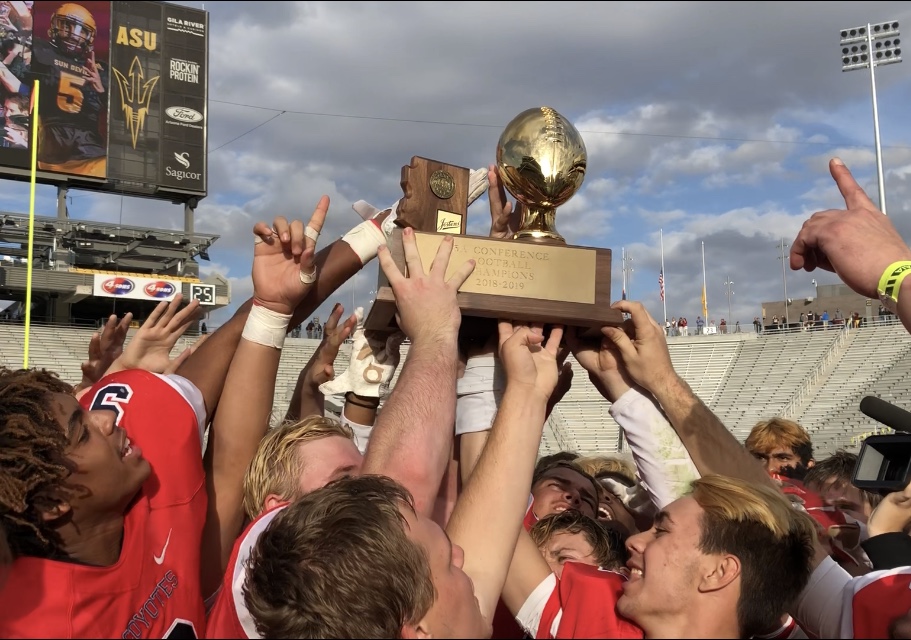 The 5A matchup felt more like a coronation at Arizona State's Sun Devil Stadium than a championship.
Not to disparage the accomplishments of 13-1 Notre Dame, which returned just three starters this season. But this was Centennial's title to lose.
It was just that dominant this season. By halftime, with Notre Dame down 39-0, the game was well in Centennial's hand.
What was left to figure out was the final score and begin settling where this year's team ranks among previous stellar Centennial casts. After a convincing 60-7 victory Saturday and second consecutive championship win over Notre Dame, Centennial coach Richard Taylor said he'll measure his 2018 team's accomplishments in the offseason.
The only head coach Centennial has known, however, did want to praise how well his staff prepared his boys before securing the program's 7th title in its 11th appearance.
"Our coaches prepared so hard," Taylor said. "I know the defense watched every single play that they (Notre Dame) ran for the last two years. I saw 60 plays and said, 'I got the idea.' But that wasn't enough for them. They were going to watch every single play."
But the question where Centennial's defense ranks was answered.
"I have to tip my hat to the 2018 Centennial Coyotes defense as the greatest we have ever had, and that is really saying something," said the Centennial defensive coordinator and alum Andrew Taylor. "And to any of the guys from past years, hey, I love you guys too and all those awesome defenses. But these guys broke the all-time (school) record (for points allowed in a season), and that's something that everybody has to respect."
In 14 undefeated games this season, Taylor's crew allowed just 85 points.
A third quarter touchdown pass from Jake Farrell to Zach Gray was all that kept Centennial from recording its school record tying sixth shutout of the year.
On offense, quarterback Jonathan Morris got his team off on the right foot with a 64-yard touchdown run down the visitor's sideline on Centennial's first drive. Frank Kush Field also became a playground of sorts for wide receiver/safety A.J. Jackson, who returned a punt and interception for touchdowns and also scored on a reception from Morris in the first half.
"This is definitely sweeter just because I'm a senior," Jackson said. "Not only that, but I helped my team out a lot on the field."
Even during halftime, Centennial executed.
Raul Aguilar, a freshman student at Centennial, was selected to kick a 40-yard field goal. Make it and the prize was $5,000.
He converted with about about a yard or two to spare.
For his football team, the margin of victory wasn't even that close this season.
---